RN to BSN Bridge Programs
If you want to know more about RN to BSN programs, how a bachelor's degree can expand your role as a nurse, what a typical RN to BSN curriculum entails, and what you need when you prepare to apply, our registered nurse on staff has written about these topics below. To learn more about specific RN-BSN bridge programs, contact the schools you are interested in below, or use the quick search box to find more programs that meet your preferences.
As always, if you have additional questions or feedback for us, please let us know by emailing at info@bestnursingdegree.com.
Why should I get my BSN if I'm already an RN?
Nurses are increasingly required to hold a bachelor's degree, particularly because most health care agencies agree that nurses with a BSN are better positioned to provide the best care. As such, having your BSN allows you to become more marketable when it comes to landing the job you want.
Your BSN degree will help you stand out against the competition, meet requirements to work in any health care facility you want and learn the leadership skills you need. Some other benefits of earning your BSN include:
Developing greater critical thinking and communication skills
Becoming a better nurse who can provide more holistic care
More career options, such as non-hospital facility options, such as non-clinical settings or nursing careers in teaching, case management, informatics or policy
Impact the nursing profession's evolution
Advanced job opportunities and job security in an ever-evolving market
Following healthcare's shift to primary and preventative care
Possible promotion into a leadership position
Nurses with a BSN also receive higher pay and better benefits. According to the US Bureau of Labor Statistics, registered nurses with a bachelor's degree made an average salary of $68,450 (2018). Recent research has also shown that BSN holders provide better patient care, including lower mortality rates and failure to rescue rates (AACN, 2018).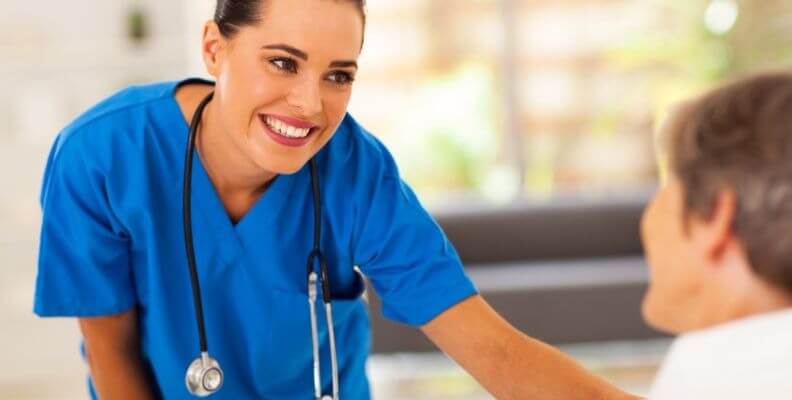 Besides the basic education that comes with a four-year degree program, most BSN courses include separate nursing courses that you wouldn't learn with an associate degree program. The BSN curriculum will cover much more than clinical skills, and some of the courses that you may learn with a bachelor's degree include:
Community nursing
Pediatrics
Nursing Ethics
Nursing Theory
Nursing Research
Psychosocial Nursing
Health Assessment
Nurse Management/Leadership
Unlike an associate program, which is focused on preparing for the NCLEX exam and basic nursing skills, BSN programs delve more into a broader educational perspective. A bachelor program also works to prepare students for a more advanced nursing degree, such as an MSN. Therefore, a BSN will strengthen your writing and research skills as well.
Why does my employer want me to get my BSN?
Many employers now want nurses to obtain a BSN not only because they provide better care, but because state legislation regarding nurses is expected to change laws across the United States in the near future. A BSN is increasingly becoming the minimum nursing requirement.
Some states, like New York, now require all nurses to obtain a bachelor's degree within 10 years of receiving a RN license. This means that all nurses working in the field should have their BSN by the year 2020. Because the baby boomer generation holds a large number of nurses with an associate degree, their near retirement should shift these numbers drastically as well.
The Affordable Care Act (ACA) has also expanded the need for qualified nurses to care for the increased number of Americans with health insurance. The Trump administration may change this legislation, but the percentage of nursing school graduates with a BSN is increasing.
RN-BSN Program Information
Because RN-BSN programs are designed for RNs who already have an associate degree or nursing diploma and want to further their education, earning a bachelor's degree through a "bridge program" such as an RN-BSN takes around two to three years. You may attend classes on a part-time basis, which could extend the time it takes you to complete your degree. Some online RN-BSN programs may also be available if you're working as a nurse while working on your bachelor's degree.
To apply for a RN-BSN program, you may need:
GPA above 2.0
A current RN license
At least a C in all nursing prerequisites
During this time, your BSN courses will provide more in-depth learning and hands-on experience in the nursing field. Expect to take courses in:
Psychology
Nutrition
Anatomy
Chemistry
Microbiology
Economics
Health information technology
Nursing practice and theory
As a BSN student, you will learn and examine the many paths professional nurses can choose, from becoming an educator to advocate of care. Your introductory courses will dive into nursing responsibilities, ethics, and evidence-based nursing practice before moving on to clinical experience.
While tuition costs vary by school, the average RN-BSN programs are completed in about two years and cost around $20,000 before financial aid, scholarships or loans are applied. Online RN-BSN programs are often a more affordable option. If you choose to live on campus, expect to see higher fees. However, there are many affordable financial assistance options for your nursing education.
What financial assistance is available to me for my RN-BSN program?
Nursing school can be expensive, but there are multiple financial aid options available from grants and loans to work-study programs and scholarships. If you're in a RN-BSN program, you may find opportunities including:
Grants – The US has many grant programs you can apply for that could save you hundreds or thousands on your education because you don't need to repay a grant. Many schools will automatically consider which grants you may receive when you complete the FAFSA and apply to the school.
Scholarships – Nursing scholarships are competitive and are often based on academic achievement, GPA, financial need, race, region or require you to follow a specific course of study or organization involvement. While each school has its own scholarship opportunities, you may also find scholarship resources from the American Association of Colleges of Nursing (AACN), community groups or organizations, or businesses in your area. The Nurse Corps Scholarship Program and the Barbara Forfar Nursing Scholarship are also available for nursing students.
Work-study – These programs help pay a student's tuition (minimum wage) in exchange for working on-campus jobs, like assisting teachers or working in the campus lunch room. Awarded based on financial need and the school's available funding, some work-study programs allow you to work in your field of study and gain added experience.
Student loans – While you later have to repay loans, college loans have low interest rates that make them easier to repay and you don't need to begin paying until six months after you have graduated. There are federal student loans, like the Stafford Loan or the most popular student loan available, or private loans that offer higher limits. However, private loans will begin to accrue interest even while you're in school while federal loans do not.
Will my employer pay for me to earn my BSN?
While some students depend on federal financial aid or scholarships to help pay for their education, many nurses have the ability to return to school with assistance from their employers to help pay for college. These funds are even tax-free up to $5,250.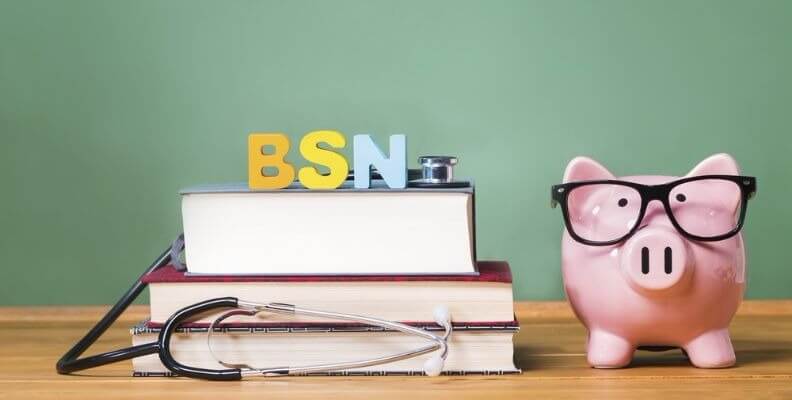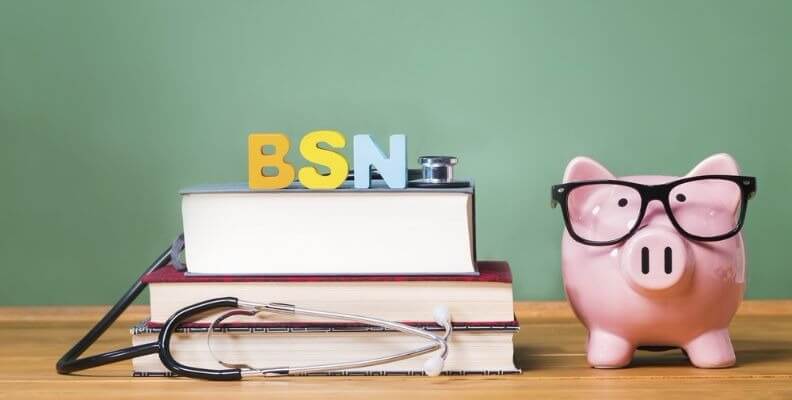 Talk to your employer to see what benefits they offer. There are two main ways employers will typically help pay for their employees RN-BSN program:
Tuition Reimbursement – An employer may reimburse an employee either in part or full for the cost of their college tuition.
Career Ladder Programs – Employees may receive a scholarship toward their education, usually with the promise of working at the institution later or even receiving a promotion upon graduation. These programs also come with lengthy contracts, as the institution will require a serious commitment from you to stay with their company for at least five years after you obtain your degree.
How do I pick an RN-BSN program?
There are many factors to consider when deciding which RN-BSN bridge program is right for you, so you want to research various nursing schools and consider your personal needs. If you know that you want to attend a specialized program or take online courses, for example, you'll need to look for specific details as you consider schools.
You may also consider:
The length of the program – How long will it take to complete your degree? Most RN-BSN programs total 120 credit hours or around two years of study. You may be able to transfer credits from previous courses, which can cut down the amount of time.
Location and size of the school – Research which schools near you offer the programs and nursing specialties you want.
Tuition price per credit hour – Prices vary between private and public schools and whether you're an in-state or out-of-state resident.
The school's NCLEX pass rate – Ask for data spanning the last five to ten years and look at the percentage of students who passed to see how well the school prepares its students.
Class size for both classroom and clinical instruction settings – Student to faculty ratios with small class sizes is more important in nursing courses than prerequisites.
Clinical rotation time – Ask nursing students at the school if the clinicals varied enough and provide hands-on experience.
Accreditation – If a school is accredited, that means it meets to standards of education set by the national accrediting organization.
There are also online accelerated BSN programs that require less time than a standard RN-BSN program would take to complete. Many students finish their degree in 12 to 18 months. However, the admission criteria may be stricter. Students in an accelerated program need a GPA of 3.0 or higher and go through a rigorous screening process to be admitted. In a program like this, courses and clinical hours are accelerated as well. This means the same number of courses and clinical hours are required, but nursing students have a more intensive schedule that allows them to complete their study faster.
RN to BSN Bridge Curriculum
As you look into your options for RN to BSN bridge programs, you will want to make sure that you are aware of admissions requirements, the application process, and requirements for completion. Most programs will require proof of a valid, unrestricted RN license, proof of immunizations and health assessment, transcripts from your RN completion program, along with personal, professional and/or academic references.
A bachelor's nursing program will include the broad general education requirements that you may not have been required to take when you first became a Registered Nurse. Some programs may dictate that general education courses such as Speech, English/Literature, and Philosophy be taken prior to upper level Nursing courses, while others may incorporate these courses across the program.
Most of the nursing-specific courses you will take in an RN-BSN program are focused on expanding your current skill set and knowledge base, in order to enhance the nursing care you provide. There is also a component of what you will learn that is intended to develop leadership skills, improve your managerial abilities, and incorporate high level conceptual knowledge into your practice.
Typical nursing courses in an RN to BSN program may include:
Nurse Leadership in the 21st Century
Advanced Nursing Theory
Translating Nursing Research into Evidence Based Practice
Community Health Assessment
Population Based Nursing
Global Health Perspectives
Nursing: Lifespan Development
Nursing Capstone
Most Bachelor of Science in Nursing bridge programs require approximately 30-40 credit hours of nursing coursework along with 30-50 credits of general education requirements. Some of these credit hours will transfer from your RN program, but it is important to speak with an advisor to learn which of your previous courses can be applied to your BSN.
There will also be a clinical component to your RN to BSN bridge program, which will likely be focused on nursing within community settings. Clinical settings may include public health agencies, elementary and secondary schools, homeless shelters, free clinics, outreach agencies and mental health facilities. When you became an RN, your clinicals were geared toward learning basic nursing skills and techniques. BSN level clinicals, on the other hand, are geared toward learning how to practice in varied settings, under various conditions, and with a wide patient demographic.
Careers for BSN Nurses
Nurses are in high demand, which wont change anytime soon! According to O*net, the projected job growth for registered nurses is growing much faster than average, projecting 15% or 438,100 more jobs by 2026 (2018).
RNs often make various salaries depending on the setting they work in. The mean annual wage for a registered nurse, according to the US Bureau of Labor Statistics, is $72,180 (2018). Registered nurses who work in hospitals, on the other hand, make slightly more, with an average of $74,270 per year (BLS, 2018).
While the majority of nurses work in hospitals, some also work in private clinics, schools, prisons, military bases and home health agencies. These employers often only hire experienced nurses with a BSN. In a home health care service setting, for example, you would travel to a patient's home and make an average salary of $69,350 (BLS, 2018).
If you want to make a bit more each year, registered nurses working in outpatient care centers make an annual mean wage of $74,800 (BLS, 2018). Nursing jobs at the federal level require a BSN and a nurse in the federal executive branch makes an annual mean wage of $84,610 (BLS, 2018). However, expect these jobs to be more competitive.
For more information on nursing education and careers, be sure to check out our nurse resources hub!