LPN to RN Programs – Schools and Curriculum
With an increasing demand for nurses in the United States, many schools now offer programs that allow licensed practical nurses (LPNs) to easily become registered nurses (RNs) in a shorter amount of time. Joining one of these LPN to RN programs means that soon you could be managing your own nurses.
Because earning your RN opens you up to a world of nursing possibilities, consider what degree you could earn and what career to pursue using the information below. Request specific program information from our list of featured schools or use the search box above to find a program in your state.

What is an LPN-RN Program?
Designed for licensed practical nurses (LPNs) who want to further their education and career path by becoming registered nurses (RN). Most LPN-RN programs use your experience as an LPN to jumpstart your RN bachelor-level education.
Often, the RN curriculum is taught at an accelerated pace to allow you to begin work faster. You may need to prioritize school over your personal or work life to make time to study the same amount of coursework at this quicker pace. However, LPN students often find their experience has prepared them for these RN courses.
Completing an LPN-RN program prepares you for your NCLEX-RN licensing exam, which may allow you to work varying entry-level nursing positions. If you want to advance your experience in the nursing field without sacrificing a regular paycheck to return to school, then this program is for you.
These bridge programs allow LPNs to earn either their ASN or BSN, as well as their RN license, in just one program, which takes much less time than other types of programs. If you are an LPN who wants to become an RN, you have two options:
LPN-ADN – An associate degree in nursing (ADN) allows you to work as an entry-level RN and possibly manage LPNs. Programs typically take one to two years to complete and are available at community colleges, vocational schools and some universities.
LPN-BSN – An RN with a bachelor's degree in nursing (BSN) is in high demand and may be more likely to receive higher pay. Programs can be completed in two to four years and are found at colleges and universities nationwide. Students in a bachelor's program may also choose specializations, such as pediatrics.
Benefits of Becoming a Registered Nurse
By becoming an RN through an associate or bachelor's level program, you can improve your earnings, expand your scope of practice and widen your influence within the nursing profession. Since you already have experience as a nurse, you have an advantage when it comes to earning an advanced degree. You already know many of the basic nursing skills and can easily expand your knowledge base to include detailed nursing theories, quality care processes and nursing practices in a variety of new settings.
You can also gain a greater sense of autonomy by becoming an RN, as you will handle more delegation, independent assessments, care planning and documentation. You will be legally permitted to perform several higher-level nursing interventions that are currently not allowed under most LPN license standards. The enhanced freedom and respect that can result from earning your RN degree is often a big enough draw for many LPNs to return to nursing school.
Earning your RN can also increase your salary and job opportunities, which is a considerable draw for many nurses these days. The US Bureau of Labor Statistics notes that the mean annual salary for LPNs and LVNs in the US is $45,030 per year (BLS, 2018). If you become an RN, you can expect a significantly higher mean income of $70,000. Earning potential coupled with greater nursing autonomy can be a powerful motivator in the decision to move from LPN practice to RN practice.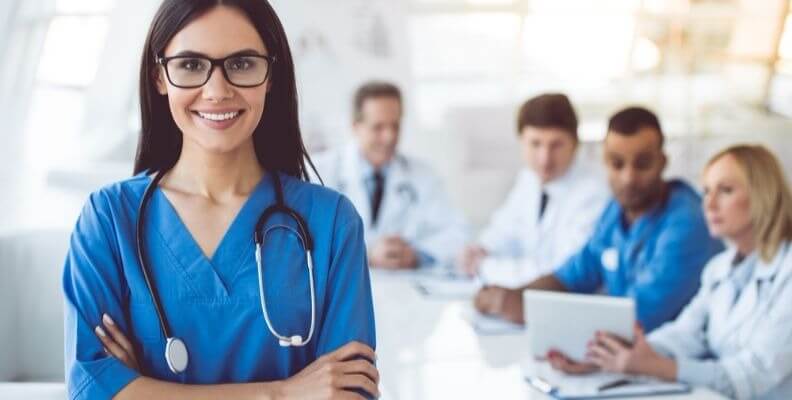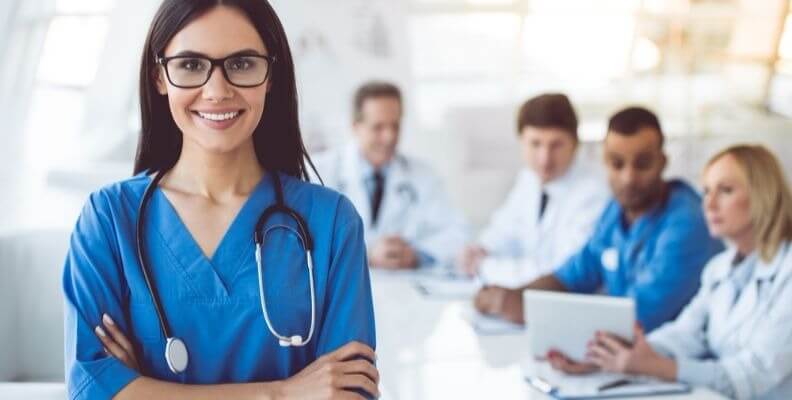 LPN-ADN versus LPN-BSN
When it comes to choosing an LPN to RN bridge program, you will need to decide which level of education is right for you – an associate degree (ADN) or bachelor's degree(BSN). Both options are common for nursing students, but they vary in level of education, the type of coursework required of you and where you may end up working.
Bachelor's degrees are traditionally taught at colleges and universities, and take four years to complete. While online programs are available, you will also take more advanced courses in nursing theory, research and informatics, as well as an overview of nursing technology used today. Some schools may allow you to take prerequisite courses online, which working students find helpful.
If you don't want to take time off work to study for four years, an ADN is the current entry-level degree for professional nurses, and only takes one or two years to complete. Courses are also taught at vocational schools and community colleges, which saves you money on tuition costs.
Typically, ADN programs lack the core liberal arts classes you'd take in a BSN program. While this means you can complete the program faster, it also means you may make a lower salary than you would with a higher-level nursing degree.
Nurses with an associate degree are employed in many settings, such as physicians' offices, hospitals and health care clinics. In these settings, you could have many of the same nursing responsibilities as a nurse with a BSN, but you will be more limited when it comes to leadership opportunities, earning potential and promotions.
Lastly, if you want to earn an advanced degree or enter a specialty someday, you may be better prepared to do so with a bachelor's degree.
LPN-RN Admission Requirements
Nursing schools want to make sure the students they accept into their programs, especially fast-paced and rigorous bridge programs, are those who will succeed. Before enrolling in a program, you will need to take a few entrance exams to give the school a feel for your prior education.
No matter which LPN to RN bridge program you choose to apply to, you will need the following to be considered for admission:
GED or high school diploma
Transcripts from any accredited educational programs you attended to earn your LPN
Current practical nursing license or vocational nursing license
Completion of clinical hours (number determined and varied by school)
Entrance exams, such as TEAS and the national league for nursing pre-admission examination. These required entrance exams evaluate your proficiency in core courses such as science, math, reading, biology, first aid, and Practice tests are available online.
LPN-RN Curriculum
To begin your LPN to RN program, you'll first have to take some prerequisites. After you complete those, you'll take some standard courses regardless of the school and program you select.
LPN-RN Prerequisites
Often, the number of prerequisite classes you must take varies based on your educational background.
Prerequisites for most students involve general education courses, including:
English composition – Written communication is important in the field of nursing, and you must learn to communicate clearly with both coworkers and patients. Composition courses are required, as they teach basic college-level writing skills.
Anatomy and physiology – In this course, you will learn how the body functions. It is a mandatory class for anyone working in the field of medicine, and is a primary base of knowledge to help nurses understand what to do when the body is not functioning properly.
Biology – This course teaches the basic foundations of life. Biology is sometimes a prerequisite to an anatomy and physiology class.
General chemistry – Learn how organic matter (i.e.: the human body) reacts to different chemicals and various drugs in your starter chemistry course. Your general chemistry lessons may lay the foundation for other more advanced chemistry courses required to become a nurse.
LPN-RN Courses
Class requirements vary by school, state and program. Courses may also vary if you are working toward an ADN or BSN, as associate classes focus more on adult health nursing and transitioning into the role of an RN. Bachelor-level education also requires more core classes.
In any LPN to RN program, you will need to take core courses, including:
Health assessment – An overview of the basic physical exams and health evaluations you may conduct as an RN.
Pharmacology – How drug interactions and dosages affect the human body.
Nursing research – Learn problem-solving skills and how to evaluate medical research.
Adult health nursing – Follow the best practices on caring for patients with a variety of conditions, from respiratory and cardiovascular to substance abuse and cancer.
Community-based nursing – Explore public health and how you can deliver health care services and manage diseases in a diverse population.
Women's health – Learn about reproductive difficulties, pregnancy and newborn care.
You may also need clinical experience along with your core classes, as some courses require you to learn in a real-world setting. Women's health, for example, may apply your classroom learning to a real-life situation.
Can I Become an RN through an Online LPN-RN Program?
The short answer, fortunately, is yes. There are a small number of online LPN to RN programs offered by universities across the US. When you speak with the schools that offer them, you should make sure to find out how often (if at all) you will be required to come to campus – some programs that are described as "online" still require you to show up for a few weekends each semester, or something similar.
Clinical Rotations for LPN to RN Students
To become a registered nurse, clinical rotations are required to gain meaningful real-life experiences while you're in nursing school. Because the nature of health care is so hands-on, you will need to learn how to use your new skill-set directly with patients.
In clinicals, you can expect to perform various nursing tasks you are already familiar with as an LPN, such as taking vitals, bathing, feeding, ambulating, medicating and assessing patient health. You will also be utilizing more acute clinical skills such as NG placement, IV starts and blood draws. Often, students are assigned to one patient to allow you to focus on using all the new skills you're learning in your courses in a real-life scenario.
Many students begin their clinical rotations working in a long-term care facility like a nursing home or a local health care facility. You may even be able to do some of your clinicals in your own work setting. Some schools may ask you to find your own clinical site. You may be in a facility one day a week while taking your classes. Shifts often last from five to eight hours, so your time management skills will be put to the test. As an LVN/LPN most of this will be old hat to you, but is still required to meet accreditation and RN licensing requirements.
Licensing Requirements for RN Degree Graduates
In each state, a state board of nursing oversees the guidelines to become a nurse, including exams and licensure. The state boards make sure you meet all federal ethical and legal guidelines before you can become a nurse. While requirements can vary based on your state, many have the same basic requirements.
To earn a registered nursing license, you will need at least the following:
Proof of graduation from a state-approved nursing program, including all degree requirements, clinicals and exams needed for your degree.
Proof that you took and passed the NCLEX-RN exam, the standard for all RNs.
Self-report of any criminal convictions, chemical dependencies or functional deficits you may have experienced.
RN Careers
Registered nurses have an enormous amount of career options available to them in a variety of settings and specializations. With so many options, you really need to find an area of medicine that appeals to you.
After you become an RN, you can work in a physician's office, hospital, nursing home, home health care service or the military, or in travel nursing.  You will also be better positioned for administrative and management roles, especially if you have been an LPN for a long time. If you prefer to work in a 9-5 setting, the physician's office might be right for you as opposed to the unpredictable range of hours you could work in a hospital. Again, this is where your career expansion opportunities really set in.
There are over 100 different areas that nurses can specialize in, ranging from management and emergency to psychology, women's health, surgical practices, and many more. You could go on to become a burn care nurse in the emergency room, a hospice nurse in a local care facility or a transplant nurse who helps during surgery.
Because career options vary based on your education, it's important to choose an LPN-RN program that aligns with your needs. Check out the featured schools we think you might enjoy or use the search box above to find the right program for you, and request the specific information you need today.
What Does an LPN-to-RN Program Involve?
Lorry Schoenly, PhD, RN is a nurse writer and educator with over 25 years of experience. She has been certified in five different clinical specialties including critical care and emergency nursing. Starting as an associate degree registered nurse, she continued her schooling in traditional and distance-learning settings to obtain a BSN, MSN, and PhD in nursing while working full-time and raising a family. Lorry teaches nursing in a variety of settings including webinars and online nursing courses.
An LPN to RN program incorporates current nursing experience at LPN licensure level while expanding your understanding of nursing practice and leadership at the RN level. RN's have greater career mobility and greater autonomy of practice.
There are both classroom and online options available to make this transition. The time commitment may be as short at 18 months or extended out if your life situation requires part time attendance. Most programs are flexible to encourage enrollment of working nurses.
Look for a program that will maximize the nursing education and experience you already have. If you are only a few years into your LPN career, check back with your LPN school to see if they have an affiliation with any RN programs. Affiliation agreements greatly benefit you, as they smooth the way between schools and speed the acceptance process.
LPN to RN programs most often start at the Associate Degree level. Coursework strengthens anatomy and physiology understanding while improving microbiology and chemistry knowledge to interpret basic laboratory and diagnostic tests. Courses will also include leadership development, communication skills and aspects of professional nursing practice. Many LPN to RN programs have a clinical component. If enrolled in an online program, this may require seeking out a clinical experience on your own.
Completion of an LPN to RN program is the first step toward an RN license. With careful selection and planning, you can meet your career goal. Visit our resources center for help in your nursing journey!