Associate Nursing Degree Programs
Earning your Associate Degree in Nursing (ADN) is a great way to begin a career in nursing! It is also the most common way to enter the nursing profession, according to the most recent report from the Health Resources and Services Administration, which states that over 45 percent of all nurses in the U.S. were initially educated at the associate level. Earning your two-year nursing degree by attending one of the thousands of ADN programs across the nation can get you into the field of nursing quickly.
Get started now by contacting local schools.
Earning your two year nursing degree by attending one of the thousands of ADN programs across the nation can get you into the field of nursing quickly so you can start earning money. Associate degree nursing schools are sometimes community colleges and other times offered at technical schools nationwide. Just make sure your program is ACEN accredited, and provides you with the basic nursing skills you need to care for patients in a variety of settings.
What Can You Do With Associate Degrees in Nursing?
First and foremost, it is essential to look for CCNE, CNEA and/or ACEN accredited nursing schools. By completing an accredited ADN program, you will be able to take the NCLEX-RN and apply for your Registered Nursing (RN) license. After you've received your RN License, you are ready to enter the job market.
As an RN, you will be on the forefront of healthcare providing patients, families and communities with the healthcare services they need to maintain health and wellness. RNs work in many healthcare settings across the country, including hospitals, clinics, schools, businesses and organizations like the Red Cross, as well as government agencies such as the Department of Health and Human Services.
As a new graduate nurse, you may be competing with several other RNs for the same entry level nursing positions, so it's important to set yourself apart by exploring opportunities while still in nursing school. A resume filled with volunteer and healthcare related experience can help you get the nursing job you want. As the nursing profession continues to evolve, you may find that your associate degree in nursing is a great first step into nursing, but that you will need a higher degree for more advanced positions in management and leadership.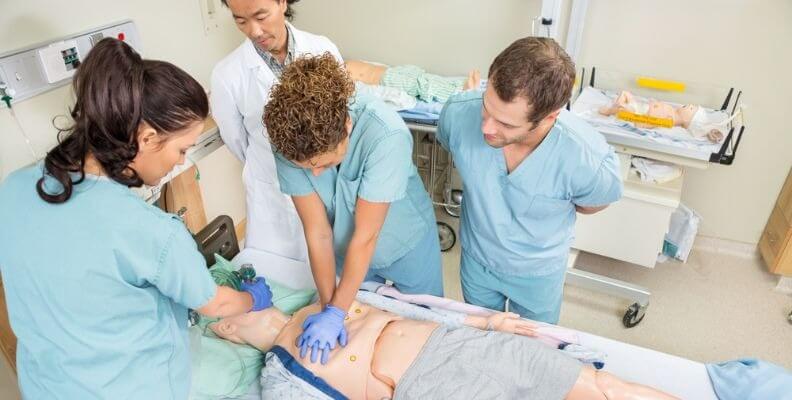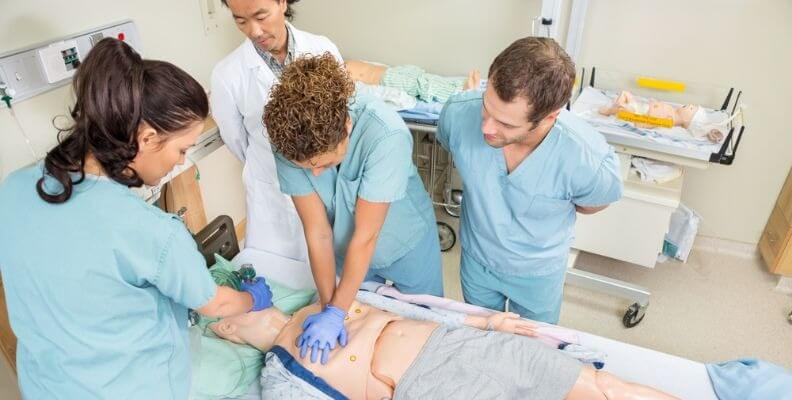 Regardless of your end goals, you can rest assured that by earning your nursing associate degree from an accredited nursing school, you should be qualified to apply for a variety of nursing positions across multiple settings.
Are you thinking, "I want to find ADN programs near me?" Then contact the schools that interest you the most to learn about getting started on your associate nursing degree today. To contact schools, check out the featured schools at the top of the page, the quick search to find schools near you, or scroll to the bottom and click "view schools."
How Do I Choose the Right Nursing School for an Associate Nursing Degree?
Taking into account the sheer number of associate degree in nursing programs across the nation, you may be wondering how to find an Associate's program that will meet your personal needs. At BestNursingDegree.com, we have compiled a list of accredited list of schools that offer associate degrees in nursing from across all fifty states to help you find the best school to meet your needs as you strive to become a Registered Nurse (RN).
The easiest way to search our directory of ADN nursing programs is to select your state from the links below, where you will find all of the State Board of Nursing approved Associate's programs for the state you choose. You will also find each ADN school's NCLEX Pass Rate listed, to save you time and energy as you search for the best nursing schools in your area.
Associate Degree in Nursing Program Admissions & Details
Earning your ADN can be a great first step towards a long, stable career in healthcare. Let's take a look at what kinds of requirements you will need to meet in order to enroll in most schools. Keep in mind, every nursing school is different, and may vary from these general guidelines.
To apply for an Associate in Nursing program, you will likely need to:
Have your high school or GED level education
Have certain courses from high school in chemistry, biology, math, etc. If not, you will have to meet this criteria at the college level
GPA requirement (typically 2.0-2.5)
Personal statement
Letters of recommendation
Official transcripts
You can expect to spend about two years in your Associate's in Nursing program. Most schools also have financial aid options for you to take advantage of.
Associate in Nursing: Courses and Curriculum
The curriculum in this degree program is meant to give you a solid foundation in nursing topics.
Here are sample courses you might be required to take in your ADN  education:
Anatomy & Physiology
Pharmacology
Nursing concepts
Pediatrics
Psychology
Management
Microbiology and chemistry
Pathophysiology
Adult health
Nutrition
You will probably have to take some elective courses, such as English Composition or public speaking. These classes will enhance your nursing skills in supplemental ways, and may also meet BSN requirements in the future.
Some nursing programs can be quite competitive. That's because students know that there is high growth in healthcare, compared to other occupations. But if you have a love for science, and a natural want to help others heal, you should check out your Associate nursing program options with our resources and listings.
What Should I Expect from an Associate in Nursing Program?
Most nursing students complete their ADN nursing degree program in 2-4 years, depending on previous college credits earned, and the course load taken.
Financial aid is often available to those who qualify, including grants, scholarships and loans. Contact your school's Financial Aid Office to see what's available for you. You can also apply for the Back to School Nursing Scholarship, which BestNursingDegree proudly offers to help you reach your educational goals.
Nursing schools typically offer programs that include both general studies and nursing classes for their associate degrees. You will take general courses such as English, Nutrition, Microbiology, Anatomy and Physiology to provide you with the knowledge base you will need to be successful in your nursing courses.
Nursing curriculum begins with basic nursing assessment and nursing theory classes, and will move on to nursing classes that focus on specific patients, such as adults, pediatrics, obstetrics, mental health and community nursing. Most ADN schools require that you maintain a minimum GPA and passing grades throughout the program in order to progress.
Most of the associate nursing classes you take will have both a classroom component and a clinical component. This allows you to put what you learn into practice while under the supervision of your nursing instructors. Nursing students often think 'Clinicals' (the hands-on portions of courses) to be one of the more stressful parts of nursing school. Even so, they are actually the most beneficial way to incorporate theoretical and first hand nursing knowledge together as you earn your nursing Associate's degree.
"Clinicals can be scary at first…you're basically taking care of patients for the first time, in a place you've never been with a bunch of words, tools, tests and procedures you barely understand! My best advice is this: Prepare well, go to bed early, and most importantly, remember that the patients are real people. I still tell nurses that if you treat your patients like you'd want your grandmother treated, you're on the right track." –Shanna Shafer RN, BSN
How Do I Get My Nursing License?
Once you have completed your Associate Nursing program, you should be eligible to take the NCLEX-RN exam, which you must pass in order to receive your first RN license. First, you will need to prove you have earned your Associate nursing degree. Associate degree in nursing schools should help you with this. Then, you will need to submit an application to your State Board of Nursing to take the test. The state board will then give you an authorization to test (ATT), which is required to take the NCLEX-RN. Your nursing school can assist you in submitting a license application to your State Board and may also offer a review or NCLEX prep class to help you prepare for the exam.
You can also find a complete list of links to each State Board here. Some states are part of what is called the Nurse Licensure Compact (NLC), which allows an associate degree nurse to practice across state lines under a multi-state license. To learn more about how the Compact works, including where you can test and practice, please read the NLC's Frequently Asked Questions publication. Once you have earned your nursing license, you will need to renew it according to your state's requirements. You can find out more about nursing CEUs and RN license renewal requirements on our FAQ pages.
Tips for Applying for your First Nursing Job
Are you ready to start applying for a nursing position and wondering what to do first? No sweat. Here is a simple guideline of steps you should take to prepare. These simple tips will help ensure you start with your best foot forward!
5 Tips For Applying For Nursing Jobs:
Work directly with your school in the final semester or two of your training. They should help you prepare your resume, start scoping out prospective employers, and help you set up your initial interviews.
Prepare answers to common questions, such as: Why do you want to be a nurse? What do you find difficult about nursing? How do you diffuse stressful situations? Etc.
Have a professional review your resume before you submit it. If you know a nurse or someone in the field who can review your resume beforehand, that is ideal. Either way, look at nurses on LinkedIn to see how they promote their skills. (And a good picture for your profile never hurts!)
Dress professionally. Save your scrubs for the first day on the job, not your first impression. Business attire is preferred. As a rule of thumb, you can never overdress for an interview.
Research the healthcare organization you are interviewing with. If you don't appear knowledgeable about them, how much do you really want the job? And be sure to read up on the person who is interviewing you. And have a few questions ready for them too!
If you do all of these things, and continue researching other tips and expert advice, you should be fine. Good luck on your interview. And when you land your first job, let us know!
We at BestNursingDegree are thrilled that you have decided to explore Associates in nursing programs, and will do everything we can to provide you with the nursing information you need to make the best decisions for your education and career. If you are saying, "I want to find the ADN programs near me right away," please contact the nursing schools you are interested in to get program details today. If you have any questions, would like more information, or just want to tell us how we have helped in your search for Associate degree in nursing schools, please email us at info@bestnursingdegree.com.
According to the  Institute of Medicine Report on the Future of Nursing in 2010, "The primary goals of nursing education remain the same: nurses must be prepared to meet diverse patients' needs; function as leaders; and advance science that benefits patients and the capacity of health professionals to deliver safe, quality patient care."
What is the difference between getting my RN through a diploma program, an ADN, or a BSN program?
All three educational routes prepare you to sit for the National Council Licensure Examination for Registered Nurses (NCLEX-RN) exam, which is the test you must take to become licensed as a Registered Nurse (RN) in the United States. Each program has different requirements regarding admissions, credit hours required for graduation, and scope of coursework.
The most obvious differences between the programs include:
the length of time required for program completion;
the cost of the program;
and the type of job setting you will be prepared to work in after you graduate.
There are also some state boards of nursing that require a certain level of education for licensure as an RN. You can find out more about the requirements in your state by visiting the National Council of State Boards of Nursing (NCSBN) or by contacting your State Board of Nursing.
Should I get an Associate Degree in Nursing (ADN) or a Bachelor's of Science in Nursing?
Chris O'Brien received her BSN from Auburn University and her master's in public health from Emory University. With a background in cardiac care, home health, nursing research & education, and medical writing, she now enjoys the being both a freelance medical writer and yoga teacher in Decatur, GA.
Time and money are the two biggest factors in deciding what type of nursing degree to pursue, but there are other important considerations that are not as easy to measure as time and money.
We'll look at the time and money factors first, since they are so closely tied together.
Do You Have the Time and Talent to Become a Nurse?
An Associate Degree in Nursing (ADN) is awarded from a junior college and is designed to be completed in two years, so you can start working as a registered nurse in about half the time by taking this path; but it's a more limited path than the BSN in some ways.
Let me explain why:
It is generally easier to be accepted in a junior college than it is to be accepted into four year colleges that offer BSN programs. For example, slightly lower high school grades and standardized test scores may be acceptable at a junior college. This works if you're not very academically inclined and just want to get a nursing job that pays well and has flexible hours.
And don't forget: even if you start at the associate level, you can always go on to earn your BSN later.
How Much Do ADN Programs Cost?
Now for the bottom line on money: The cost of an ADN program will be much less than a BSN program and you'll be able to get a job two years sooner and start earning income with the ADN. Both types of programs may offer financial aid, so that can help to cut your out of pocket education costs substantially.Are you starting to get an idea of which path would suit you better based on what you know about your personal limits of time and money? Okay, now let's look at some of the more subtle aspects you need to consider in making this decision.
Are You Up for the Challenges of Nursing School?
If you have a decent academic record and SAT or ACT scores that are consistent with your grade point average, then you may want to challenge yourself more at a four year college. So you have to look at how you've behaved in the past and predict how you'll be in the future. You have to know your own limits in order to decide if you want to take the quicker path that's easier to get started or the slightly more difficult path that's a little harder to get going.
Weighing the Differences Between a BSN and ADN
In some cases you may be limited in terms of the types of jobs you can get as a registered nurse with an ADN. Leadership positions, for example, often require a BSN. This is partly because ADN programs do not cover leadership/management material in any depth – it's only a two-year program, so basics that you need to practice are taught. The BSN takes twice as long, so naturally you have a broader scope of nursing practice potential when you graduate. Now, if you know that you want to work in direct patient care for your entire career and you want to get started as soon as possible, then an ADN may be your best choice, but if you want to keep more options open then the BSN is generally a better path.
Some nurses start with an Associate degree in nursing and then go back for a BSN later, when they may have more motivation, time and/or funds for education. As in most professions, the further you advance your education, the greater earning power you have, so starting with a BSN puts you in a position to earn more over time. Some employers may even pay more starting out if you have a BSN. Others pay the same for staff nurses with ADNs and BSN degrees working in the same type of position. Still others only hire nurses with BSN degrees or those who are actively pursuing a BSN.
How to Decide if an ADN or BSN is Right for You
So, let me sum it up now. The ADN is a faster, cheaper, and less academically tough way to become a registered nurse. Over time you may not make as much money as someone with a BSN, and the opportunities for a wider variety of positions may also be limited. Whichever type of program you enter be sure to ask what percentage of graduates pass the state licensing exam on the first attempt. This is the most important indicator that you'll be able to pass the state licensing exam when you finish your program!