Certified Nurse-Midwife Programs – Midwifery Courses and Training
If you want to dedicate your career to the miracle of new life, you may be a great fit for one of the nurse-midwifery schools in your state. These programs build upon a solid foundation of nursing knowledge to help you learn about women's healthcare needs, the process of pregnancy and a woman's needs in labor. Depending on the schools you select, you may be able to get started in this program with a nursing bachelor's degree or a non-nursing bachelor's degree. Look into available programs and contact those that meet your expectations.
<!- mfunc feat_school ->
Featured Programs:
Sponsored School(s)
<!- /mfunc feat_school ->
Becoming a Certified Nurse-Midwife (CNM) requires graduation from a nurse-midwifery program that is accredited by the Accreditation Commission for Midwifery Education (ACME). Several midwife schooling options are available across the United States, and available seats for students have been increasing in recent years, thanks to the inclusion of distance learning methods in many programs. If you want to become a midwife, we can help.
The American College of Nurse-Midwives (ACNM) reports that applications to midwifery programs have been increasing steadily over the last decade, with over 1600 nurses applying to Midwifery programs in 2012. There are currently just under 40 CNM accredited programs, six of which currently provide a majority of courses online (ACNM, 2013).
What is the Difference Between a Lay Midwife and a Certified Midwife?
Before you say, "I need to search for midwifery schools near me right now," it's important to first understand the difference between a lay midwife and a certified nurse-midwife. Midwife training can be obtained by non-nurses through a variety of CNM school options, but if you want to know how to become a nurse-midwife you will have to earn either a master's in nursing or doctoral degree in nursing. Most CNM schools do require that you be licensed as a Registered Nurse for admission. There are some midwife schooling programs that do accept students who have a non-nursing bachelor's degree, but there are usually more applicants than available seats in these programs. That's why you need to get a complete list of midwifery schools that accept students in your area. The differences between each one will have a significant impact your decision.
The ACNM is aware of the need for more programs for midwife training and is continually working toward expanding the number of educational options available.
Because there are not midwife programs in every state, we have featured those programs that offer distance learning and online options for study. Submit a request for program information from these schools to find out if you may be able to complete the majority of your Midwifery program from home, utilizing your own community and local nurse-midwives as valuable clinical resources. Contact the schools you see to learn how to become a midwife, expanding both your nursing career and access to the valuable services that a certified nurse-midwife provides.
What Does A Certified Nurse-Midwife (CNM) Actually Do?
The Nurse-Midwife profession has a long and trusted history as Midwives have been helping women to prepare for and go through labor and childbirth since the early days of human history. Of course, these have typically been what the ACNM would call "traditional birth attendants," without formal medical training. A Certified Nurse-Midwife is a Master's or Doctorate prepared Registered Nurse, who is specially educated to assess, diagnose and treat women's health issues.
Reproductive health is usually the primary focus of what Certified Nurse-Midwives deal with, including well woman exams, treatment of sexually transmitted infections, along with pregnancy and childbirth.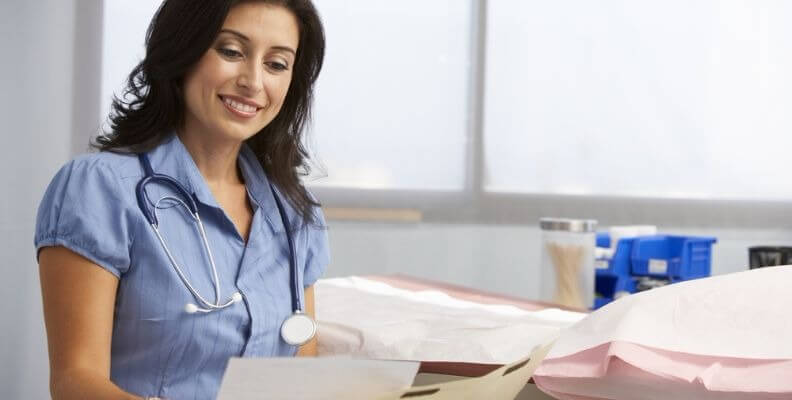 Interestingly enough, more than 30 percent of Nurse-Midwives report that primary care activities such as annual exams, patient education, prescribing medication and basic health counseling account for the majority of their practice.
The full scope of practice of CNMs is described below, as published by the American College of Nurse-Midwives.
Certified Nurse-Midwives Provide:
Primary healthcare services for women from adolescence to beyond menopause
Gynecologic and family planning
Preconception care
Perinatal and Postpartum care
Newborn care for uncomplicated cases up to 28 days of age
Treatment of male partners with sexually transmitted infections
Certified Nurse-Midwives are Educated and Certified to:
Perform comprehensive assessment, diagnosis and treatment of medical conditions
Conduct physical exams
Prescribe medications, including contraceptives and controlled substances
Admit, manage and discharge patients from healthcare facilities
Order and interpret laboratory tests
Utilize and order the use of medical devices
Provide health maintenance education to communities and families
Certified Nurse-Midwives are recognized in all fifty states, and their services are reimbursed by Medicaid, making Midwives one of the only segments of Advanced Practice Registered Nurses (APRNs) to enjoy the same payment levels as physicians. This may be one reason why so many CNMs find themselves providing primary care services as much as reproductive health maintenance. As you speak with advisors on your list of midwifery schools, ask what the professional outcomes usually look like for their graduates. This will help you gauge where you might work, and what your daily responsibilities will look like in regards to reproductive health and primary care services.
How Do I Become A Certified Nurse-Midwife?
For RNs, the best first step toward learning how to become a Midwife is to reach out to any or all of the nationally accredited master's programs that offer a CNM track. Make sure, first and foremost, that any CNM school program you consider is accredited by the ACME. And, as always, make sure to check with the Board of Nursing in the state where you intend to practice, for any state specific requirements.
To find a program, begin by clicking on the listings on this page to find CNM schools near you. Submit a request for information to the schools, and remember that the more information you request, the more you will have to work with as you make a decision. Take time to speak with both admissions and nursing personnel, so you have the most relevant information available to you.
Most Certified Nurse-Midwife programs consist of the following curriculum standards based on the Core Competencies set forth by the American College of Nurse-Midwives. Each course usually has a significant clinical component during which you will apply didactic knowledge to hands on patient care in a variety of settings.
Common Components of a Certified Nurse-Midwife Program Curriculum should include:
Research in Advanced Practice Nursing
Reproductive Health Management
Advanced Physiology and Pathophysiology
Foundations of Midwifery Care
Antepartum and Postpartum Management
Intrapartum Care Managment
Principles of Pharmacology and Prescribing for Advanced Practice
Policy and Population Based Care
Primary Care Practicum
Advanced Women's Health Assessment
Applied Health Care Economics and Finance
Health Systems, Organization, and Change
Advanced Practicum in Nurse-Midwifery I, II, III
Typically, nurse-midwife schools typically require anywhere from 80-100+ credit hours, and can take up to 4 years to complete, based upon enrollment status and program requirements. Are you saying, "I want to find midwifery schools near me?" If so, please request information from the schools on this page, and feel free to contact us with any additional inquiries.
Working as a Certified Nurse-Midwife
Today, Nurse-Midwives can be found in many settings, from hospitals, where, according to the ACNM, over 23 percent of CNMs currently work, to public health clinics, in private practice and academic settings. Many Nurse-Midwives work in collaboration with a group of providers that operate independent birthing centers, separate from hospitals, where women and their families can obtain full service perinatal care.
If you measure each setting by the percentage of total midwife-attended births it is responsible for, the hospitals dominate, with close to 95 percent. This is not surprising, given the volume of births handled by hospitals versus other care settings. However, midwives in all settings spend a good deal of their time providing care to women outside of the event of childbirth itself.
A substantial portion, about 70 percent, according to the ACNM, of women who see Nurse-Midwives for care fall into what are termed "at-risk" categories, due to their income, geographic location, ethnicity, and access to services. Because of the nature of the work, midwives, more than other advanced practice nurses, have an ability to get deeply involved in the lives of their patients. They are looked to for guidance and help that go far beyond the immediate medical issues, and reach into child-rearing and other long term, social issues. For this reason, Nurse-Midwives contribute significantly to many aspects of public health and population based care.
This kind of contribution is badly needed today, in a care environment that typically tries to move patients through as quickly as possible, and with the minimum personal attention required. All nurses have important roles to play, but you could make the case that there is a bit more of a "social mission" to being a Nurse-Midwife. Certified Nurse-Midwives are in a position to have a larger and more lasting impact on their patients' lives and behavior, and they are able to give guidance to a part of the population that often needs it the most.
As a side note to that, some nurse-midwife schools can prepare students who want to know how to become a midwife that provides healthcare in other countries as well, through organizations such as Médecins Sans Frontières (MSF, also known as Doctors Without Borders).
After searching our list of nurse-midwife programs by state, you can find more information about this role on the American College of Nurse-Midwives (ACNM) website. According to the Bureau of Labor Statistics, the average midwifery salary is $93,610 (BLS, 2017). This segment of nursing is also expected to see good growth over the next decade, with a projected 22 percent growth rate predicted.
A Day in the Life of a Midwife Student
During your time as a midwife student, you can develop your own voice, so to speak, in how you comfort patients and perform your duties. Of course, many functions of the work are standard, such as taking vitals, managing labor, and taking the lead when others are looking for your guidance. You will quickly realize in your clinical training that life as a midwife is just as unpredictable as most jobs in healthcare. We don't decide when babies are ready for the world, so don't be surprised if your training includes work at all hours.
While clinical experiences may be the most memorable, you will spend plenty of time in a classroom. This is where you will gain the knowledge and theory of your midwivery practice. In your courses, you will learn about the critical topics about pregnancy and birth, as well as how to conduct exams, postpartum care, physical assessments, and neonatology. Your course work should also cover the business aspects of being a midwife, such as negotiating contracts and liability issues.
In your daily clinical training, you may have opportunities to work under the guidance of older professionals with decades of experience. This can sometimes feel intimidating to younger students, especially with health of a newborn's life under your care. However, results of a respected study from the National Center for Biotechnology Information prove confidence levels in younger students rise as they progress through nurse-midwife schools.
Here are some daily activities you will practice in your midwife school clinical training:
Arriving at work, changing into scrubs and taking over for the previous team
Examining patient notes & formulating plans
Helping with delivery – the highlight of every midwife training experience
Checking on newborns and their mothers
Writing prescriptions and calculating dosages
Assisting mothers with washing and dressing themselves
Take phone calls from patients who have questions or need to check in
Informing the new midwives about patient condition and details before you leave your shift
During your student life, you will also learn some interesting things about being a midwife. In this humorous account of life as a midwife student, this author talks about getting peed on, why it's not a good idea to eat garlic before your shift, and how being on-call is just a fact of life in this profession. Sometimes that means waking up at 3am for a false alarm, and other unexpected situations.
All in all, we think you'll rock CNM school, especially if you're already an experienced RN.
So what is it like once you fully transition from school to your midwife career? Let's talk about that…
A Day in the Life of a Nurse-Midwife
Many people think of midwives exclusively in the context of helping women give birth. But midwives are capable and responsible for other areas of women's healthcare.
That's why your training should prepare you for several job functions, including:
Gynecological care
Labor and birth management and care
Ordering tests
Prescribing medication and making health recommendations
Physical assessments
Another factor that can impact your daily life is where you work. Midwives can find work in several healthcare settings, such as:
Hospitals
Birthing centers
Private clinics
Other health organizations
Federal and state health departments
When you assist with delivery and afterbirth care, you do everything in your power to ensure things go smoothly. If there are challenges, you will need to take the lead to overcome complications that can arise during childbirth. It will be up to you to know when a doctor is needed to assist with birth. This is where your education and training will hopefully guide you with confidence. As part of your after birth care, you may assist mothers with breastfeeding and other new life adjustments they'll have to make.
Midwives are important caregivers to women throughout their entire lifespans. Not to mention, many graduates of nurse-midwife schools move into education or public policy roles. If you go down one of these career paths, your daily life will be very different. First of all, you may be performing gynecological exams or other forms of patient care, if you work in a healthcare setting. After years of experience, you might even move into a leadership role, making sure your team of midwives, or clinical students, had everything they needed to thrive in their roles.
Some midwives realize they are natural teachers, and feel most at home in the classroom. These nurse educators use their experience to inspire the next generation of midwives. It is also natural for midwives to move into public policy roles. In these types of jobs, your life may not feel as hectic. After several years of working in a hospital, where anything can happen, it might feel nice to have a 9-5, Monday-Friday schedule.
As you can see, being a midwife isn't limited to delivering babies. This field of nursing has several types of professional opportunities for graduates of CNM programs. No matter which path or role you choose, your daily responsibilities will remind you what a difference you are make in women's lives from birth, tough their entire lifespan.
If you're looking for more help to decide on the nursing career and education that will help you reach your goals, we're to to help: visit this page for nursing articles, videos, and FAQs.