Accelerated BSN Programs
If you already have a non-nursing degree but want to become a nurse, you've come to the right place. Thousands of people just like you choose nursing as a second career for a variety of reasons. Whether you are looking for campus-based accelerated nursing programs, online accelerated BSN programs, or even if you are just starting to explore what options are available, we can help.
On this page, you'll discover how these programs differ from a standard Bachelor of Science in Nursing (BSN) degree program, how you can apply, what you need to do to graduate and get licensed, and careers for after you graduate.
What is an Accelerated Bachelor's Degree in Nursing Program?
To meet the growing demand for Registered Nurses (RNs), more and more schools have started to offer accelerated nursing programs.
An accelerated nursing program is designed for those who already hold a degree in another field but would like to become a nurse. The amount of time it takes to complete the degree depends on your educational background and professional experience. You can also enter the health care field with a Bachelor's of Health Sciences or Administration.
Accelerated nursing programs prepare participants to move into the field of nursing through courses that focus on the fundamentals and theories of the profession, as well as labs and clinical rotations that provide opportunities to apply the knowledge and skills they're learning to real-life patient care situations.
These accelerated programs allow students to earn a Bachelor of Science in Nursing (BSN) in as little as 11 to 18 months.
The Difference between a BA-BSN and BS-BSN Second Degree Nursing Program
Many people choose to switch careers throughout their lifetime. They discover a growing desire for a more meaningful career. With the demand for nurses growing, combined with competitive pay, flexible schedules, and health benefits, it's no surprise that nursing is a popular choice.
Second degree nursing programs can be intense, combining clinical and classroom work into a shorter time period than traditional programs. Those who hold a BS may have already completed more of the health and science prerequisites than those who hold a BA degree, so it may take them less time to complete the program.
ABSN vs. Direct Entry MSN
If you already hold a degree and are interested in a nursing career, there are several pathways available. You can choose an accelerated program to obtain a bachelor's degree in nursing (BSN) and become a registered nurse (RN) or you may consider looking into a Direct Entry MSN program that will allow you to enter the profession of nursing with a master's degree.
The path you choose depends on your career goals. For example, if you are sure you want to go on to advanced practice, such as Nurse Practitioner, then Direct Entry MSN may be a good path for you.
Students who take either approach need to be highly motivated learners who are willing and able to make a full time commitment to school.
The Growing Popularity of ABSN Programs
Whether you desire a more satisfying career or just want to make more money, getting a second degree in nursing can be a rewarding decision. Nursing students who already have a non-nursing degree are well-received by both schools and prospective employers.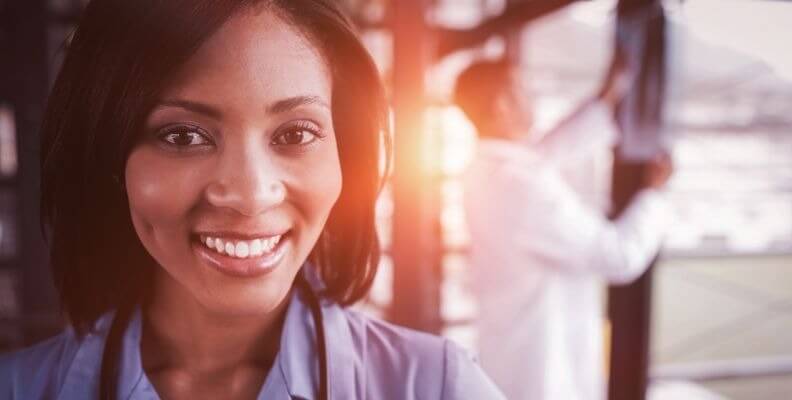 As the nursing shortage continues to grow, schools have developed programs that build curriculum around the degree you already have. This approach channels new nurses into the workforce faster than traditional programs.
According to the American Association of Colleges of Nursing (AACN), one of the most rapidly expanding segments of nursing education is the Accelerated or Second Degree Bachelor of Science in Nursing (BSN). This option is the fastest route to move from a non-nursing career to full licensure and practice as a Registered Nurse (RN).
What are the Benefits of Accelerated BS to BSN Programs?
Considering the diverse opportunities within the field of nursing and the nursing shortage, it is no surprise that many degree holding adults are leaving their current professions to become nurses. For adults considering a career change, minimizing the time spent in training for a new job is very important. That is why many adults choose to enroll in an Accelerated or Second Degree BSN Program, taking advantage of programs that build upon previous learning experiences.
One of the major benefits of Accelerated BSN programs is how fast you can earn your nursing degree. Most programs offer completion in less than two years, which is half of the time it takes to earn a traditional BSN.
The fact that you already have a degree, though it may not be healthcare specific, means that you have taken many of the general studies and elective courses required of traditional nursing students. What could be better than building upon the education you have already invested in, while expanding your knowledge to enter one of the fastest growing job sectors in the nation?
Many of those who want to move into nursing are looking for the satisfaction that comes from working in a job they believe is important and that makes a positive contribution to the world. As an added bonus, the demand for nurses continues to grow.
An accelerated BSN (ABSN) lets you complete a nursing degree in less than two years, which is half of the time it takes to earn a traditional BSN. For most adults, minimizing the time spent preparing for a new career can be important.
How Long Are Accelerated BSN Programs?
You can typically complete an accelerated BS to BSN program in about 11-18 months. This path is for students who already have a bachelor's degree in another field of study. And remember, there are certain course prerequisites you must take if you didn't already take them for your previous degree.
Most schools will review your transcripts to make sure you have background courses completed in such areas as:
Chemistry
Anatomy
Biology
Physiology
Statistics
You will also spend a lot of time in clinical classes or in the simulation lab to learn basic nursing skills.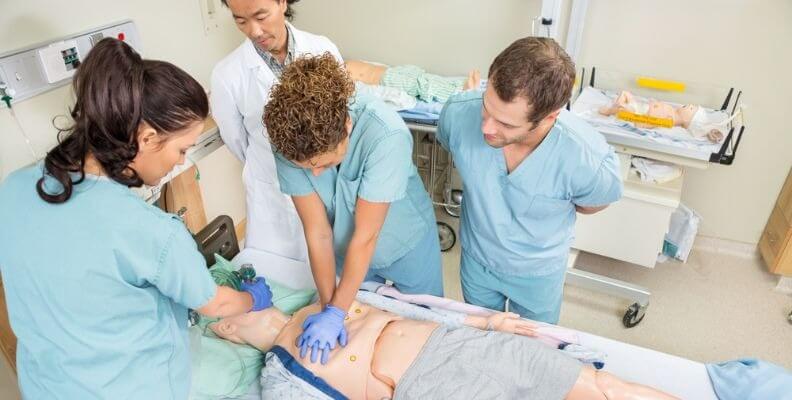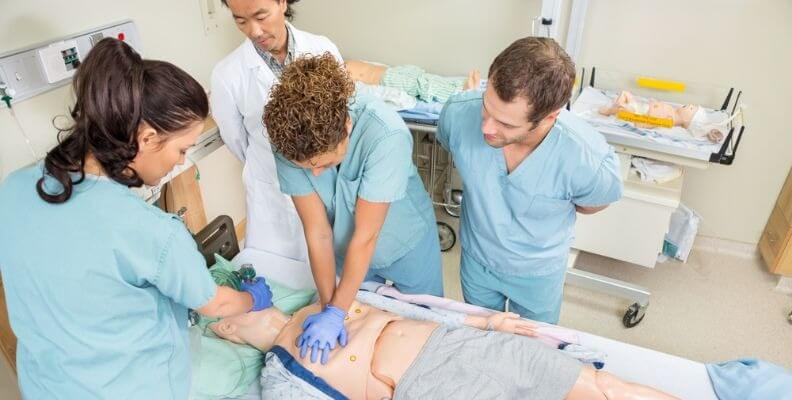 Because of their short duration, second degree nursing programs can be intense. As a general rule, students in accelerated programs make a full time commitment to school because the demands of the program make it difficult to hold a job while completing the program.
Tips for Surviving an Accelerated BSN Program
Nursing school isn't easy. Accelerated programs can be even harder so it's important to keep the end goal in mind. It will be worth it! Here are a few proven tips that may help.
Support Group. Develop a core group of good people-–friends, family, and other nursing students–who have your best interests at heart. You need others who will listen, provide encouragement, or push you when you need to be pushed. You need people who will be there to give you a hug when you need. Encouraging, caring support can make a world of difference.
Take care of yourself. Exercise, good nutrition, adequate sleep, and relaxing outlets will help you maintain the energy and focus you need.
Be self-aware. While going through the program you'll experience a range of emotions. Be aware of yourself and how your emotions affect you and those around you. It's easy to blow things out of proportion when you're frustrated and emotional, so it's important to keep things in perspective and to understand how your feelings can impact your study habits.
Encourage others. When you open up, share, and encourage someone else, you'll find your words and attitude also impact the way you think and feel about yourself. The bottom line effect is that when you support and encourage others, you also encourage yourself.
Time management. Accelerated nursing programs cram the last two years of a traditional 4-year BSN into a shortened timeframe so learning and using good time management skills can be critical to success.
Develop good study habits. Everyone has his or her own way of studying. Find what works for you and stick with it.
The big picture. You'll probably have moments when you wonder if it's worth it. When that happens, remember why you wanted to become a nurse in the first place. Keep the end goal in mind. When put into the big-picture framework of the rest of your life, this short period of time doesn't seem so overwhelming. You know it will be worth it.
Tuition, Financial Aid and Grants for Second Degree Nursing Students
An accelerated BSN program typically takes 11-18 months. Classes may be on campus, online, or a combination of the two.
There can be significant variances in the cost of ABSN. They can range anywhere from less than $10,000 to more than $100,000. Typically, costs will run $20,000 – $35,000. You'll have tuition, fees, books and supplies to pay for. You'll also need to allow additional funds to cover items like stethoscopes and scrubs. Room and board, transportation, and personal expenses will increase your total costs.
Financial aid, scholarships, loan forgiveness, and grant opportunities may be available for students earning an accelerated BSN.
ABSN students may be qualify for federal student financial aid. Complete the Free Application for Federal Student Aid (FAFSA) to determine eligibility. Students seeking a second bachelor's degree may also apply for Federal Direct Loans that must be repaid after you are no longer a student. The amount awarded is based on need and loan history.
org offers an annual $1,000 scholarship to help nurses continue their education. These scholarships are specifically for (RNs working towards a BSN or MSN.
The NURSE Corps Scholarship program and NURSE Corps Loan Repayment Program provide funds based on financial need in exchange for working at an eligible facility upon graduation.
Loan forgiveness programs provide that, under certain circumstances, federally backed student loans, such as Direct Subsidized Loans and Federal Perkins Loans, can be discharged or forgiven. A borrower may have all or part of his or her loan (including interest) cancelled for teaching, public service, working in the Peace Corps, AmeriCorps, or serving in the military.
Accelerated Bachelor's in Nursing Application Requirements
When you submit an application to nursing school, you will likely be required to provide additional documents, such as:
College transcripts from previous institutions
Letters of reference and recommendation
Personal essay that describes the reasons you are pursuing nursing
Applicable fees
Some schools may have additional G.P.A. or testing requirements prior to admission
The cost of your BSN program will depend on the school you go to. Private colleges and public universities range in costs depending on location, reputation of the school, etc. During your application process, you'll want to discuss financial aid options with every school on your list of accelerated nursing programs.
Bachelor's in Nursing Program Courses & Learning Objectives
During the course of your studies, you will learn a lot of information in a relatively short period of time. Let's take a look at examples of courses and learning objectives that your accelerated BSN program may include.
ABSN programs may include these courses:
Concepts of health & illness
Mental health nursing
Pharmacology
Contemporary health care
Research based practice
Nursing concepts
Foundations in nursing
Policy and ethics
Leadership and interpersonal skills
Many of the best accelerated nursing programs help students:
Work with technology within the scope of the nursing profession to deliver quality care
Seek ways to become leaders in healthcare settings
Develop special skills to work in clinical settings that interest the student
Use their knowledge and training to contribute to the improved care in their community or population of focus
Contribute to the healthcare community in positive ways that inspire others and one's own growth in their nursing career
Work with patients from different cultural backgrounds
Develop critical thinking and analytical skills that apply to nursing
Once you complete an accelerated BSN program, you can consider several careers. Many schools will ensure you gain clinical experience in several types of healthcare settings. This will help you figure out exactly what kind of nursing job or area of focus is right for you. When you are comparing ABSN programs, be sure to bring this up with each school's career advisor.
Licensing Requirements for Nurses with an ABSN Degree
After earning an ABSN degree, you must pass the National Council Licensure (NCLEX) Examination, a standardized exam that each state board of nursing uses to determine whether or not a candidate is prepared for entry-level nursing practice. You must also apply for a license.
Nursing license requirements vary by state. State Boards of Nursing set the guidelines and are responsible for evaluating license applications, as well as for making sure that nurses operate according to the ethical and legal guidelines that have been established in accordance with the federal government.
2018 Careers and Career Outlook for Nurses with a Bachelor's Degree in Nursing
A career in nursing offers a rewarding future with good earnings, personal growth, and increasing responsibilities. With a BSN you have a number of options that aren't open to you with only an associate's degree.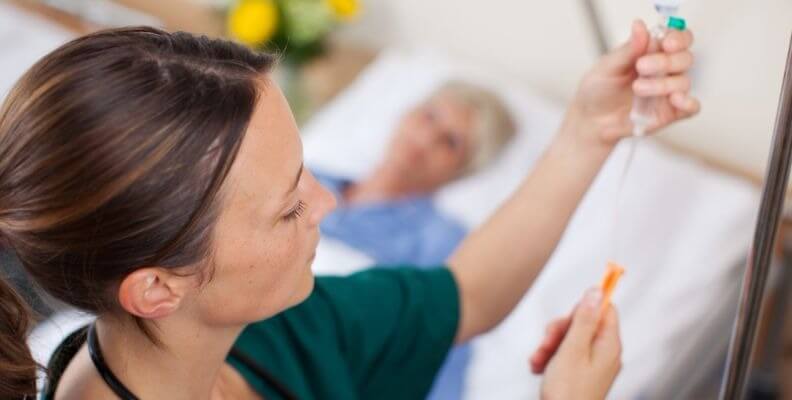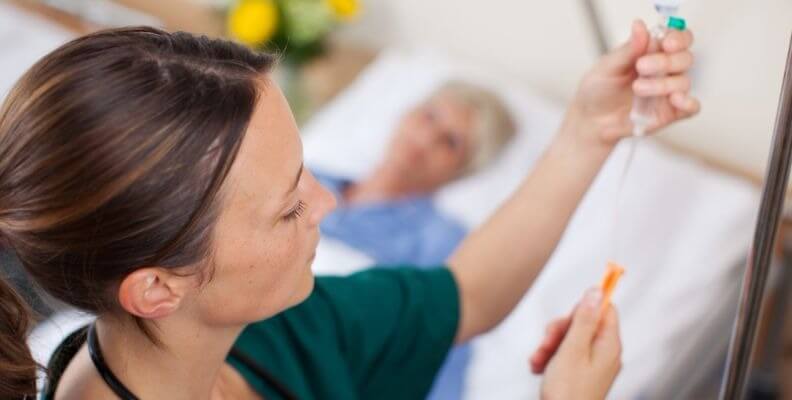 You may choose to work in a hospital or private clinic or work directly with kids as a school nurse. You may want to be a nurse case manager, or a diabetes management nurse. Insurance companies hire nurses to assess claims, and there is always a need for nurses in public health, in home health, in hospice. There is also a growing demand for nurse educators.
According to the Bureau of Labor Statistics, the median annual wage for registered nurses was $70,000 in (March, 2018). The median wage is the wage at which half the workers in an occupation earned more than that amount and half earned less. The lowest 10 percent earned less than $47,120, and the highest 10 percent earned more than $102,990.
As of the most recent statistics (April 2018), the median annual wages for registered nurses in the top industries in which they worked were:
| Nursing Industry | Annual Mean Wage |
| --- | --- |
| General Medical and Surgical Hospitals | $75,820 |
| Offices of Physicians | $66,890 |
| Home Health Care Services | $70,230 |
| Skilled Nursing Facilities | $65,710 |
| Outpatient Care Centers | $75,680 |
(Bureau of Labor Statistics, Last Modified Date: March 30, 2018)
Opinions on Second Degree Nursing & How Life Experience Can Enrich a Nursing Career
Nurse Teeny is a community health nurse for aging and disability services in her county. Before going into community health, she was a Critical Care RN Resident on a Progressive Care Unit. She also earned her MSN in Clinical Nurse Leadership in May 2012. Nurse Teeny also maintains the blog, the Makings of a Nurse.
I had my entire medical career planned in junior high school, from the college I would attend – Stanford – to the academic track I needed for admission to medical school. I even knew my specialty: pediatric oncology. The greatest gift I have ever received, though, is a life that didn't go as planned. I am not a pediatric oncologist, nor did I attend Stanford. I am a second-career nurse.
In high school, I was able to shadow a physician. My mentor had a warm bedside manner, but she admitted a sense of frustration over her limited time for hands-on patient care. The nurses I met, on the other hand, seemed to have much more contact with patients and families on an ongoing basis. I began to wonder whether nursing might be a better fit for me. Ultimately, I decided that I still had plenty of time to figure out my future, and when it came time to choose a college, I picked one for what it would offer me right then and there – an education that celebrated critical thinking and a love of learning.
I chose cultural anthropology for my major and gender studies for my concentration. For four years, I studied topics ranging from southern religion to the migration patterns of Homo erectus. I learned how to respectfully and intelligently disagree with those whose political or religious beliefs differed from my own. I realized that to successfully relate to people, I had to open my eyes and my mind and learn how to put aside personal differences in pursuit of mutual goals. This education has served me well in the multidisciplinary health care field, in which finding common ground requires collaboration, cooperation and often a healthy dose of humility.
After graduation I moved overseas on a postgraduate fellowship to observe the role of faith in West African health care settings. I came home and attended seminary on a challenge scholarship and explored my place in this world from the perspective of vocation. I worked in family support for individuals with developmental disabilities. All of these experiences resurrected that nagging voice from high school that I might belong in health care after all.
I realized I belonged specifically in nursing when I moved home to care for my father during the final months of his life. Throughout our family's trials, my father's nurses consistently advocated for us, coordinated care, and communicated with us. Through them I realized what a pivotal role a nurse could play in transforming a discouraging, terrifying experience, into a journey that was both tragic and life-affirming.
Had I attended nursing school as an undergraduate student, I would have eight years of clinical experience under my belt. I would most likely have landed my first job with less effort. Instead, I submitted 166 applications as a new grad last year in the midst of an economy that was unkind to new nurses. Do I regret it? Not on your life.
I have learned for the sake of learning, traveled, and explored my own faith. I have lived the role of family advocate. I have learned what it means to grieve and express genuine empathy.
There are many ways to become a nurse and to practice nursing – that is the beauty of this profession. But, nursing is a serious responsibility that requires technical, critical thinking and interpersonal skills. Was I ready at age 22 to shoulder the responsibilities of this career?
I certainly could have learned on the job – as many nurses have done successfully – but would I have loved it and appreciated it as much as I do now? Not a chance. Nor would I have developed the courage to challenge the status quo, the education and intellectual curiosity to seek out opportunities for continued learning, and the life experience to understand and appreciate the vulnerable human moments that I am invited into on a daily basis.