What Are Some Common Hazards for Nurses in the Workplace?
Nursing is a rewarding profession with the opportunity to work in a variety of specialty areas. As with many other careers there are hazards to avoid, so you should be prepared to protect yourself and provide for the safety of your patients as well as yourself.
Great strides have been made over the past few years to protect nurses, with legislation and policy reflecting the need to keep nursing staff safe. You can read about some of the more straightforward safety initiatives below.
Expanding your nursing education is a proven way to improve patient safety in the workplace.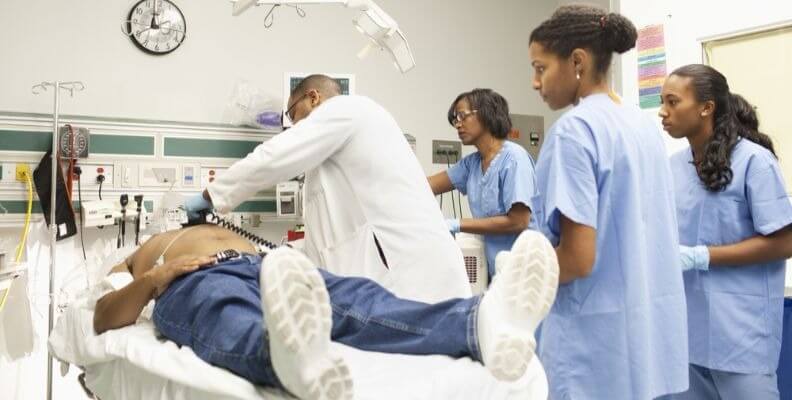 There are safety needles provided in the majority of medical settings to help prevent needle sticks, utilizing self-retracting sharps and features that allow nurses to minimize the chance of injury. Needle stick injuries are a major source of time and money lost within the healthcare system, so prevention has been a focus across the nation for years.
Simple steps like separating infectious waste and body fluids can help prevent illness and the spread of disease to both patients and nurses. Infection from HIV, Hepatitis, multi-drug resistant organisms, MRSA, rubella and tuberculosis are routine hazards for nurses. Proper use of personal protective equipment including gloves, masks, gowns, etc. are essential when working with infected patients.
Other possible hazards nurses may routinely encounter in the workplace include:
Anesthetic gases
Waste Anesthetic gases
Dioxins
Mercury
Exposure to radiation and lasers
Antineoplastic and antiviral drugs
Latex allergies are also a serious problem for many nurses and patients. It is imperative to label a patient and their chart if they have this allergy, to protect skin integrity and minimize reactions. Since nurses are exposed to latex repeatedly over the course of their careers, many develop this allergy after years of exposure. Healthcare facilities are increasingly using products that are latex free for both nurses and patients.
Assault or abuse, which can be verbal or physical, is also a problem nurses may face at work, with the highest rates occurring in the emergency room. The Emergency Nurses Association reported in a 2011 study that 53.4 percent of nurses reported having experienced verbal and/or physical abuse at work. Security guards, secured units and safety protocols for patients that are out of control are increasingly used to protect nurses.
Musculoskeletal injuries, particularly to the neck, shoulder and back are common injuries nurses may face as a result of work. There are patient lifting and transfer devices available at many medical centers that can help prevent injuries and reduce workman's compensation claims for facilities.
Other common hazards that nurses may face include slips, falls or trips. Wearing proper nursing shoes that will not slide on a wet surface is wise, and you may find them more comfortable for those long shifts. An ANA study found that over 4000 respondents reported injuries caused by their job.
Nursing can be a physically demanding job and you may encounter a variety of hazards each day. Taking the time to use the safety protocols that are in place is essential. You can also get involved with safety committees and planning and implementation councils if you want to help ensure you and your coworkers have safe processes in place at work.
Contact the schools below to learn more about your options for getting a higher degree in nursing.