Certified Nursing Assistant: What is a CNA?
The healthcare field continues to explode, offering new career opportunities. If you're interested in caring for patients, becoming a certified nursing assistant (CNA) is one of the fastest and easiest ways to get into healthcare. It can also be a great first step into the field of nursing if you later decide to advance your career.
CNAs work in various healthcare settings, including general and specialty hospitals, nursing homes, assisted living facilities, and patients' own homes. They care for patients, helping to bathe, dress, and feed them. They listen to patients' medical concerns; pay attention to signs and symptoms, and report what they observe; and help the nursing team provide a clean, safe environment. They are supervised by the nursing staff and are a critical member of the patient's healthcare team.
One of the most appealing things about becoming a CNA is that you can get certified quickly and get a job fast. All it takes is a high school degree or GED, completion of a state-approved educational program, and passing a state CNA exam.
What Does a CNA Do?
Your duties will vary depending on where you work. For example, if you work as a CNA in a nursing home, you will have elderly patients, many of whom may be bedridden. They will require a lot of hands-on care. If you work in a Veteran's hospital, you may have patients with traumatic injuries and specialized needs. Wherever you work, your healthcare duties will likely include:
Bathing patients
Meal preparation and feeding
Dressing patients
Repositioning a patient in bed
Helping a patient transfer from bed to wheelchair, and back
Assistance with bathroom needs
Listening to and reporting a patient's health concerns to nursing staff
Measuring patient vital signs, including blood pressure and temperature
Making and changing beds
Answering call buttons
In some states CNAs may also perform these duties:
Dispense medication
Dress wounds
Assist in minor medical procedures
CNA, MA, and LPN: What's the Difference?
Because the duties of CNAs can overlap with those of medical assistants (MAs) and licensed practical nurses (LPNs), it's important to understand how these three healthcare jobs differ.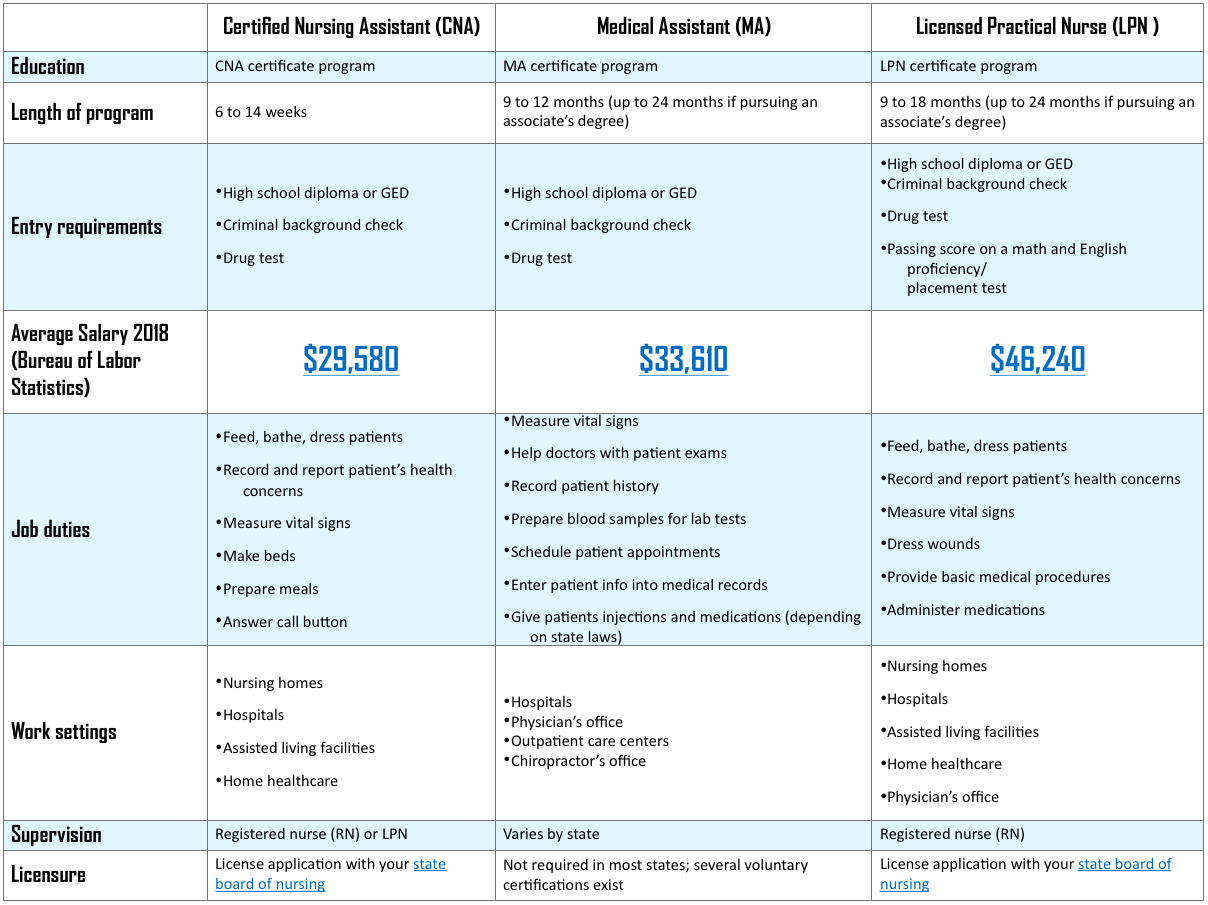 The demand for CNAs continues to grow. In 2018, the Bureau of Labor Statistics (BLS) predicted a growth rate of 11% from 2016 to 2026, a faster rate than the national average of 7%  for all industries.
CNA Job Growth and Career Outlook
The BLS attributes this growth to several factors. Aging baby boomers is the most significant, as this older population is expected to suffer from chronic illnesses that require treatment from a team of health professionals. CNAs are an important part of that healthcare team, as CNAs are often the ones who provide the day-to-day, hour-to-hour care for the basic needs of such patients.
The top five industries that employ CNAs are:
| | |
| --- | --- |
| Industry | Employment Level |
| Nursing Homes | 581,140 |
| Hospitals | 372,320 |
| Assisted Living Facilities | 163,950 |
| Home Healthcare Services | 80,150 |
| Individual and Family  Services | 39,080 |
The top five states for CNA employment are:
| | |
| --- | --- |
| State | Employment Level |
| California | 99,440 |
| New York | 91,400 |
| Florida | 89,860 |
| Texas | 87,750 |
| Pennsylvania | 76,260 |
Certified Nursing Assistant Salary
According to the Bureau of Labor Statistic (BLS), the mean average salary for CNAs in May 2018 was $29,580.
Salary can vary by geographic location and work setting. The following tables show breakdowns for these two factors.
Breakdown by State (BLS, May 2018)
| | |
| --- | --- |
| State | CNA Mean Annual Wage |
| Alabama | $24,110 |
| Alaska | $39,830* |
| Arizona | $31,450 |
| Arkansas | $25,080 |
| California | $35,220* |
| Colorado | $32,610 |
| Connecticut | $33,390 |
| Delaware | $30,780 |
| Florida | $26,840 |
| Georgia | $25,870 |
| Hawaii | $35,770* |
| Idaho | $27,400 |
| Illinois | $28,810 |
| Indiana | $27,210 |
| Iowa | $29,120 |
| Kansas | $26,210 |
| Kentucky | $26,800 |
| Louisiana | $22,750 |
| Maine | $28,710 |
| Maryland | $31,310 |
| Massachusetts | $33,630 |
| Michigan | $30,130 |
| Minnesota | $33,710 |
| Mississippi | $23,100 |
| Missouri | $25,930 |
| Montana | $29,110 |
| Nebraska | $28,730 |
| Nevada | $35,130* |
| New Hampshire | $32,200 |
| New Jersey | $30,380 |
| New Mexico | $28,310 |
| New York | $37,010* |
| North Carolina | $25,570 |
| North Dakota | $33,990 |
| Ohio | $27,570 |
| Oklahoma | $25,690 |
| Oregon | $33,230 |
| Pennsylvania | $30,630 |
| Rhode Island | $31,340 |
| South Carolina | $25,390 |
| South Dakota | $26,820 |
| Tennessee | $26,400 |
| Texas | $27,030 |
| Utah | $27,880 |
| Vermont | $30,730 |
| Virginia | $28,770 |
| Washington | $32,130 |
| West Virginia | $26,410 |
| Wisconsin | $29,590 |
| Wyoming | $30,910 |
*Top five states for average wages
Breakdown by Work Setting (BLS, May 2018)
| | |
| --- | --- |
| Industry | Annual mean wage |
| Specialty (except Psychiatric and Substance Abuse) Hospitals | $32,020 |
| General Medical and Surgical Hospitals | $31,540 |
| Nursing Care Facilities (Skilled Nursing Facilities) | $28,560 |
| Home Health Care Services | $28,130 |
| Continuing Care Retirement Communities and Assisted Living Facilities for the Elderly | $27,780 |
CNA Personality Traits
Certified nursing assistants are the front line of patient care. According to O*Net Online, a division of the U.S. Department of Labor, CNAs tend to possess several key traits. If you share some of these characteristics, you may be a good fit for this important job.
Dependability: CNAs must be reliable and responsible to complete the many tasks required to care for patients.
Compassion: Providing an understanding ear for your patient, and caring about his or her needs, is a key part of the job.
Cooperation: You will need to work well with not only the patient and the family, but also the nurses, doctors, and other professionals caring for the patient.
Composure: CNAs are often in stressful situations. Your ability to manage stress and stay calm will help everyone.
Communication skills: Do you enjoy communicating with others? Can you communicate clearly and effectively? This is an important requirement for CNAs.
How Do I Become a CNA?
Becoming a CNA is a straightforward, short process that follows a predictable path.
Step One: Have your high school diploma or GED.
Step Two: Locate a CNA certificate program in your state. Many community colleges offer programs. Remember to check that the program is accredited in your state.
Step Three: Be prepared to pass a drug test and/or a criminal background check as required by your program. Some programs and states may also require a physical exam and a TB test.
Step Four: Upon graduation from your program), pass your state's licensing exam, then apply for licensure.
CNA Certificate Program
Most CNA certificate programs average around 10 weeks, with some programs as short as six weeks and others as long as 14 weeks. Many states have minimum hour requirements for classroom and clinical instruction, so it's very important to make sure your program meets your state's requirements.
While the names of courses vary across programs, the basics will include patient caregiving, patient safety, nutrition, anatomy and physiology, and special care. You will learn how to safely provide bedside care for your patient, and how to take vital signs such as temperature and blood pressure. You may also be trained in basic wound care, depending on your particular state's regulations.
Certification
Check with your own state to determine the specific requirements you'll need to meet for certification as a CNA.
In general, after graduating from a state-approved CNA certification program, you will need to pass the competency exam for your state. Tests vary among states; some states have arrangements for testing with the American Red Cross.
After passing the competency exam, you are eligible to apply for your CNA license and begin your job search.
Resources for CNAs and CNA Students
CNAs have demanding jobs, physically and emotionally. It's important to find resources to support you on your journey into this profession, and to help you once you're there. These organizations are great places to start:
Certified Nursing Assistant FAQs
Q: What is a CNA?
A: A certified nursing assistant, or CNA, is an important part of a patient's healthcare team. CNAs provide important basic care to their patients, and communicate frequently with the patient's healthcare team.
Q: What does a CNA do?
A: In addition to listening to a patient's medical concerns and reporting those to the supervising nurse, a CNA attends to the basic bedside care of the patient. These tasks usually include a combination of bathing, dressing, and feeding the patient. A CNA may also prepare meals, change bedding, help a patient move, and reposition a patient who is bedridden.
Q: Do I need a college degree to become a CNA?
A: All you need to get started is a high school diploma or a GED, successful completion of a CNA certificate program, and a passing score on your state CNA competency exam.
Q: How much does a CNA make?
A: While it varies by state, the mean average salary for CNAs was $29,580 in 2018. Some states, including California and New York, have significantly higher average salaries.
Q: I am already a CNA. How can I become an LPN?
A: Your experience as a CNA makes you an ideal candidate for an LPN program. LPN training typically takes around one year to complete.
Q: Are CNAs in demand?
A: Yes! As the population of the United States continues to age, more and more people need basic bedside care. In fact, the Bureau of Labor Statistics predicts the industry will grow by 11% from 2016 to 2026 (BLS 2018).
Q: Is a CNA a nurse?
A: No, a CNA is not a nurse, but a nursing assistant. The CNA is a vital part of a patient's healthcare team and often is the front line of care, especially for bedridden patients. Whether you are listening to a patient's concerns, helping a patient eat a meal, moving a patient from a bed to a wheelchair,  or bathing and dressing a patient, you are essential to the physical safety and comfort of the person in your care.
Q: Where can I work as a CNA?
A: Many CNAs work in nursing homes and assisted healthcare facilities, while others find jobs in hospitals or home healthcare.