Essential Skills You Learn in Nursing School
The profession of nursing requires that students learn an incredibly diverse set of skills and subjects. Knowledge of these skills can help you prepare for college and seek out the best prerequisite courses while you're still in high school or before you enter your nursing program.
Nursing school is a challenging experience that not only requires mastery of many subjects based in lecture and laboratory classes, but also the successful completion of nursing school clinicals, which are shifts at facilities like hospitals and public health agencies. You'll learn an incredible variety of skills during your clinicals, and your success in nursing school will depend largely on mastering all the skills taught to you in the classroom and applying them to a medical setting.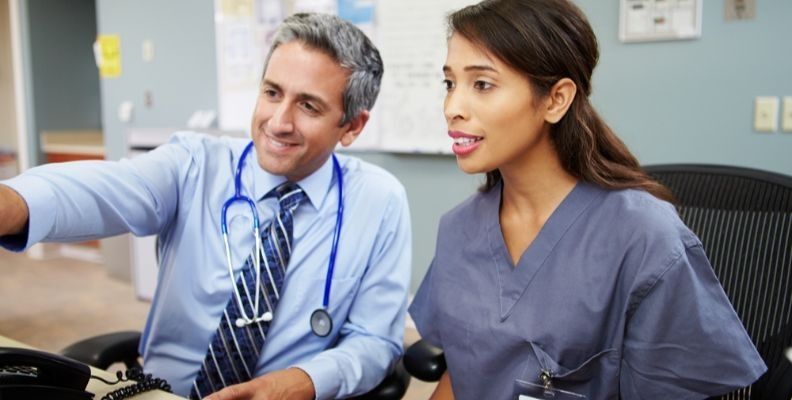 Reading a list of the skills within the average nurse's "tool kit" might look like a dictionary's worth of information. Those things you'll learn in nursing school run the gamut from organizational skills that will help you take care of multiple patients at the same time to physical skills like administering medication, maintaining sterile fields, and dealing with catheters, IVs, and suctioning.
The best way to ensure you learn everything you need to be a good nurse is to choose the best nursing school. Take a look at those listed on our site and request program details before you make a decision about where to go to school.
If you're already in nursing school, take some time to review the essential nursing skills listed below to make sure you're on the right track to success.
Mastering Essential Subjects for Nursing Skills
As a nurse, you must master the wide variety of physical tasks required for your job duties in a healthcare setting like accurately taking a patient's temperature and administering medication safely. Before learning those skills, you must first understand how and why the body works like it does, and how medications work within the body. You will take courses in areas like anatomy and microbiology to learn the underlying reasons for nursing practice. According to most nursing program curriculum (BLS), you will also need to complete courses in physiology, nutrition, and chemistry to deepen your understanding of body processes.
Mastering the information presented in these courses is an essential step in your nursing school journey since they're the building blocks of your skill set. For example, chemistry helps you understand pharmacological information connected to medication, as well as how each cell within a human body functions under different sets of conditions. Anatomy helps you identify parts of the body in a medical setting where it's necessary to use medical terminology and accurately describe what is happening with your patients.
Basic Skills For Future Nurses
When you begin your clinical rotations, which may occur in your second or third semester, many of the initial skills you'll learn will assessing patients. This is the basis for everything you will do as a nurse, so your ability to observe and record what is happening with your patients is one of the most crucial skills you will develop. Your clinical rotations will also include learning to perform tasks like sterile dressing changes, suctioning, bathing, and using O2 tanks. As you increase your nursing knowledge, you'll also learn how to start and work with IVs, administer medication through a variety of routes, and insert NG tubes and catheters.
You may wish to investigate the state nursing board of the state in which you want to become licensed for more information on the skills you need to learn in nursing school and the tasks you will need to master at each level of your education. For example, the state nursing board in Nevada provides an apprentice nurse skills list for individuals who are in school and who are also employed in a health care facility during nursing school.
The list covers an extraordinary amount of information from performing simple back rubs and admissions assessments to distinguishing between the techniques of sterile and non-sterile dressing changes.
Communication Skills: An Essential Part of Nursing School
Taking care of a patient often means monitoring vital signs, reading and interpreting doctors' orders and completing various clinical tasks. However, the profession also requires an agile mind, excellent communication skills, and the ability to remain focused under pressure. You may not have these skills innately, which means you will need to cultivate them during your time in nursing school.
Essential nursing skills like direct and effective communication, combined with good organization, can help you master a variety of tasks and improve the experience of a patient while he or she is under your care. Being able to calm and reassure patients and adequately acting as a communication link between healthcare providers and patients is crucial to improving and maintaining health.
Here are a few of the responsibilities that you may experience during clinicals, which can enhance your communication skills when you begin work as a nurse after graduation:
Exhibit a professional demeanor during stressful incidents.
Develop and maintain rapport with patients and their families.
Provide support for multiple patients at the same time.
Educate patients and their families on various aspects of health care.
Utilize critical thinking skills to prioritize care.
You will likely find your writing, communication, and critical thinking skills are some of the most important skills possessed by a well-rounded and experienced nurse. Many people who are unfamiliar with a nurse's duties assume he or she simply takes orders from a doctor and makes few decisions on a daily basis. Nothing could be farther from the truth.
In reality, you will need a firm and solid grasp of concepts like triage, delegation, and prioritization as you will be required to make important decisions about the lives of your patients each and every day. The work of a nurse isn't one of standing around until the doctor makes a suggestion about treatment or medication. Maintaining the highest standard of patient care falls into the hands of the nurse just as much as it does the doctor's hands.
Learning to communicate effectively can save a life, and this is one skill that you can help develop on your own before you even start school.
Why is it Essential to Master Nursing Skills?
The skills you'll learn in nursing school will cover a wide array of topics, and it's important to remain focused during study, classes, laboratories, and clinicals. Repetition and familiarity with essential nursing skills will help you pass your National Council Licensure Examination (NCLEX) after graduation from nursing school, as well as succeed as an entry-level nurse.
Though nursing school provides you with the practical knowledge base you will need to perform your nursing duties, you will find that mastery only comes once you are working in the field. Once you've graduated, you will depend upon the skill set you obtained in school, and you will continue to develop your professional abilities every day.
An educated nurse is an essential member of a successful healthcare team, so take your schooling seriously and get the skills you need to help others stay healthy.