Nursing Degrees Explained
With many different levels of nursing degrees available, choosing between them often comes down to what specialty and job title you seek. Nursing degrees aren't one-size-fits-all, so you need to consider your career and educational goals. Below, we outline each of the various types of nursing degrees, from associate to graduate degrees, and explain the pros and cons of each to help you decide which degree is right for you.
What are the Different Levels of Nursing?
Nursing degrees, just like the profession itself, have four main tiers:
Nursing assistant (CNA) – 3-6 week-long technical college program
Licensed practical nurse (LPN) – technical college, takes around 12 months
Registered nurse (RN) – Associate Degree in Nursing or Bachelor of Science in Nursing
Advanced practice registered nurses (APRN) – Master of Science in Nursing or Doctoral Degree in Nursing
This page focuses on the nursing degrees, from associate to graduate-level. To learn more about Certified Nursing Aid (CNA) and LPN programs, you can visit those respective pages.
Many nurses, especially during the nursing shortage, find that now is a great time to begin a career in the field and advance while collecting on-the-job experience. Read on to learn more about each degree level and what careers you can achieve with each level of education.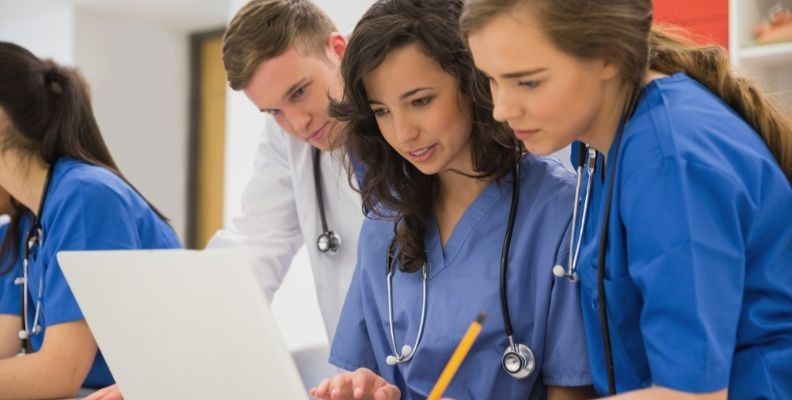 Associate Degree in Nursing
An Associate Degree in Nursing (ADN) is the quickest way to join the nursing field as a Registered Nurse (RN). In fact, many students choose this degree because it allows you to begin working entry-level RN jobs in the field the quickest, and enables you to continue your education later for career advancement purposes. This degree choice is the most popular for RNs, and it typically takes around two or three years to complete the curriculum.
To graduate with an ADN, you must take classes in liberal arts as well as nursing courses. You will also need to take and pass the NCLEX-RN exam, which is required by all RNs to obtain national licensure. Courses are usually offered at community colleges and universities, and class work includes lab and clinical time as well as courses in the following:
Nutrition
Physiology
Anatomy
Chemistry
Biology
Microbiology
With a rise in nursing jobs that's expected to continue to grow in the foreseeable future, earning an ADN can help you gain experience quickly and possibly save on educational costs. If you plan to continue a nursing career for a long period of time and career advancement is your priority, this still may be a great option for you. Even if you decide to later earn your BSN, you can usually transfer the nursing courses you have already taken. There are also RN to BSN programs if you choose to advance further that are often available online.
Registered nurses can oversee LPNs or CNAs, and they can include the following specialties:
Critical care nursing
Addiction nursing
Rehabilitation nursing
Neonatal nursing
Bachelor's Degree in Nursing
If you want to someday work in a hospital located in an urban area, which often pays well, and don't mind attending around four straight years of college, you will want to earn your Bachelor of Nursing (BSN).
A BSN nursing degree will allow you to become an RN through your formal education, and it is the degree most nursing leaders and employers prefer. In fact, this degree is the basic requirement for many entry-level nursing positions and is the prerequisite for nursing master's degree programs. Nurses with a bachelor's may also earn higher salaries and find job prospects easier.
Bachelor's degrees take around four years to complete, which is a serious commitment for many students. The coursework can require an extensive amount of time spent studying and learning in the lab, and most students don't have time to work a part-time job while taking full-time classes. Some BSNs are available online, but they usually combine in-person clinical lessons at a hospital or campus while completing core classes online.
The curriculum in bachelor-level courses covers nursing instruction and graduates are ready for the NCLEX exam. Classes often include content in nursing theory as well as basic core courses, and a curriculum typically includes the following courses:
Composition
College Algebra
Science
Nursing informatics
Nursing the infant, child, and adolescent patient
Women's health
Clinical experiences
While you may be able to become an RN with this degree as well, there are a few career paths you can take that are unavailable to those without a BSN, including:
Flight nurse
Supervisory positions
Master of Science in Nursing (MSN)
A Master of Science in Nursing (MSN) is the level of education needed for a nurse to specialize in a particular area of care. However, completing a master's degree takes hard work, and master's nursing programs will require you to complete a thesis project to graduate. Most MSN programs take around 18 to 24 months to complete, and the courses are centered around your advanced specialty.
Many nurses that return to earn their master's degrees work a tight schedule, so there are online MSN programs available and employers often offer tuition reimbursement if you go back to school. Doctorate degrees, on the other hand, are designed specifically for careers in administration and research.
If you want to advance your career to the next level and focus your area of knowledge down to a specialty, a master's degree is the best choice for your career. There are many specialties in both direct or indirect care for nurses, which we explain in more detail below.
If you want to join the administrative side of public health or work in hospital administration, there are lucrative careers available with an MSN that offer office jobs and high paying salaries. However, doctorate degrees are in high demand for these fields along with advanced clinical practice and clinical research.
Direct Patient Care Jobs for MSN Nurses
The following jobs are the most common positions where nurses with MSN degrees work directly with patients:
Indirect Care Jobs for MSN Nurses
Indirect care jobs are those that don't involve working directly with patients, and nurses with an MSN can find careers in the following positions:
Nurse Educator – Creates educational programs for healthcare workers.
Legal and Policy – Works in a legal setting to advise professionals on healthcare facts, such as personal property damages.
Clinical Nurse Leader – Creates health plans for patients and leads a team of nurses.
Public Health Nurse – Works in a public health department as a specialized NP, like an adult acute care or women's health nurse.
Nurse Researcher – Focuses on the ethical areas of nursing and research factors in all aspects of health.
Nurse Administrator – Often called nurse managers, they oversee nursing staff in healthcare facilities, clinics, and hospitals.
Doctorate Degrees in Nursing
Two types of doctorate degrees are available for nurses, both of which are expected to see a large growing demand for jobs in the coming years. Each degree prepares nurses for health administration, advanced clinical practice, or clinical research careers. Most programs take around four to six years to complete, and graduates are considered leaders in their field.
Doctor of Nursing Practice Degree (DNP)
A doctoral degree in nursing (DNP) helps you move into nursing leadership roles. Unlike a Ph.D. in nursing, which is required for teaching and research positions, this degree will allow you to focus on the clinical side of nursing.
This degree is the highest possible level of education in the field, so it may allow you to earn the highest salary and become industry leaders. Most programs require you to already have a master's degree to be accepted into DNP programs, as the curriculum builds on the master's level education.
If you want to work as a nurse manager or executive, for example, a DNP degree may be right for you. The high-level training focuses on clinical applications and research skills, and these positions are in high-demand.
Doctor of Philosophy in Nursing Degree (PhD)
A Doctor of Nursing Philosophy (Ph.D.) is a graduate degree that emphasizes research and scholarly inquiry, and the goal is to grow the knowledge of nursing and health practices overall.
Students in Ph.D. programs focus on advanced theory, chronic illness issues, research and data analysis, and the care systems we use today. Unlike other nursing degrees, there is no clinical aspect to obtain a Ph.D. However, teaching is required, and you will need to complete a thesis project.
If you want to become a nurse scholar, research and advance the theoretical knowledge of nursing, or teach new nurses in the industry, this type of graduate degree may be right for you. These programs are best for students who enjoy traditional classroom settings, and many cannot work while attending classes.
Upon graduation, you can become a leader in healthcare public policy or delivery. Graduates can shape the future of nursing, and you can't do that with a master or bachelor's degree.