BSN to DNP in Nursing
After earning your Bachelor of Science in Nursing, you may be wondering what's next. Earning a Doctor of Nursing Practice could build on your existing knowledge and get you ready to take on tasks in clinical care, management and systems improvement. Use the resources on this page to learn more about attending a BSN to DNP in nursing program. If you're ready to get started, check out our featured schools below or search for programs in your area with the search box to the left.
<!- mfunc feat_school ->
Featured Programs:
Sponsored School(s)
<!- /mfunc feat_school ->
How to Get Into a BSN to DNP Program
As you compare DNP programs, spend some time exploring BSN to DNP school requirements. This is a competitive program that's designed for skilled, educated nurses. As a result, admissions standards are high. You must have a BSN from a nursing school accredited by the NLN or CCNE. Most schools require a GPA of 3.0 or higher, but you may need a higher GPA to compete with other applicants.
Testing is another part of the admissions process. Many DNP programs require a passing score on the GRE. At some BSN to DNP programs, this requirement is waived if your GPA is high enough. All transcripts and GRE scores must be sent directly to the school for consideration.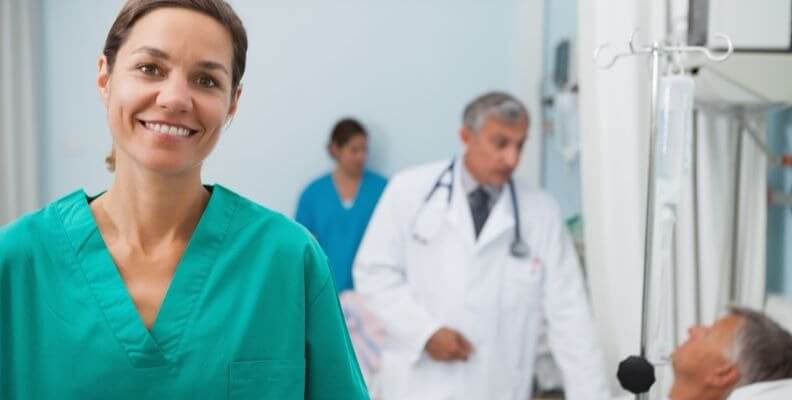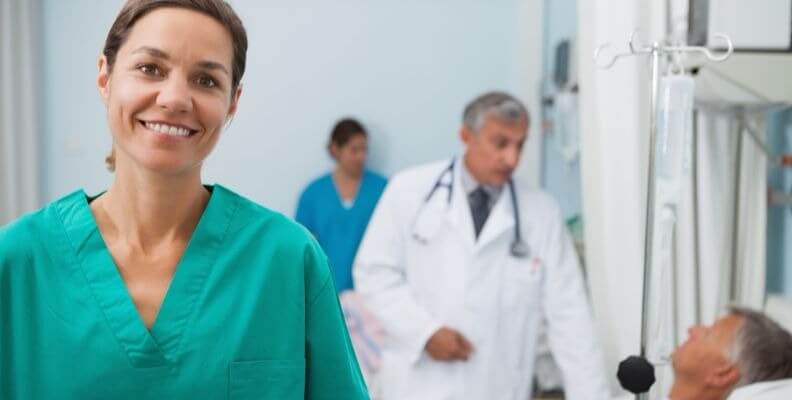 Since this degree is intended for working nurses, you must already have a nursing license in the state you plan on working in. Work experience is helpful, although not mandatory at all schools. Include all relevant experience on your CV to show your range of skills and knowledge.
While this process can be tough, you can prepare ahead of time to learn how to get into a BSN to DNP program. Make sure you have references lined up—a late reference can delay your application and keep you from being considered. This also ensures that references are written carefully and thoughtfully. A highly personalized letter reflects much better on you than a hastily written, vague reference letter. Make yourself stand out from other applicants by tying your long-term career goals and academic goals into the experience and training you've already done.
Accelerated BSN to DNP Programs Online
Online programs may be an appealing option to you, particularly if you don't live near a traditional campus or you work irregular hours as a nurse. In many ways, online and traditional programs are very similar. They have similar learning outcomes and course requirements. Online programs often allow you to take one course at a time and move through classes at your own pace. Traditional programs structures courses into semesters, which keeps you on a tight graduation deadline.
Attending accelerated BSN to DNP programs online offers a number of benefits. If you work rotating shifts that prevent you from attending scheduled classes, online learning may still let you continue your education. Online learning is also the ideal option for those who live in a remote area without large colleges or universities. Traditional universities make it easier to develop in-person connections with peers and professors, which may be helpful as you expand your career. A conventional program may also have existing connections and agreements with local clinical settings.
Accreditation is essential when finding an online program. At this level, nursing programs are accredited by the Commission on Collegiate Nursing Education. There are also six regional accrediting agencies that certify schools in different areas of the country. Attending a school that is regionally accredited may help you during the licensure and certification process.
Program lengths vary between schools. As a general rule, online programs are similar to in-person programs in this area. Depending on how many credits you take per semester and how you structure your courses, you may graduate in three to four years.
How Long Are BSN to PhD Programs?
The length of your DNP program depends on many factors. Different specialties have specific credit requirements and clinical expectations that can change the duration of your training. In general, programs range from 55 to 95 hours. Clinical specialties tend to require more credits than administrative specialties.
It's hard to answer the question "How long are BSN to DNP programs?" without looking at the structure of your program. Most programs are meant to be completed in three to five years.
Succeeding in this program requires a lot of work outside of the classroom. In a three-credit course, you may spend three hours per week in class. On top of that, plan on spending between seven and ten hours on studying, projects and reading. During clinical rotations, you may spend much more time on coursework.
BSN to DNP Nursing School Requirements
To get an overview of what you may study as a doctoral student, look into the required courses for your degree. Most DNP programs include two components. The first is a set of core courses that are mandatory for nurses in all specialties and career paths. The second is a set of courses that relate specifically to your area of specialized study.
Core courses look at issues and techniques that are relevant to all high-level nursing professionals, including those in clinical and administrative roles. These courses tackle subjects like evidence-based practice, research methods, healthcare improvement, healthcare finance and nursing leadership.
After finishing core courses, you may move on to courses in your area of specialty. As you move through the doctoral nursing curriculum, you should make progress on your school's DNP learning goals and outcomes. Common themes are found in DNP learning outcomes:
Use your knowledge of research and evidence-based care to improve individual and systemic care
Look at the effects of healthcare interventions on patient outcomes
Be able to analyze public policy decisions
Use effective leadership skills to serve as a mentor and leader on nursing teams
Utilize healthcare information systems to create plans for healthcare improvement
Effectively read, interpret and implement nursing research
Graduation requirements vary slightly between schools. Clinical requirements range from 400 to 1,000 hours. If you've completed any graduate-level clinical rotations, those hours may count toward your total requirements. DNP programs don't typically have dissertation or final research project requirements, but some programs that focus on administrative roles do require this type of work.
Types of Nursing
At the doctoral level, you're expected to choose one area of focus for your doctoral nursing career. There are several types of nursing programs at this level. Clinical options offered at BSN to DNP programs include:
Adult acute care/primary care nurse practitioner
Family primary care nurse practitioner
Pediatric primary care nurse practitioner
Clinical nurse specialist: specialties like critical care, pediatric care and gerontological health
Nurse anesthetist
Nurse midwife
Programs focusing on administrative roles help you develop into a strong, effective leader. There are several administrative options to consider:
Organizational systems in nursing
Population health
Executive leadership
Nurse practitioners play a crucial role in primary care. The latest data from the American Association of Nurse Practitioners shows that NPs work with little or no physician supervision in many states. As a nurse practitioner, you may work within a specific scope of practice with your chosen population. DNP nurse practitioner programs focus heavily on clinical work and put you through multiple rotations in your area of specialized study.
Other clinical specialties, such as nurse anesthesia and nurse midwifery, concentrate on a very narrow area of healthcare needs. This type of study lets you become an expert in your field and provide specialized services. Nurse anesthetists provide pain relief to surgical patients, laboring patients and chronic pain patients. Nurse midwives provide well-woman care and oversee low-risk pregnancies.