How Am I Going To Pay For Nursing School?
For many students, paying for nursing school is one of the most stressful parts of completing your nursing education. Whether you are thinking about working your way through school or tapping into financial aid, you would be wise to investigate all of your options before committing.
There are several factors to consider. We recommend going through the list below, and looking into each aspect of paying for nursing school. This can help you assess your resources and consider the different factors that influence the cost of nursing education, in order to make the best decision about how you are going to proceed.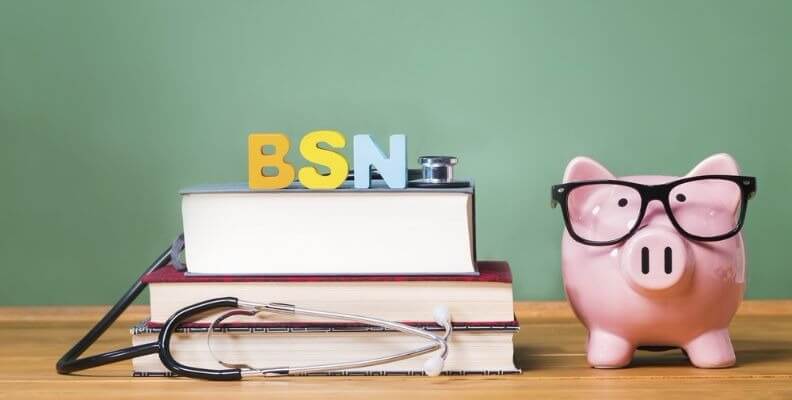 Choose Your Nursing School Wisely
Your choice of school may have a significant influence on how you pay for your education. Tuition varies from school to school, and though the old adage of "you get what you pay for" may hold true, you may also find that selecting a nursing school that is within your means is best.
Regardless of where you attend, you will want to contact the finance office during your selection process, to ask about tuition, payment plans, work study and other types of financial aid.
For example, federal loans may cover the entire cost of your tuition from a state school or community college, but you may need to seek out additional funding from private sources if you choose to attend a private school.
Additionally, as we learn more about federal regulations changing in response to current events in higher education, it is important to ensure that your nursing school is legally able to receive and disperse federal funds if you need financial aid.
By requesting information from the schools you are looking at, you can decide which one is best for you and your current financial situation.
Once you have selected your nursing school, you can look into some of the outside options, listed below, that can help you pay for nursing school.
Traditional Student Loans & Private Funding
You may apply for student loans through the United States Department of Education by submitting a Free Application for Federal Student Aid (FAFSA) the year before you attend school. You may be eligible for federal loans that are interest-free during your time in nursing school, as well as loans that gain interest while you're enrolled.
If your tuition exceeds the limits set by the federal government for student loans, you may need to add private loans to your funding efforts. In most cases, student loans from all sources don't require monthly payments until after you graduate. However, making payments while you're in school can reduce the overall cost of your education.
Tuition Reimbursement from Your Employer
Many companies offer their employees the opportunity to attend school and receive tuition reimbursement if their education directly benefits their role at the company. For example, you may work at a hospital in a support position, and your employer may provide tuition assistance if you choose to return to school to earn your nursing degree.
Tuition reimbursement is also an option for nurses that are returning to school to get an advanced degree, or to go to an RN to BSN program. Since research healthcare facilities
If you think your employer may offer tuition assistance, you'll want to contact the human resources department for information before you enroll in classes. It's important to note that help from tuition often comes in the form of reimbursement, which means you have to pay for the tuition up front and then wait for your company to reimburse you after you've completed your class or training.
Nursing-Specific Tuition Assistance and Scholarships
The U.S. Department of Health and Human Services offers the Nurse Corps Loan Repayment Program that provides up to 60 percent reimbursement of your unpaid student loans. In exchange, you agree to work in a poor or rural area that needs more healthcare professionals like nurses. To be eligible for this program, you must be a licensed RN and meet additional criteria.
The American Association of Colleges of Nursing provides an extensive list of financial aid for nursing students that includes merit-based scholarships, need-based assistance, and traditional loans for students in healthcare programs. It's essential that you seek out these scholarship opportunities early because scholarship deadlines are usually due months in advance of your school start date.
At BestNursingDegree.com we believe that helping nurses get the education they need is an essential part of our work. We offer a $2500 nursing scholarship, awarded four times each year, to help you get through school. You can learn more about past scholarship winners and apply for our nursing scholarship directly from our site.
Do Your Research and Choose the Right Nursing School
If graduating with zero or low student loan debt is important to you, a community college or nursing diploma program might offer you the most cost-effective entry into your nursing education. There are many routes to becoming a nurse, and an associate's degree can get you into the workforce in as little as a few years.
If you are expanding your nursing education, be sure to check into multiple schools, both online and campus based, before you make a final decision.
Paying for nursing school is a personal decision and it's a topic you'll want to discuss with your school advisor, parents, friends, family and nursing school advisors as early as possible. Early action means having the best chance at securing student loans, winning scholarships, and reducing the overall cost of your nursing education.