What is the Difference Between an NP and an MD?
Today's registered nurses have the option to undertake additional training in medicine to work as an advanced nursing professional like nurse practitioner, nurse midwife, or nurse anesthetist. With the formal education a nurse practitioner receives in the treatment of diseases, you may wonder about the differences between a nurse practitioner (NP) and a medical doctor (MD).
Nurse Practitioner vs. Medical Doctor
The education required for these two professions varies greatly, but the responsibilities are often similar in certain health care settings.
To get program specifics required for becoming a Nurse Practitioner, contact the schools on our site for curriculum details.
Understanding the differences between these health care professionals may help you make the decision to pursue formal education to become a nurse practitioner, or whether you may prefer a future as a medical doctor. The Bureau of Labor Statistics (BLS) estimates extraordinary growth in the next decade for nurse practitioners that exceeds 30%. Meanwhile, physicians will see only an estimated 14% growth in available positions.
It should be noted that job growth for a wide array of healthcare positions is greater or much greater than the average expected growth for all other positions in the United States and particularly so for advanced practice nurses. (BLS, 2016) You may want to make your decision to become a nurse practitioner based on additional factors like job responsibilities, average pay, education required and job satisfaction.
Minimum Education Required of a Nurse Practitioner
Also known as an Advanced Practice Registered Nurse (APRN or APN), a nurse practitioner will study for a total of anywhere from five to eight years to obtain a Master of Science in Nursing (MSN) or a Doctor of Nursing Practice (DNP) degree. The length of the program often depends on the degree already held by the student and whether the future nurse practitioner already has a degree or certificate in nursing. You may qualify for accelerated programs that take less than two years and may conclude in as little as 18 months if you already have a Bachelor of Science in Nursing (BSN).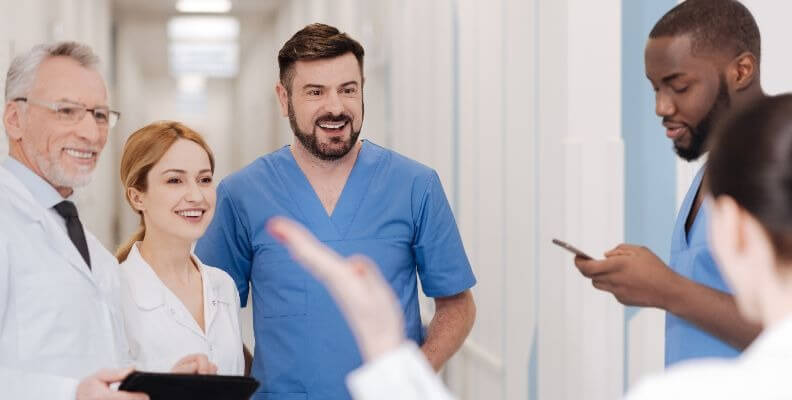 Alternatively, if you have a bachelor's degree in another area and no nursing experience, you may need to enroll in a program that takes up to six semesters of education and training at a fast and intense pace. Entry into the program will usually also require that you have passed the National Council Licensure Exam for Registered Nurses (NCLEX-RN). Some programs also require that students take the Graduate Record Examination (GRE). If you don't have the right prerequisites for the program, you may be eligible for provisional acceptance as long as you eventually complete those requirements before graduation.
School Requirements for Medical Doctors
The education required to become a medical doctor begins with a four-year pre-med degree from an accredited school and continues with enrollment in an accredited medical school and an eventual residency. Before qualifying for entry into medical school, you must pass the Medical College Admissions Test (MCAT), as well as the United States Medical Licensing Examination (USMLE) during school. Completing school, passing the examinations, and taking core clerkships allows you to obtain an MD degree.
In addition to the length of time a future medical doctor must spend in school versus a nurse practitioner, a medical doctor must also obtain further training in a residency after receiving an MD degree. A nurse practitioner, on the other hand, may begin work as an advanced practice registered nurse (APRN) after receiving a master's degree and a license from the state's board of nursing, though the DNP is fast becoming the preferred route to practice as an NP.
Licensing Requirements for NPs and MDs
After completing your graduate nursing degree, your path to becoming a nurse practitioner concludes with official licensure through national certification, as well as any requirements of your state's board of nursing. The American Association of Nurse Practitioners explains that future nurse practitioners will begin to prepare for national certification during their final year of study.
When you take your test, you'll arrange to take the exam with the state in which you wish to practice. Although requirements are similar across the nation, some state requirements do vary. For example, some states require a nurse practitioner obtain clinical experience before obtaining a license. Further, there may be additional requirements for nurses who wish to obtain a specialty like adult nurse practice or gerontology.
For the future medical doctor who has completed medical school and a residency program, a license to practice medicine is the final step. A doctor may obtain an initial license in one state and complete an abbreviated licensing process in a second state. Maintaining a license requires passing the initial exam, training, and continuing medical education. Similarly, as a nurse practitioner, you will need to complete continuing education for re-certification.
Difference Between the Job Responsibilities of an MD and NP
In addition to the educational and licensing differences between an MD and an NP, there are also differences in the way each medical professional approaches the treatment of patients.
Before investigating those differences, however, it's essential to understand that some states allow NPs to practice independently while others do not. As such, an independent practitioner in one state may be able to take on a greater number of duties than a nurse practitioner in another state.
Furthermore, states vary in whether they will allow a nurse practitioner to perform a duty regularly performed by a doctor or whether the NP can only assist in the procedure. For example, NPs can deliver babies, write prescriptions, and conduct physical exams just like medical doctors. However, prescribing controlled substances varies by state for NPs while MDs in all states can perform this duty.
Just like medical doctors, nurse practitioners may also diagnose patients, order tests, interpret results, and counsel patients for treatment plans. A registered nurse, on the other hand, will often only act as an assist for some of these duties or not have a role with the patient. It's a good idea to realize that the set of responsibilities of a nurse practitioner is not finite or unchanging. The requirements, restrictions, and responsibilities are routinely updated on a state-by-state basis.
As with any significant educational path, the decision to become a nurse practitioner may depend on several variables including pay and educational requirements. Investigating the job responsibilities of the average NP may also help you decide whether nurse practitioner, medical doctor, or physician assistant is the right path for you.
Of course, the best way to learn more is to contact nursing schools with Nurse Practitioner programs directly. You can find a full list on our site, or contact some of the most popular NP schools below.