The Essential Role of Nurse Midwives – And How To Become One
One of the decisions you may make as a nurse during your career is whether to enter graduate school to become a nurse midwife. Nurse Midwives are an essential profession within the healthcare industry and are one segment of advanced practice registered nurses (APRNs). Like nurse anesthetists and nurse practitioners, nurse midwives must study beyond the requirements necessary to become a registered nurse (RN) by attending graduate school.
After graduate nursing courses are completed, APRNs must pass the national licensing exam for their area of practice. Most nurses who enter school to become a Certified Nurse-Midwife (CNM) already have work experience as an acute care or critical care nurse, or in OB.
Before you begin your search for online direct entry midwifery programs or ask yourself, "Can I find ACME accredited midwifery programs near me?" it's helpful to understand the scope of your responsibilities as a future nurse midwife and the route to getting certified and eligible to work. Some nursing midwifery programs may allow you to work in a limited capacity as a midwife while other nurse midwife programs by state will lead to eligibility to take the CNM licensing exam.
Like many specialized professions in nursing, there is more than one way to become a midwife.
Basics of the Midwifery Profession
The common image of a midwife is one of a nurse who helps a woman during the birthing process. However, midwives act as a primary health care providers to women throughout many phases of life. Not only do midwives perform physical exams and offer prenatal care, but they also provide women with essential gynecological care and health education.
Labor and birth care are essential facets of a midwife's responsibilities, as is assisting women of all ages. A midwife may also help a woman discuss methods of contraception, assist with medication, or order laboratory tests.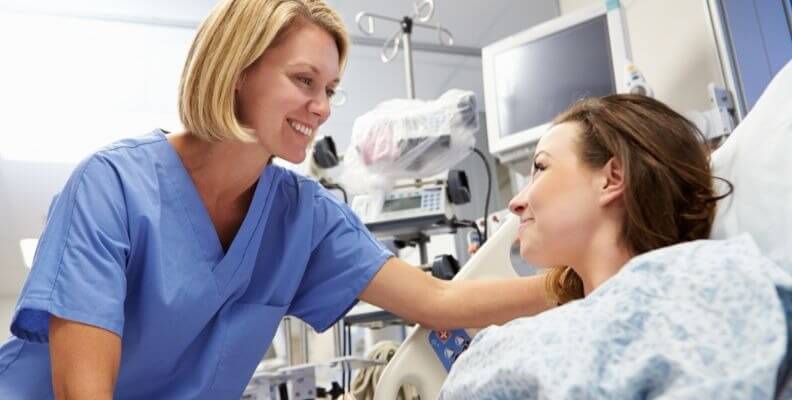 As a profession, nurse-midwifery began in its modern form in the 1920s when pioneers in the industry began promoting methods for reducing mortality associated with birth, as well as with reducing premature births and other complications associated with pregnancy and labor. Today, nurse midwives assist with a full array of responsibilities during labor, and the profession has been responsible for an increase in successful vaginal births after cesarean (VBAC). According to the American College of Nurse-Midwives, CNMs often provide care to vulnerable women and those in poor health because of their age, education, or other demographic factors.
Some of the environments in which you may find work as a nurse midwife include the offices of physicians, hospitals, outpatient care centers, educational services, and other offices of healthcare professionals. Nurse midwives may also find work in birthing centers, and you may even choose to work in the homes of your patients in some states. It's not uncommon for dedicated midwives to travel significant distances to reach patients in need of help. The work of a midwife may also occur outside the routine 9 to 5 schedule, which shouldn't be a surprise if you already have experience working as a registered nurse.
Why Do You Need a Nursing Degree to be an Effective Nurse Midwife?
In most circumstances, APRNs must already have a nursing license before they can pursue an advanced education, so obtaining a nursing degree isn't just recommended for becoming a nurse midwife but it's also mandatory.
A bachelor's degree in nursing is a common admissions requirement of graduate-level nursing programs; however, some programs will accept applicants with degrees in other areas. A strong background in science can help, but a midwife student may need to take additional classes in science and medicine before entering most nursing midwifery programs. Some programs may also require applicants have relevant work experience in the healthcare industry.
Figuring out how to become a nurse midwife should include a look into the accrediting bodies responsible for nursing education. Whether you choose a direct-entry CNM program or a graduate midwifery program, you'll want to consider programs approved by the Accreditation Commission for Midwifery Education (ACME). You'll also want to make sure you are looking at midwife programs that prepare you to take the national certification exam from the American Midwifery Certification Board (AMCB).
Answering the question, "Where are ACME accredited midwifery programs near me?" can help ensure you cultivate the right educational background to enter a quality nurse midwife program.
How to Become a Nurse Midwife
Although there are different paths to becoming an APRN, most nurse midwives will follow similar educational routes that begin well before figuring out where to find nurse midwife schools.
If you're in high school and you already know you want to become a nurse-midwife, you can take extra science classes before graduation to help you prepare for undergraduate school. To become an RN, which is a prerequisite to becoming a nurse-midwife, you can obtain a nursing diploma, an Associate degree in nursing (ADN), or a Bachelor of Science in Nursing (BSN). Each of these routes is an appropriate step along the path to becoming a CNM.
Once you've become an RN and have gained some work experience, you'll begin looking at nurse midwife programs by state. During your search, you may come upon online direct entry midwifery programs, which may feature different licensing requirements than CNMs. A direct-entry program may lead to work as a Registered Midwife (RM) or a Licensed Midwife (LM).
Remember—these are NOT nurse midwife programs, but if you don't already have a BSN or an RN's license, you may be eligible for a direct-entry program. Depending on your end goals as a midwife, becoming an RM or LM might be the path for you, but if you want to be a Nurse Midwife, you're going to need to go to nursing school. There are Direct Entry CNM programs as well, which do lead to nursing licensure and an advanced midwifery degree.
Entry into a graduate level program to become a CNM should be your goal if you've already gained experience in the nursing profession. You can contact CNM schools below to request program details.
Where to Find Nurse Midwife Schools
Once you've answered the question, "Why do you need a nursing degree to be an effective nurse midwife," you've probably realized that your status as an RN has prepared you well for becoming a Certified Nurse-Midwife.
However, if you're not already an RN, you've realized that you do have some important schooling ahead of you. One of the benefits of training to become a midwife is that you can look for employment virtually anywhere in the country. You can also complete part of your midwife training almost anywhere because of the prevalence of online programs and the popularity of nursing schools across the nation.
According to the Bureau of Labor Statistics (BLS, 2017), the latest occupational employment statistics for nurse midwives suggest some of the states with the highest numbers of nurse midwife jobs include California, New York, Massachusetts, Georgia, and Florida. If finding a job quickly is on your "to do" list for becoming a nurse midwife, you may wish to locate a nursing program in one of these states, and explore the midwife licensing requirements for each state. If finding employment as a nurse midwife with a high income is important, the BLS suggests states with the best annual mean wages are California, Iowa, Oregon, New Jersey, and Minnesota.
Career Opportunities and Personal Accomplishments for Nurse Midwives
Your future in nursing may feel extremely bright when you enter advanced collegiate study to become a Certified Nurse-Midwife. Some of the accomplishments you may experience during your journey include providing comprehensive maternity and gynecologic care, helping women reduce the need for high-tech intervention during birth, and knowing when to utilize advanced scientific procedures to preserve the life and health of mother and child. Depending on your state of residency and certification, you may even have the authority to write prescriptions for your patients.
As a CNM, you may choose to help others learn the profession by becoming a teacher at university, or you may act as an instructor at a teaching hospital or health care facility.
Beyond the day-to-day responsibilities of a working nurse-midwife, your career may take you into the world of research where your work may help improve the safety, cost-effectiveness, and methods used in modern healthcare. You may decide to become active in politics as an advocate for health care reform, and your efforts inside and outside health care facilities may help to reduce infant and maternal mortality in the United States and abroad.
As a nurse-midwife, your work will touch the lives of all sorts of patients. Your journey begins with finding the right school for your education and working toward certification as a CNM.
Let us help you get started. Reach out to the midwife schools below to learn more.