Nursing Continuing Education
Reviewed by Abbie Jacobs, RN, BSN
If you are a nurse, you know how quickly information and techniques can change in the medical field. Nursing CEUs and conferences for nurses help you keep up with all of the changes and help ensure that you are practicing with the most up-to-date information that there is.
Best Nursing Conferences to Attend in 2021
Attending nursing conferences not only provides you with an opportunity to take a break from nursing care but also to network with others in the field and to obtain continuing education for nurses. No matter what type of nursing field you work in or aspire to work in, there are nursing conferences and RN CEUs to meet your needs. Whether you are specifically searching for peer reviewed nursing CEUs, ANA endorsed national nursing CEUs, or just want to keep up with nursing current events, we can help.
Here Are Our Picks For The Best Nursing Conferences of 2021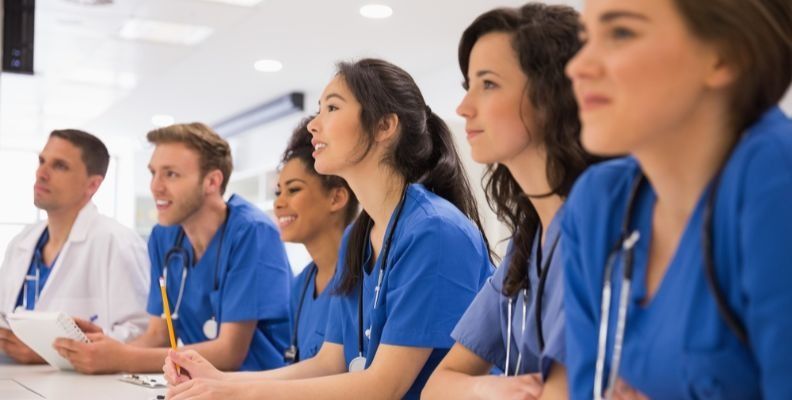 2021 National Evidenced-Based Practice (EBP) Conference
While the term evidence-based practice is often used in the nursing field, you may tend to forget its importance and how it should impact your practice. This year, the 28th National Evidenced-Based Practice (EBP) Conference will be held virtually on April 15.
At this conference, you learn techniques to help you turn evidence into practice, with this year's conference covering inter professional engagement and communication, how evidence based practice teams improve patient outcomes, and how to foster psychological safety in these trying times.
By attending this conference, you will earn 1 CEU for 17.3 contact hours granted by the University of Iowa Health Care, Department of Nursing.
2021 AWHONN Convention
If you work or desire to work in the obstetrics, neonatal, or women's nursing fields, you won't want to miss the 2021 AWHONN Convention in Kissimmee, Florida. This event is back on for 2021 and is scheduled for October 9-13! It will feature all the great educational sessions and exhibitors you've come to expect, and you can even earn nursing contact hours here!
The Association of Women's Health, Obstetric and Neonatal Nurses is accredited as a provider of continuing nursing education by the American Nurses Credentialing Center's Commission on Accreditation. Here, you will have the opportunity to earn multiple nursing CEUs on topics that interest you.
A wide variety of topics will be covered including:
Legal Aspects of Perinatal Nursing
Fetal Monitoring
Cardiac Arrest in Pregnancy
Hands-on Labor Support
Hypoxic-Ischemic Encephalopathy in Infancy
Optimizing Antepartum, Intrapartum, and Delivery Care
Register at awhonnconvention.org!
2021 Wound, Ostomy, and Continence Nurses Society Annual Conference
For 2021, the annual conference of the Wound, Ostomy, and Continence Nurses Society will be held virtually June 24-26.
You don't have to be a nurse who specializes in the wound or ostomy field to benefit from this conference. Medical-surgical and long-term care nurses can also benefit from the networking and education on tap here.
The topics covered this year will include Palliative Care, Stoma Wound and Continence Education Across the World, Atypical Wounds, Navigational Instruments to Evidence-Based Urinary and Fecal Incontinence Assessment and a whole lot more!
The WOC Nurses Society is approved by the California Board of Registered Nursing to provide one nursing contact hour for each hour of educational time during this conference. Found out more about the number of CEU credits you can earn based on the events you attend!
2021 Infusion Nurses Society (INS) Conference
This year's Infusion Nurses Society Conference will be held in Las Vegas at the Paris Hotel! This conference gives you an opportunity to earn CEUs in one convenient place – and since this year the whole thing goes down in Las Vegas, you don't need a second invitation. Register today and come join us August 14-17!
As an attendee of this nationally recognized conference, this year you will learn about such topics as:
The Many Faces of Hemolysis
Infusion Therapy Basic Boot Camp
Assessing Determinants of Learning When Transitioning to Home
Myths Associated with Vascular Access and Infusion Therapy
Home Infusion of Antineoplastic Therapies
What's Next in HIV
Cryotherapy in the Management of Chemotherapy Side Effects
… and a lot more!
2021 American Academy of Ambulatory Care Nursing (AAACN) 46th Annual Conference
The American Academy of Ambulatory Care Nursing (AAACN) 46th Annual Conference will be held virtually this year on April 8, 13th and 15th.
Register for this online event and participate in the live and recorded sessions of your choice and earn CNE contact hours in the process!
Contact hour packages include everything from a 3-hour pre-conference session to a 25-hour package for the most ambitious.
This conference is an ideal opportunity for telehealth nurses, care coordinators, consultants, researchers, managers, and of course, ambulatory care nurses to learn more about their specialty from nationally known speakers.
Sign up for the educational tracks that best meet your needs and you'll come away with a better understanding of your unique role as an ambulatory care RN in your specialty!
2021 Association for Nursing Professional Development (ANPD) Annual Convention
The 2021 ANPD Annual Convention will be held at the Sheraton Grand in Chicago on August 3-6 and also online! The ANPD advances the specialty practice of nursing professional development for the enhancement of healthcare outcomes. CEUs can be earned at his conference as the ANPD is accredited as a CEU provider by the American Nurses Credentialing Center.
Speakers will present topics that include:
Driving Diversity, Equity and Inclusivity through NPD Pratice
My Journey to Becoming the First Female NFL Official
Lessons in Unconscious Bias
Workplace Violence and the Nemesis of Inclusivity
ARN REACH 2021 Conference
The 2021 Association of Rehabilitation Nurses (ARN) Conference will be held May 2nd  in-person in Providence, Rhode Island, as well as online so you can attend remotely! This is the premier conference for rehabilitation nurses with several hundred in attendance every year. Join us either online or in-person in Providence to learn new skills, network with other nurses in the same specialty, and to find out more about new treatments and practices in this nursing field.
This year's conference will cover topics like:
Evidence-based treatments and best practices
Organizational tools and how to work seamlessly with your multidisciplinary team
Nursing advocacy, regulatory changes and certification options
Nursing self-care and mutual support among colleagues
Pediatric rehab, bowel and bladder, stroke, SCI, medical devices, and many more