Nursing Continuing Education
If you are a nurse, you know how quickly information and techniques can change in the medical field. Nursing CEUs and conferences for nurses help you keep up with all of the changes and help ensure that you are practicing with the most up-to-date information that there is.
Best Nursing Conferences to Attend in 2017
Attending nursing conferences not only provides you with an opportunity to take a break from nursing care but also to network with others in the field and to obtain continuing education for nurses. No matter what type of nursing field you work in or aspire to work in, there are nursing conferences and RN CEUs to meet your needs. Whether you are specifically searching for peer reviewed nursing CEUs, ANA endorsed national nursing CEUs, or just want to keep up with nursing current events, we can help.
Here Are Our Picks For The Best Nursing Conferences in 2017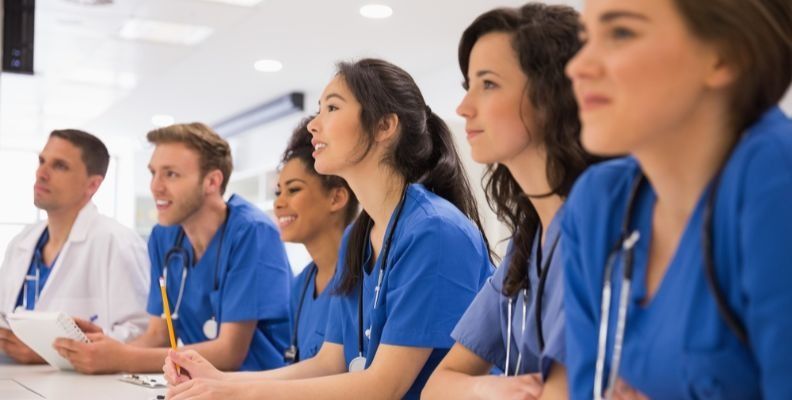 National Evidenced-Based Practice (EBP) Conference
While the term evidence-based practice is often used in the nursing field, you may tend to forget its importance and how it should impact your practice. The 24th National Evidenced-Based Practice (EBP) Conference will be held April 27-28, 2017 in Coralville, Iowa.
At this conference, you will learn techniques to help you turn evidence into practice. You will also be able to network and speak to experts in the nursing field on a wide variety of clinical issues.
By attending this conference, you will earn 1.15 CEU.
The 2017 AWHONN Convention
If you work or desire to work in the obstetrics, neonatal, or women's nursing fields, you won't want to miss the 2017 AWHONN Convention in New Orleans. This event is scheduled for June 24-38 and will feature more than 70 educational sessions and more than 240 exhibitors. You can earn a maximum of 32.75 nursing contact hours here.
The Association of Women's Health, Obstetric and Neonatal Nurses is accredited as a provider of continuing nursing education by the American Nurses Credentialing Center's Commission on Accreditation. Here, you will have the opportunity to earn multiple nursing CEUs on topics that interest you.
A wide variety of topics will be covered including:
Legal Aspects of Perinatal Nursing
Trauma and Addiction
Cultural Aspects of Maternity Care
The Use of Breastmilk in the NICU
Intrapartum Complications
The Nurse's Essential Role in Reducing Infant Sleep-Related Deaths
Providing Culturally Competent Healthcare for the LGBTQ Patient
Clinical Strategies for Addressing Maternal Obesity
Zika Virus: 2017 Update
Safe and Effective Obstetrical Triage Care with the AWHONN Maternal Fetal Triage Index (MFTI)
Wound, Ostomy, and Continence Nurses Society 2017 Annual Conference
The annual conference of the Wound, Ostomy, and Continence Nurses Society will be held May 19-23, 2017 in Salt Lake City, Utah. The WOC Nurses Society is approved by the California Board of Registered Nursing and will provide one nursing contact hour for each hour of educational time during this conference. No partial credit will be awarded. Nurses have the opportunity to earn up to 17 CEUs total.
You don't have to be a nurse who specializes in the wound or ostomy field to benefit from this conference. Medical-surgical and long-term care nurses can also benefit from the networking and education provided at this conference. Covered topics will include incontinence-associated dermatitis, negative pressure wound therapy, body worn absorptive products, improving ostomy patient outcomes with the peristomal skin assessment guide, evidence-based care algorithm, research abstracts, fistula management, foot and nail assessment and treatment, translating evidence into practice, chronic pain, wound care and the care of the spinal cord injury patient, team building, and sharp instrument debridement.
Infusion Nurses Society (INS) 2017 Conference
Minneapolis, Minnesota is the location of this year's Infusion Nurses Society Conference on May 6-9. This conference gives you an opportunity to earn CEUs in one convenient place.
As an attendee of this nationally recognized conference, you will learn about such topics as:
Informatics and Smartphone Technology
Subcutaneous Infusions
Blood Transfusions and Catheter size
Updated ASPEN Guidelines for Parenteral Nutrition
Mucormycosis
Strategies to Promote Drug Safety
Vessel Preservation for Chronically Ill Patients
The National Opioid Crisis
Legal Implications of Drug Shortages for Nurses
Cancer Therapies
These topics and many more will be covered using a variety of methods. In addition, there will be at least one social function per day.
American Academy of Ambulatory Care Nursing (AAACN) 42nd Annual Conference
The American Academy of Ambulatory Care Nursing (AAACN) 42nd Annual Conference will be held in New Orleans, Louisiana May 10-13, 2017.
Here you will have the opportunity to customize your learning with three different tracks:
Care Coordination and Transition Management
Leadership
Telehealth
This conference is an ideal learning opportunity for nurses in many different areas such as telehealth nurses, care coordinators, consultants, researchers, managers, and of course, ambulatory care nurses. At this conference, you can earn up to 14.5 CEUs.
You will hear from nationally known speakers in the nursing specialty, come to have a better understanding of your unique role as an ambulatory care RN, and be able to choose the educational tracks that best meet your needs.
Association for Nursing Professional Development (ANPD) Annual Convention
The 2017 ANPD Annual Convention will be held in New Orleans, Louisiana July 17-21. The ANPD advances the specialty practice of nursing professional development for the enhancement of healthcare outcomes. CEUs can be earned at his conference as the ANPD is accredited as a CEU provider by the American Nurses Credentialing Center.
Session topics include:
Aspire to Transform: Recognize the Benefits of Renewal
Truths and Myths About Nursing Teams: Transforming Our Thinking about Competence
Developing Games for Learning
Collaborative Development
Differentiating Objectives and Outcomes
Leadership Development for Clinical Staff Nurses
Identifying and Preventing Violence in the Workplace
Teaching Psychosocial Skills to New Nurses
Mobile Application Development for Nursing Education
ARN REACH 2017 Conference
The Association of Rehabilitation Nurses (ARN) Conference will be held November 8–11, 2017 at the Washington State Convention Center in Seattle. This is the premier conference for rehabilitation nurses. More than 800 nurses attend this conference each year in order to learn new skills, network with other nurses in the same specialty, and find out more about new treatments and practices in this nursing field.
Sessions to earn nursing CEUs cover topics like:
Traumatic Brain Injury
Stroke rehabilitation
Pain management
CRRN Review
Wound Care
Neurology
Fall Prevention