NP vs DNP: What's The Difference?
By Suzzette Laird, RN, BSN
Suzzette Laird, RN, BSN, began her mid-life career change in inpatient adult mental health nursing. She feels honored to be an inpatient hospice end-of-life care nurse now. Current PRN status allows time to assist her husband and mother, pursue freelance writing, experimental gardening and novice beekeeping in Bryan, TX.
An Advanced Practice Nurse (APN or APRN) is a Registered Nurse (RN) who may hold either or both a master's degree (MSN) and/or a doctorate (DNP) in nursing. A Nurse Practitioner (NP) has completed advanced practice nursing education, training and certification in at least one of eight NP specialties. This training can be completed within a Masters in Nursing program or in a Doctor of Nursing Practice program. Some of the most frequently asked questions about the differences between NPs with MSNs and DNPs are addressed in this post.
What Is The Difference Between A DNP And An NP?a
Let's start with some basics and outline the definitions of the terms we are going to investigate further.
The term Nurse Practitioner (NP) is a career or job title.  You earn this title with education and certification. To insure consistent professional practice guidelines are maintained nationwide, NP certification and renewal through a national organization is required.
The term Doctorate of Nursing Practice (DNP) is the highest nursing graduate degree. The term DNP can also be used to identify a nurse who is a Doctor of Nursing Practice, meaning that they have earned their doctoral nursing degree in the area of clinical practice.
To be clear, although many people use the term DNP to denote that a nurse is an NP, not all DNP holders are Nurse Practitioners and not all Nurse Practitioners have a DNP degree. 
What Kind Of Degree Do I Need To Become A Nurse Practitioner: Master's vs Doctorate in Nursing
When you seek training for Nurse Practitioner national certification and state licensure you will typically apply to a MSN or a DNP program. As more and more nursing schools offer DNP programs it is projected that entry-level requirements for NP certification and state licensure will be raised, making a DNP the new standard for Nurse Practitioners in the future.
Nurse practitioner scope of practice by state is dependent upon your Board of Nursing (BON) rather than the academic degree attained.
There may be other pathways to NP state licensure depending on prior education, work history, certifications and licensure. NP specialization within a MSN program is one path to NP specialty certification. However, it may not be necessary to complete a master's degree to be accepted to a DNP program.
Before you earn advance practice nurse status you must pass the National Council Licensure Examination for Registered Nurses (NCLEX), be licensed as a RN in your state and obtain at least a Master of Science in Nursing degree (MSN). The pathway to RN licensure typically involves completion of an Associate Degree in Nursing (ADN) or Bachelor's Degree in Nursing (BSN). It is not always necessary to complete a BSN to apply to a master's program.
NP specialization within a DNP program is another pathway to NP national certification and licensure in your state. NP certification is typically administered through the American Nurses Credentialing Center (ANCC) or the American Academy of Nurse Practitioners Certification Board (AANPCB). All NPs, including MSN and DNP prepared NPs, must show proof of continuing education to maintain certification and the APRN license.
As an NP, you may disclose your level of education by including MSN or DNP in your professional title. In addition, your professional title may include the acronym for one or more specialties you have earned – for example, FNP if you are certified as a family nurse practitioner, or NNP if you are a neonatal nurse practitioner.
Not all advanced practice training programs, whether MSN or DNP, offer training in all NP specialties. Before you apply for admission, it is important to research programs of different schools. You need to determine which programs offer the courses and focus to advance your career.
DNP Essentials
What is the difference between a DNP and an NP? The American Association of Colleges of Nursing (AACN) and its affiliated schools endorsed their 2004 DNP position statement without setting a deadline requiring APNs to complete a DNP program for licensing. AACN also recommended that DNP programs contain 1000 post RN practice hours, a portion of which may be completed in a MSN program.
Further AANC recommendations were designed to prepare you in eight key competencies.
The AACN position statement on DNP essentials states that DNP programs should provide the following educational offerings:
Scientific basis for advanced nursing practice
Organizational and systems leadership for quality improvement
Health care information systems and technology
Prevention and population based health improvements
Inter-professional collaboration to improve health outcomes
Health care policy for advocacy in healthcare
Clinical scholarship and methods for use of evidence-based practice
Advanced nursing practice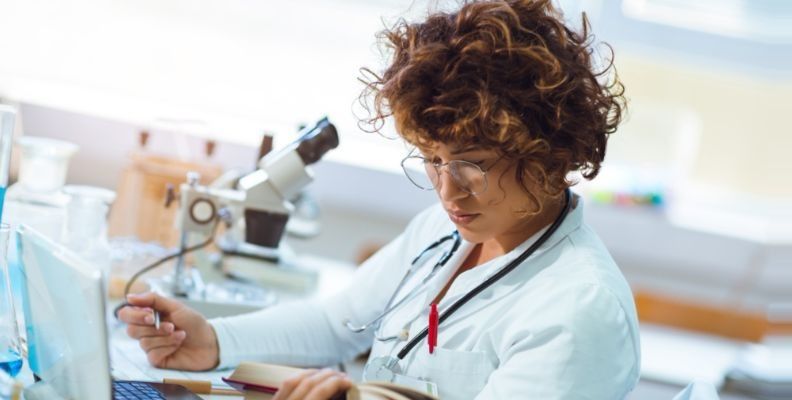 Doctoral preparation for Nurse Practitioners typically includes a capstone project instead of a PhD dissertation, as is common in non-clinical doctorate in nursing programs. Your capstone project demonstrates your mastery of theory and practice learned in the program. This project focuses on improving a selected aspect of the current healthcare system relevant to your area of specialization. Clinical hours are usually completed in conjunction with your capstone project.
It may take three to six years to complete a DNP in a NP specialty if you already have a BSN. If you have completed a MSN it might take only one or two years of full-time study. In addition to the eight key competencies, classes in a DNP program include Comprehensive Health Assessment, Pharmacology and courses in your specialty.
What is the difference between a DNP and an NP when it comes to jobs and salary?
DNP prepared NPs may have a wider range of workplace options. As a DNP educated NP in independent practice you could control work hours and treatments you offer. DNPs are often employed in leadership roles in large healthcare organizations or healthcare facilities. Many doctoral prepared NPs perform research to generate new scientific and clinical knowledge, which leads to the adoption of evidence based health care.
DNPs may also be preferred for expert clinical positions or academic positions that emphasize clinical practice and education. If you prefer careers outside of direct patient care, a public health office might be your opportunity to create improved solutions to health issues and influence policymakers and health officials. This would be one of the cases in which a DNP is not necessarily an NP.
DNP prepared NPs may be compensated better than their MSN prepared counterparts. According to Nurse.org (2018) reports show that DNP salary on average is $125,000 to $150,0000 a year, but there is no hard data available on DNP salaries independent of the Nurse Practitioner salaries listed by the BLS. DNP vs NP salary figures are difficult to come by, so be sure to take any estimates with a grain of salt.
MSN Essentials
MSN prepared NPs typically focus on patient care and case management. Master's degree completion can be a fast-track to APRN status and NP certification, and many nurses choose this route due to costs and time factors. There are also more MSN programs than DNP programs, both on campus and online, encompassing all NP specializations. If you are interested in becoming a nurse practitioner, but are not sure if the MSN route or DNP route is right, you may think about getting your Masters, then exploring MSN to DNP programs in the future. Master's programs adequately prepare you for becoming an NP and you can apply for licensure upon completion.
Coursework for a Nurse Practitioner degree will include graduate level courses in the following areas:
Evidence-based nursing practice
Clinical pharmacology for advanced practice nursing
Advanced physical assessment and diagnostics
Advanced physiology and  pathophysiology
Healthcare policy and advocacy
Population health and quality improvement
Safety in healthcare systems
Certain schools may offer specialties and sub-specialties for nurse practitioners in a variety of focus areas. The may include allergy and immunology, cardiology, endocrinology, emergency medicine, GI, neurology, occupational health, oncology, orthopedics, pulmonology, urology or other areas in high demand like gerontology.
When applying to a MSN program, an active RN license is required. If you already have an ADN you may complete your MSN in three to five years, or two years if you have a BSN. Applicants with non-nursing bachelor's degrees might need additional prerequisites like anatomy, physiology and pharmacology before beginning the core MSN program which can take an additional year to complete.
As an MSN prepared NP you may choose to focus on direct patient care roles within your certification. Employment is available in a wide range of clinical environments. These might include offices of other healthcare practitioners, outpatient care centers, physician's offices, state, local and private educational services and state, local and private hospitals.
Nurse Practitioner Scope of Practice: DNP vs MSN
Many NPs practice autonomously in expanding areas of specialization within health care.
You may seek certification as a Nurse Practitioner in one or more of eight main specializations based on population focus:
Adult-Gerontology Acute Care Nurse Practitioner
Adult-Gerontology Primary Care Nurse Practitioner
Family Nurse Practitioner
Neonatal Nurse Practitioner
Pediatric Acute Care Nurse Practitioner
Pediatric Primary Care Nurse Practitioner
Psychiatric-Mental Health Nurse Practitioner
Women's Health Nurse Practitioner
Nurse Practitioner scope of practice is dynamic and varies by individual training, level of education (DNP vs MSN), experience, specialty and population served. Scope of practice for nurse practitioners is regulated by each state's board of nursing (BON). BONs are influenced by legal implications and scope of practice statements endorsed by national professional specialty and advanced practice nursing organizations.
"Many people ask me, 'Is a DNP a doctor?' I always say that the answer is both yes and no. A DNP is a doctor of nursing practice and fills the role of primary health care provider in many states. A DNP, however, is not an MD (medical doctor) which is usually what people mean when they ask me this." Shanna Shafer BSN
In fact, some states still require NPs to work under the supervision of Medical Doctors. This trend is steadily declining, with only 13 states noted as having restricted practice for NPs in 2018. You can find a great printable map on the AANP website that outlines nurse practitioner scope of practice by state. As a DNP or MSN prepared NP your scope of practice allows you to provide a wide range of health care services.
As an NP, your responsibilities and job duties will be to:
Counsel patients
Inform patients of wellness options
Develop patient care plans
Diagnose, treat and manage acute and chronic conditions
Order and interpret laboratory tests
Operate diagnostic imaging equipment
Perform certain medical procedures
Perform physical examinations
Prescribe medications
Record patient medical histories
Supervise other medical staff
Train patients, family members, or caregivers in techniques to manage disabilities or illnesses
MSN vs. DNP Salary
MSN vs DPN salary may vary by workplace. According to the Bureau of Labor Statistics (BLS, 2018) NPs who worked in general medical-surgical hospitals or outpatient care centers earned higher mean annual incomes on average in 2017 (over $111,000) than those who worked for other employers.
As mentioned earlier, the following figures from BLS include both MSN and DNP prepared Nurse Practitioners, so it is hard to know exactly how salaries for nurse practitioners vary with education level. NP mean annual salary as of May 2017 ranged from $74,800 to $145,530. The mean annual NP wage was $107,480 across all employers. The mean annual wage for NP's working in physician offices and health care practitioner's offices was over $105,000. The mean annual wage for those employed by colleges, universities and professional schools was over $100,000.
Regardless of which educational route you choose to earn your Nurse Practitioner degree, you can find programs that will prepare you for your role as a primary health care provider. Small differences exist between what a DNP does vs what a MSN prepared NP does, but ultimately, the only limit is your own desire. Since Nurse Practitioners are regulated at the state level, your best bet is to review your state board of nursing's scope of practice documents to decide which NP program is right for you.
Suzzette Laird, RN, BSN, began her mid-life career change in inpatient adult mental health nursing. She feels honored to be an inpatient hospice end-of-life care nurse now. Current PRN status allows time to assist her husband and mother, pursue freelance writing, experimental gardening and novice beekeeping in Bryan, TX.
To learn more, contact the schools below and request information about how to achieve your nursing career goals.
<!- mfunc feat_school ->
Additional References for questions about NPs and DNPs can be found below:
http://www.aama-ntl.org/docs/default-source/other/nd16-ce-a.pdf
https://www.aanpcert.org/newsitem?id=74
https://www.bestnursingdegree.com/nurse-practitioner/
https://www.bls.gov/oes/current/oes291171.htm
https://www.bon.texas.gov/practice_scope_of_practice_aprn.asp