Tips for Choosing the Best Undergraduate Nursing Schools
So…you're getting ready to graduate high school and you want to go to nursing school, right?
Or, maybe you've taken some college courses already, but just now realized that going to nursing school is your dream.
I get it. I've been there. And I know that the next thing you probably did was to Google "Where are the best nursing schools?" hoping that some magical answer would pop up in your results with flashing lights, pointing you directly to the best nursing school in the U.S. — which just happens to be right across town and is offering full ride scholarships for people like you!
Yes, I get it. But that's not how choosing a nursing school works in the real world.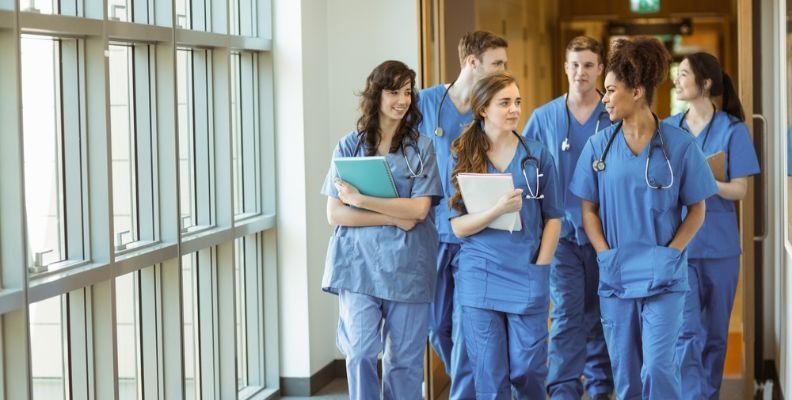 The truth is, it's a hard process, and it takes time and perseverance.
The truth is, you're probably going to come up with more questions before you find the answer to the question you googled.
The truth is, you're going to find tons of different articles and websites claiming to list the "Top Ten BSN Schools" or the "Five Most Affordable Nursing Schools" or something similar, but they are not always going to be legitimate.
The truth is, even experienced nurses have a hard time choosing the best nursing programs when it's time to go back to school.
So, here't the deal:
While I can't give you some magic answer as to which nursing school is going to be the best for getting your BSN, I can help you figure out what you need to look for in a nursing program. And as a nurse who has searched for nursing schools three times in my career… so far… I speak from experience. So grab a pen and paper, jot down some notes as you go, and take some good, honest, free advice from your new friend "Nurse Shanna" on how to choose the best nursing school for you!
Criteria For Finding the Best Undergraduate Nursing Schools
There are several different things to look for when you are searching for a nursing school. For this example, I'm only going to address items that apply specifically to Bachelor of Science in Nursing schools, as this is the preferred route to becoming a nurse. I say preferred, because, while there are other ways to become a nurse, this is the option that is going to prepare you for longtime career success and ensure that your patients end up getting the best possible nursing care from you.
That said, there are a couple of things I need to mention right away if you are thinking about going to nursing school:
Make sure your nursing school is accredited. There is nothing worse than learning halfway through your program that your State Board of Nursing is not going to accept your credentials. Basically, if your nursing program is not accredited, you're not going to be able to take the NCLEX-RN, which means you're not going to be able to get a nursing license. Plain and simple–make sure you choose only an accredited nursing school. You can read more about accreditation bodies for nursing education here.
You're not going to find a 100% online Bachelor's in Nursing program. They don't exist. If they do, they aren't accredited. Nursing education is based heavily upon clinical rotations that allow you to put into practice the nursing theory you learn. You'll complete clinical or simulation lab courses specific to basic nursing skills as well as certain specialty areas. For instance, in your first year or two of a BSN program, you'll have a skills lab where you learn how to start an IV, assess your patients from head to toe, identify heart rhythms, perform procedures like dressing changes and feeding tube placement and maintenance, start a urinary catheter, and much more.
As you move forward, you'll have clinical rotations in areas like Labor and Delivery, Gerontology, Psychiatric Nursing and Community Health. During each semester, you will build on your nursing knowledge and clinical skills by developing care plans for your patients, learning about and giving medications, attending to real life patients in real life medical facilities, and creating your own nursing interventions and research projects for people in your community. So, if you are looking for an online Bachelor's in Nursing program–stop. You're not going to find one, and if you actually do, I highly recommend crossing it off your list immediately.
Disclaimer: If you are already a nurse and are looking for online BSN bridge programs, you will find a variety of distance learning options for nursing available. You can check them out here: Online RNtoBSN Bridge Programs.
So…now that we've got those two main criteria set, let's move on to the finer points of choosing a BSN program.
As a nurse, it's super hard to just tell you which nursing schools I think are the best. For one thing, there are thousands of BSN schools out there to choose from. Secondly, your criteria for picking the right school may not be the same as mine. If you are most interested in finding a school that is nearby you, your best bet is to go directly to this page and select your state. From there you can see all the undergrad nursing programs near you.
If you are open to relocating for nursing school, then let's get down to business…
Things to Consider When You're Looking at Bachelor in Nursing Colleges
Tuition Costs
Nursing Faculty
Graduation Rate
Job Placement
NCLEX Pass Rates
Waiting Lists and Availability
Again, this is just one nurse talking here, but I think that these are the main criteria to consider when you are looking for the best BSN schools. Assuming, of course, that the programs you are looking at are accredited and involve significant clinical components.
When I started nursing school, I had to pay for it myself, so I definitely considered cost as one of the most important factors. As such, below I offer up some of the most affordable nursing schools I could find that still meet my other qualifications for selection. All the nursing schools below report annual costs of less than $20,000, which, in today's educational landscape, is on the low end of tuition pricetags.
Most Affordable Four Year Universities with BSN Programs
University of Texas Rio Grand Valley
Average Annual Cost: $2,840
Allen College
Average Annual Cost: $6,953
University of NC – Charlotte
Average Annual Cost: $12,479
UT Arlington
Average Annual Cost: $13,790
Iowa State University
Average Annual Cost: $14,100
Nursing Schools with Top Graduation Rates
You are also going to want to make sure that the nursing school you choose creates an environment of success for students like you. Taking a look at grad rates, and asking each school you speak with about NCLEX pass rates is essential. Below you can find some of the nursing schools with the best grad rates in the U.S.
Duke University
Graduation Rate: 95%
Georgetown University
Graduation Rate: 94%
Emory University
Graduation Rate: 89%
Creighton University
Graduation Rate: 77%
Helene Fuld College of Nursing
Graduation Rate: 69%
Undergraduate Nursing Schools with No Wait List
According to Discover Nursing, some nursing schools boast having no wait list. If you are looking to start nursing school right away, this may be one of the most important factors to consider.
Grand Canyon University
University of North Carolina – Charlotte
Emory University
Nursing Schools with Successful Job Placement Statistics
When it comes to choosing the best undergraduate nursing schools, many potential nurses look at job placement for new graduate nurses. While exact job placement rates are not always available, I did look into the average salaries new grads report back to certain schools. Below you will find the BSN schools and the salaries their graduates report.
Helene Fuld College of Nursing
Average Annual Salary after Attending: $84,200
Duke University
Average Annual Salary after Attending: $76,700
Columbia University
Average Annual Salary after Attending: $75,200
Georgetown University
Average Annual Salary after Attending: $84,000
Creighton University
Average Annual Salary after Attending: $57,100
Emory University
Average Annual Salary after Attending: $59,400
Other Considerations and Resources for Choosing a BSN School
Finally, when you contact nursing schools, be sure to inquire about NCLEX pass rates and ask about nursing research priorities. These two aspects of a nursing school can mean the difference between a good faculty and a great nursing faculty. Both UNC Charlotte and Emory University are noted to have Robert Wood Johnson Foundation Nurse Scholars on their teaching staff, which is notable and encouraging. Ask around to the nursing schools you are interested in to see what awards and recognition their faculty has received.
While I can't claim to tell you exactly which nursing school is best, I can help you decide which factors are most important in your own decision making process. I hope that this has helped you to understand what is important to choose the best nursing school for you, and if you have any other questions, please don't hesitate to reach out!
Shanna Shafer RN, BSN is driven by the impact nursing, and nursing education, can have on the health of our patients, families, communities, and nation. She has almost ten years of nursing experience in a variety of settings, and currently serves as the Managing Editor at BestNursingDegree.com.
*All costs, grad rates and additional figures were derived from Ipeds, the Integrated Post Secondary Education Data System and the U.S. Department of Education's College Scorecard websites in 2017.