How Do I Get My RN License?
To become a licensed registered nurse (RN), you need to first complete your nursing education at an accredited school of nursing. There are several routes to acquiring your RN education.
A two or three year nursing diploma program at a hospital based school of nursing
A two year Associate Degree (ADN) program at a community or technical college
A four year Bachelor's Degree in Nursing (BSN) program at a college or university
A 12 to 24 month second degree or accelerated BSN program for those who completed a bachelor's degree in another field
A one to two year LPN to RN program at a community college or a two to four year LPN to RN program at a college or university for licensed practical or vocational nurses (LP/VN) wishing to upgrade to an RN
Upon completing the courses and clinical training of your nursing program, you must apply for licensing to the Board of Nursing (BON) in the state in which you intend to practice. The BON will evaluate your eligibility by examining whether graduation was from an accepted school of nursing for that state. Depending on the state, other requirements may apply, such as a criminal background check, evidence of English language proficiency, sound physical and mental health, and good moral character.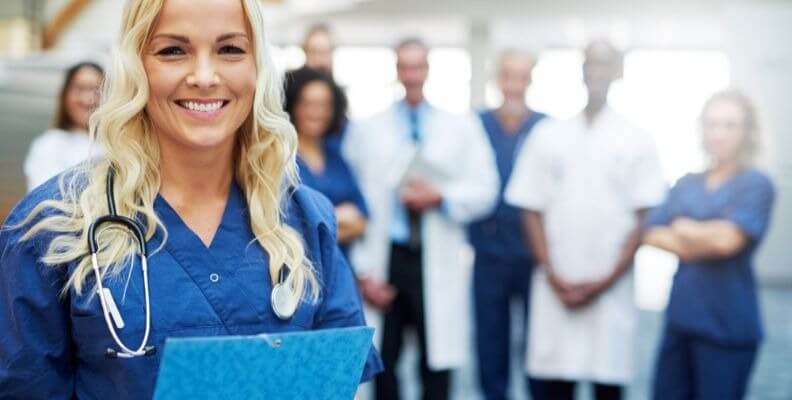 The Board of Nursing in your state then authorizes you to take the National Council Licensing Examination for Registered Nurses (NCLEX-RN). You must register for the NCLEX-RN with and pay the examination fee to Pearson VUE, the testing organization for the NCLEX. An examination date is established, and you will receive an Authorization to Test (ATT) letting you know when you will need to appear at the test site to take the exam.
The NCLEX is an individualized computerized adaptive test which will test your nursing knowledge with a minimum of 85 questions and a maximum of 265 questions. The examination stops when your level of competence is established through the computerized scoring system. The examination allows you up to five hours to complete the testing.
The State Board of Nursing will notify you of whether or not the examination was passed about a month after the testing took place. If passed and all application requirements are met, a license is conferred. If failed, the BON will provide a diagnostic profile that outlines the satisfactory and unsatisfactory areas of your performance. You can apply to your Board of Nursing to retake the NCLEX test if you do not pass initially.
The Nurse Practice Act of the state will specify what is required of you to maintain your RN license. Some states require proof of continuing education for license renewal. The Nursing Practice Act in your state also specifies grounds for disciplinary action. A licensed RN is responsible for maintaining licensure and knowing and adhering to the laws and rules of the Practice Act under which the license was obtained. Newly licensed RNs should familiarize themselves with the relevant laws and standards as well as obey nursing licensure laws. You should also keep your name and addresses current with the Nursing Board for receiving licensure renewal notices.
Standardized nurse licensing provides protection to the public from unsafe nursing practice, and provides the state's legal authorization to qualified nurses for the scope of practice established by the governing board.
The first step in getting your RN license is to complete your nursing education. Find programs on our site, or contact the schools below to learn more about your options for nursing school.