How Long Will it Take Me to Become A Nurse?
Nursing programs take many forms and feature a spectrum of options for getting a good nursing education. There are traditional four year university programs, accelerated programs, direct entry programs and a variety of nursing programs at community colleges across the nation.
That's why there really is no one simple answer to the question: "How long will it take me to become a nurse?"
Two things are constant across your different options for becoming a nurse, though. If you envision a future as a nurse, you'll need to take several accredited college-level classes and pass the National Council Licensure Examination for Practical Nursing (NCLEX-PN) or Registered Nursing (NCLEX-RN).
These two consistent requirements for becoming a nurse may take anywhere from 18 months to four or five years, depending on your educational choices and career goals. Below, you will find an outline of your different options for becoming a nurse, and how long it takes to complete nursing school for each type of program.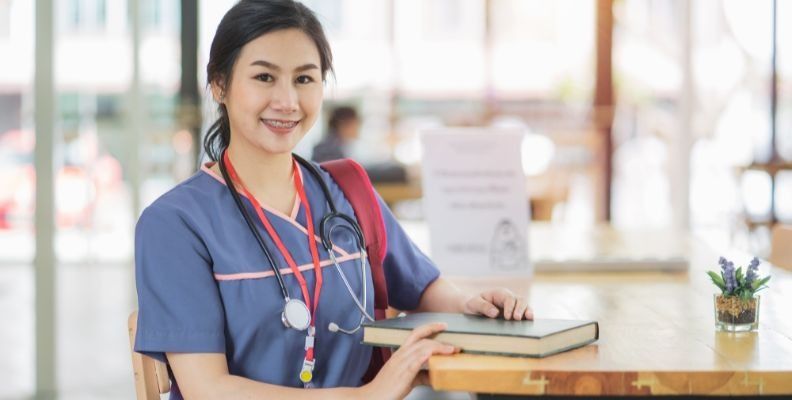 Diploma Nursing Programs
Though diploma programs are less popular than they used to be, at one time, this was the primary educational route to becoming a nurse. These days, diploma programs are generally the method used to become a Licensed Practical Nurse (LPN) or Licensed Vocational Nurse (LVN).
LPN programs are offered mainly at community and technical colleges, and you can plan on spending anywhere from 15-18 months to complete an LPN or LVN program, depending upon the class schedule you choose.
There are still diploma programs for Registered Nurses (RN) that are typically found through educational training centers based out of hospitals and healthcare facilities. These programs can take anywhere from two to four years to complete, and offer a wide range of clinical practice.
The advantage of entering a diploma program is the relatively short period of time you must commit to your education before you can enter the workforce as a nurse.
Associate Degrees in Nursing
You may pursue nursing as a career with an Associate of Science Degree in Nursing (ASN) or an Associate's Degree in Nursing (ADN). These degrees are very similar in curriculum and can take somewhere between two and three years to complete, though you may spend up to four years in an associate nursing program if you attend part time.
An Associate's Degree in nursing can qualify you to take the NCLEX-RN exam, which is required for licensure. It is important to make sure that the program you enter is accredited, though, as some state boards of nursing require this as well.
If you wish to reduce the amount of time and tuition required to become a nurse, an associate's degree program may be a good route to consider. Keep in mind, though, that some employers are moving toward requiring nurses to be Bachelor's degree holders before they are hired.
Bachelor of Science in Nursing Programs
The traditional Bachelor of Science in Nursing (BSN) degree program usually takes four years to complete, if you attend courses full time. If you are able to take courses on a part time basis, it may take even longer.
The BSN is a path you may want to take if you plan to work for the government, become a manager, or if you plan to move on to graduate school. Your bachelor's degree program should prepare you to pass the NCLEX-RN, which is required in each state if you plan to work as a Registered Nurse (RN).
Although the bachelor's degree route can take longer than an associate's degree or diploma program, it may provide a solid foundation for promotions and advancement in your nursing career. If you choose to return to nursing school to undertake specialized training in a graduate program, and you'll probably need a bachelor's degree to gain entry into the program.
The Bureau of Labor Statistics (BLS) reveals that advanced nursing jobs are growing at a particularly fast rate of 31%, so you may want to think about whether graduate school is in your future as you choose your entry level nursing program.
Accelerated Nursing Programs
Several colleges around the nation have developed accelerated nursing programs designed for future nurses who already have a bachelor's degree in another area and wish to pursue training to become a nurse. These programs can vary in length from 13-month schedules to 39-month schedules. If you're considering a career change to nursing, you may wish to look at available accelerated nursing programs.
Keep in mind, these programs often require a full-time commitment to study, which may prove difficult if you're already in the workforce, or if you're dependent on a regular paycheck from your current job.
You may wish to inquire about financial aid, which may allow you to receive assistance for living costs while you're enrolled in an accelerated nursing program. Some programs also provide classes on the weekends or at night.
The Final Step: Taking the NCLEX-RN
The final piece in becoming a nurse is licensure. The official licensing exam for LPNs and Registered Nurses is given frequently, and it shouldn't add a significant amount of time onto the overall number of years you must spend training to become a nurse.
Taking the NCLEX exam quickly after graduation from a nursing program is beneficial because it ensures you can start work as a nurse quickly, and it also ensures you don't forget what you've just learned in school.
When deciding which nursing program will suit your needs best, the time it takes you to become a nurse is just one of the many features you'll need to consider. Your future plans as a nurse, the difficulty of gaining acceptance to your preferred school, and the cost of your education are just a few of the features you'll need to think about as you plan for your career as a nurse.
To find a full listing of schools, head to our program pages and select the nursing education routes that interest you. From there you can contact schools and get detailed information about starting your nursing education.