What Do Nephrology Nurses do?
Nephrology nursing, or renal nursing, is the practice of caring for patients of all ages who are experiencing any type of kidney disease or who may be at risk for kidney dysfunction. This nursing specialty covers all age groups and encompasses varied care environments, from the home to the intensive care unit.
The kidneys are the organs in the body that filter waste products and toxins from the bloodstream. Without the ability to properly function, the kidneys cannot do this and patients can become extremely ill. The branch of medicine referred to as nephrology is specific to the care and health of the kidneys, including the time when the kidneys have failed to function. It has been recognized as a specialty for over 35 years and requires astute knowledge and compassionate nursing care.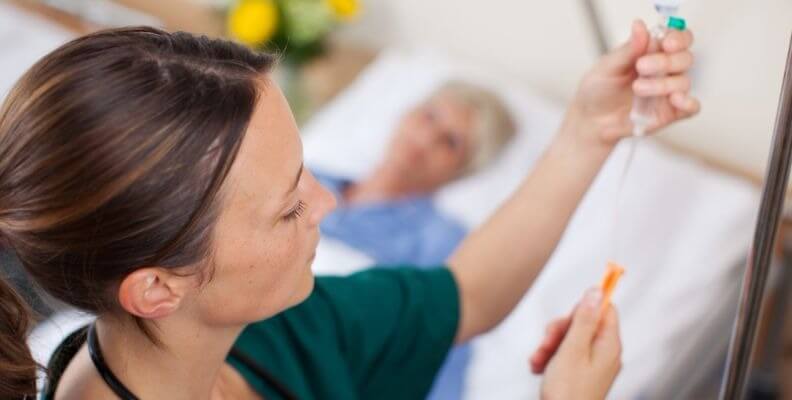 Nephrology nursing focuses on both the prevention and treatment of kidney disease as well as education for patient and families. Nephrology nurses must use a holistic approach to assessing the entire patient when planning care. Patients being treated for kidney disease my have routine interventions such as dialysis, or may require transplants. Sometimes patients will elect homeopathic treatments or more conservative approaches before dialysis or transplant, which requires the nephrology nurse to be well versed in multiple treatment modalities. The nephrology nurse's role in these cases is to continually assess the patient's condition and to provide accurate and current education about these choices.
One of the more common duties of the nephrology nurse is to care for patients undergoing dialysis treatments and to manage the process, scheduling and followup care. Hemodialysis is the filtering of the blood by mechanical means when the kidneys are not functioning adequately. Nephrology nurses work in a variety of settings including transplant units, dialysis centers and hospitals. Having specialized education about the functioning of the kidneys is usually required to work with kidney patients. A strong understanding of the current research and technology available to kidney patients will be a integral part of working in this specialty.
Other specialized treatments that a qualified nephrology nurse would be performing include CRRT, or continuous renal replacement therapy. CRRT is a continuous form of dialysis that is used to treat critically ill patients in ICU units who have developed acute and severe kidney problems as a result of illness or injury, rather than as a process over time. CRRT includes any extracorporeal method of purifying toxic wastes from the blood. With this type of renal replacement therapy, the blood is actually removed from the body and filtered through a dialyzer, or artificial kidney continuously. Nephrology nursing requires active management, continuous monitoring and keen patient assessment skills.
Treating the patient with kidney disease can be complicated because there are often co-morbid conditions present. Many times, kidney disease is a result of deterioration from other conditions such as diabetes or cardiovascular disease. Nephrology nurses must routinely assess patients, taking into account any co-morbid conditions while helping them to maintain the ability to optimally function in their everyday life, school, families and jobs. The practical requirements of daily living such as going to the store, preparing meals or shopping can be exhausting for those with kidney disease, so providing for adequate respite care and assistance is a crucial aspect of coordinating care.
Nephrology nurses practice in a variety of roles in a wide variety of settings including hospitals, private physician practices, and transplant units. They may also work in outpatient settings including dialysis treatment settings or in patient's homes. The role of the nephrology nurse is an integral one for maintaining daily function for renal patients. As a renal nurse, you are a member of a multi-faceted team of professionals and family members all working together towards the patient's care.
Nephrology nurses must possess the common knowledge base required for licensure as a nurse and the ability to practice in all aspects of health care. The specific knowledge base includes but is not limited to basic anatomy and physiology, diagnosis and treatment of the patient suffering from any form of renal dysfunction, pharmacology and pharmacotherapy, basic nutrition, counseling theories, growth and development, rehabilitation therapies, and many more.
The main role of the nephrology nurse is that of coordinator between multiple healthcare professionals, the patient and the patient's family. Other roles include caregiver, teacher, advocate and comforter. The delivery of appropriate patient care is the primary focus at all times.
Nephrology nurses continue to update their education as a fluid process. There are a variety of programs available as well as professional organizations including The American Nephrology Nurses' Association. There are countless professional development opportunities that are offered in person and through distance learning.
If you are interested in becoming a renal care nurse, you can count on making a difference in multiple lives, establishing long term rapport with patients and families and learning a great deal about nephrology care during your career.