How Nurses Can Improve Rural Access to Care
Posted by Shanna S. RN, BSN on December 2, 2013
I received a call last week because my eighty year old grandmother was driving herself to the nearest hospital for severe abdominal pain. I was concerned, to say the least. Believing her pain to be an ulcer or related to her gall bladder, she drove herself to the nearest healthcare facility, which is a critical access hospital fifty miles away. She had been at home alone and in pain for the previous week, but had finally reached the limits of her tolerance, and decided to make the trip to "the doctor".
"The doctor", in this instance, was a Doctor of Nursing Practice; a Nurse Practitioner who serves as a primary care provider for the community. The town of 1,566 residents, situated near the border between South Dakota and Nebraska, has one clinic which also serves as the hospital. The facility is staffed by five providers, each sharing their time between other small towns in the area. The organizational model appears to be efficient, and makes use of two Doctors of Medicine (MD), two Doctors of Nursing Practice (DNP), and a Physician Assistant (PA-C), one of which is always in the clinic. There is also a surgeon that travels from 50 miles away once a week to perform procedures if needed.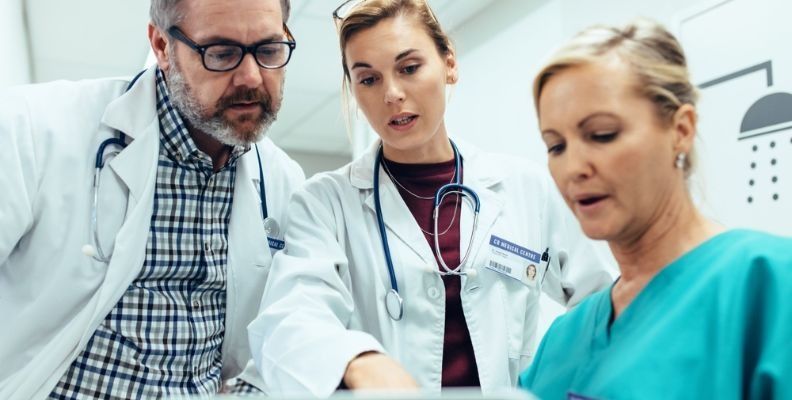 The NP attended to her needs, yet was unable to make a definitive diagnosis. My elderly grandmother, already in pain, would have to travel back home, then keep an appointment the next day at another facility over 100 miles away before she would know what was causing her pain. She had to travel over 200 miles, to get an ultrasound performed, so she could finally learn that yes, her gall bladder was full of stones, and required removal. Come to find out, not only are rural providers in short supply, basic medical technology, including an ultrasound machine, is hard to come by as well. I was shocked.
As a nurse who has worked in both rural and urban settings, I find occurrences like this mind-boggling. While the issue was about supplies, and not necessarily provider related, the situation led me to reflect on the importance of addressing the need for qualified healthcare providers, including nurses, physicians and ancillary staff, within our nation's rural areas.
Issues Affecting Rural Health Care
There are several issues that affect access to healthcare in the United States, including socioeconomic status, culture and language, insurance coverage, and costs of care. There is another common barrier to access, which affects millions of Americans and their families everyday: geographic location. Rural health disparities are well documented, and there are considerable efforts underway to identify and correct many of the root causes for concern (NORC Walsh Center for Rural Health Analysis, 2013).
As an educated nurse, you can play a key role in helping to herald in changes intended to improve the allocation of rural resources, remove barriers to practice, and develop effective organizational models for care, all of which can help reduce rural healthcare disparities.
According to the 2010 U.S. Census, 19.3% of the United States is considered rural, meaning remote and sparsely populated. One of the most pressing issues affecting the almost 60 million (U.S. Census, 2010) people that live in rural areas in the U.S. today is the lack of accessible healthcare services and providers. In fact, improving access to quality healthcare services is one of the Healthy People 2020 goals, reflecting the importance of the issue.
It is one thing to study healthcare access, rural health disparities and provider shortages, but it is altogether another thing to have the reality of it brought to light through personal experience. Applying knowledge and research to real world situations is one way we, as nurses, can affect our profession and our healthcare system. I was recently presented with a real world family situation that highlighted some of the difficulties rural Americans face when attempting to find the healthcare services they need. It also reflected some of the ways in which rural systems can be organized to meet population based healthcare needs.
How You Can Help Improve Care in Remote Areas
Allocation of primary care resources is a major issue affecting rural health, its importance reinforced by four key provisions in the Affordable Care Act (ACA). Many of these provisions focus on the allocation of financial resources for use in educating the nursing workforce. There are several grants and loan forgiveness programs, administered from the employer level on up to the highest reaches of the federal government, which aim to improve both the number and educational level of nurses in the U.S. With an expanded and well educated nursing workforce, it is possible to improve not only the access to care in rural areas, but the quality of that care as well.
For additional information about scholarship opportunities, loan repayment options, and research funding opportunities, please visit any or all of the following organizations' websites, where you can learn more about the efforts others are making to reduce health disparities and remove barriers to rural health care.
Nursing in rural areas requires a strong sense of independence, keen critical thinking skills, clear communication and well attuned assessment techniques. To learn more about how you can help reduce health care disparities in rural areas, please visit the rural health department website for your state, or contact your state board of nursing for more information.
An educated nurse is a powerful thing!