Classes You'll Take in Nursing School
Jennifer L.W. Fink, RN, BSN is a professional freelance writer with almost a decade of experience as a Registered Nurse. She's worked in both hospitals and nursing homes as a med-surg, geriatric and transplant nurse. Her national publication credits include Parents, RN, Ladies' Home Journal, Nursing Spectrum, Pregnancy and Journal of Christian Nursing.
Nursing is a diverse profession that requires a well-rounded education. You'll be steeped in the sciences – a thorough understanding of the human body is essential for a nurse – but you'll also study human behavior and interaction in classes such as psychology. You'll also need excellent communication skills, so English classes are a necessity. And don't forget computer skills and math! Because believe it or not, nurses actually use math on-the-job. (Drip rates, anyone?)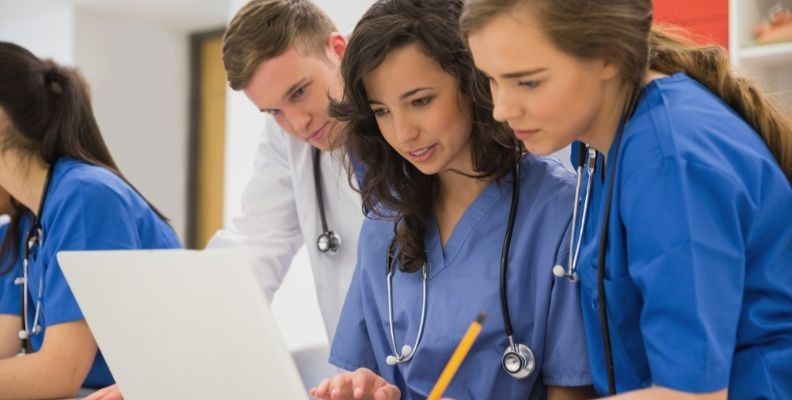 If nursing school sounds challenging, that's because it is. Expect to spend a whole lot of time studying!
Basic Nursing Courses
Basic courses include:
Anatomy
Physiology
Chemistry
Biochemistry
Psychology
Developmental
Psychology
Microbiology
Depending on your school, you may also study:
Sociology of the Family
Philosophy and/or Ethics
You'll also be required to take a couple composition courses and some basic math in your first years of nursing school.
Later, you'll study:
Pathophysiology, the science of disease
Pharmacology, the science of medications
Nutrition, or how various nutrients affect the body and healing
the Foundations of Nursing Practice, where you'll be introduced to nursing as a profession
Health Assessment; that's when you'll learn how to take blood pressures, assess lung sounds and detect signs of disease.
Advanced Nursing Courses
After you've completed the basics, you'll study:
the Nursing Care of Adults
Children and Childbearing Families
Each course will likely last a semester and include classroom and clinical sessions. You'll also take courses in:
Gerontology (the care of older adults)
Mental Health.
Depending on your program, you may also take courses in
Nursing Leadership
Nursing Research
Community Health
You might even be able to choose a clinical course in an area of your interest.
Reading over the list of required course, it's natural to feel overwhelmed. It's a lot of material to cover in a little time! But many nurses have done it before you, and you can too.