HIV/AIDS Nurses: How to Become One and What They Do
Lorry Schoenly, PhD, RN is a nurse writer and educator with over 25 years of experience. She has been certified in five different clinical specialties including critical care and emergency nursing. Starting as an associate degree registered nurse, she continued her schooling in traditional and distance-learning settings to obtain a BSN, MSN, and PhD in nursing while working full-time and raising a family. Lorry teaches nursing in a variety of settings including webinars and online nursing courses.
HIV/AIDS nurses specialize in the delivery of health care to persons infected with the Human Immunodeficiency Virus (HIV). They also care for and educate family and support networks for people with HIV, often dispelling myths and misinformation about the condition. In addition, some HIV/AIDS nurses are involved in national and global efforts to promote the health and welfare of HIV-infected individuals.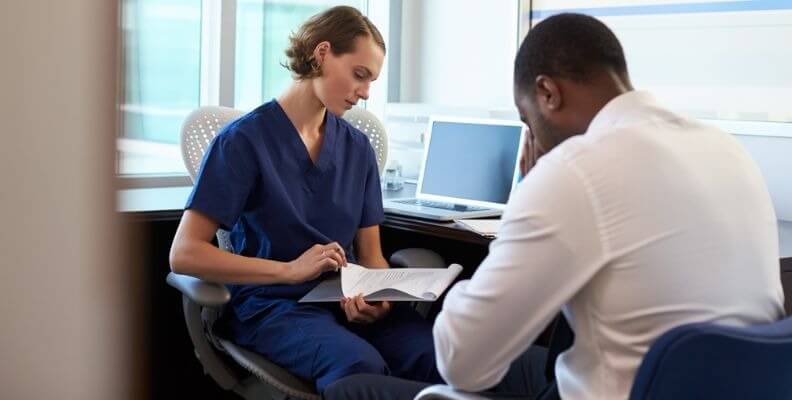 What to Expect as a Nurse for Patients with HIV/AIDS
Many HIV/AIDS nurses work in positions delivering direct care to persons with HIV/AIDS. These positions can be in visiting nurse programs, physicians' offices, and hospice and correctional settings. Although less prevalent than in prior decades, there is still a stigma that exists for individuals with HIV/AIDS. Nurses specializing in this field assist in dispelling misinformation through active patient and family education. Some nurses specializing in HIV/AIDS also work in public health or public policy positions guiding the management of HIV/AIDS from a community perspective.
Advancement in treatment options for this condition has turned HIV/AIDS from an acute to a chronic condition. With proper management, individuals diagnosed with the condition can lead long and productive lives. Even so, every treatment and pharmacologic agent has side effects, and most patients are on multi-drug regimens. HIV/AIDs nurses help patients manage their treatment along with their daily living needs, and they work closely with an infectious disease physician to maximize treatment.
How to Get Started as an HIV/AIDS Nurse
There are entry-level positions available in this specialty for nurses without much experience. Once a solid background in HIV/AIDS patient care is obtained, though, specialization can be further developed through obtaining advanced positions such as clinical nurse specialist or case manager. Certification in HIV/AIDs is available for qualified nurses and many low-cost continuing education opportunities exist. A good way to start in this career is to gain experience with generic positions that also include the care of HIV/AIDs patients. Such positions can be found in correctional facilities, urban clinics or infectious disease medical offices.
Useful Resources