The Good Type of Fear In Nursing
By Bryan Christopher Warne RN, BSN
You've just finished nursing school. You've spent years of your life learning all that you can in regards to anatomy, physiology, and pathology. You've been cramming information into your brain, to finally conquer your licensing exam and prove you are ready to start your nursing career. Maybe you've already successfully completed the NCLEX, or maybe you have yet to take it. Whichever the case, know this—there is a much more important test to come.
Personally, I am not a big believer in healthy fear. However, there is one situation in which I feel that fear is beneficial for both you and others. This situation involves the beginning stages of your practice as a Registered Nurse.
Passing The Test As A New Graduate Nurse
To become a licensed RN, you have worked countless hours, night and day, reading, studying, and learning how to be a nurse. Literally years of your life have been dedicated to this goal…and now you are here, in the field. Much of the work you did in nursing school prepared you to pass the NCLEX, one of the most dreaded tests known to man, but this next test is even more important.
It is the test that comes when we move from the theoretical nursing textbook, into the actual world of practical everyday nursing.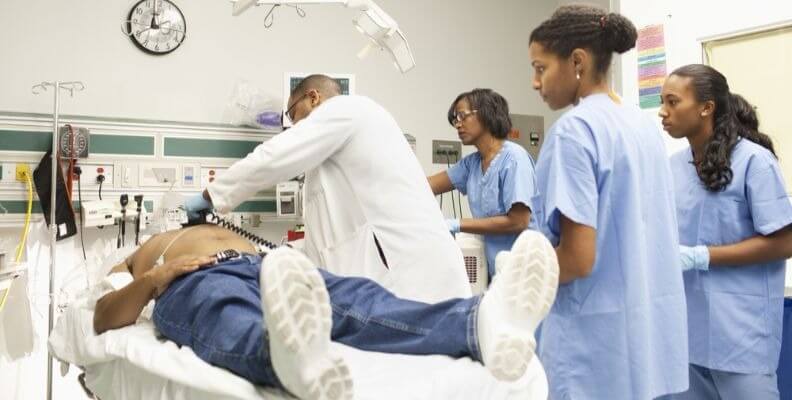 You may be scared for this test.
You may wonder if you are prepared.
You may wonder if what you have learned is enough.
I was there too.
Know that you are not alone in this fear.
And know, more importantly, that you needn't dispel this fear immediately.
This fear is the only kind of good fear…it is healthy fear.
This fear is there to let you know that what you are doing—every single day—is extremely important. No matter what unit you are working in, you have the lives of others in your hands. This is not something to freak out about, but it is something that warrants a great deal of respect…and therefore, a great deal of thought, care and concern.
I promise you, if you keep this fear with you for as long as it needs to be there, you will prosper as a nurse. Let me clarify what I mean by this kind of good fear in nursing.
Every new graduate nursing shift is a test that you have studied and prepared for. There is no need to be afraid of whether you will be good at this vocation. Don't be afraid that your workflow isn't perfect immediately, or that there is so much you don't yet know about the practical aspects of nursing. In time, these things will fall into place.
Additionally, keep in mind that you are not alone when you are working, there are many other healthcare professionals that can assist you in your growth—Doctors, Nurses, Charge Nurses, and especially Nursing Assistants and Patient Care Technicians.
Every day, during every shift at the beginning of your nursing career, drop away all these fears—except for one. The fear, that another person's live may be in your hands. This is the only good fear to have. Keep ahold of this fear until you don't feel it anymore. And every time it appears, pay attention to it.
Ask questions. If you aren't sure of how to proceed or if your intuition nudges you to "double check" with another nurse, do it. Know that whatever another says, you are accountable for any action you take. You are ultimately responsible for the lives you care for. Being afraid because you care about people and you want to make sure you properly take care of them is good fear. It is necessary fear.
And I promise you, if you do this—keep ahold of this one good type of fear—you will do well in your new vocation as a nurse.
Bryan Christopher Warne graduated from an accelerated nursing program in 2012. He began his nursing career in the Float Pool, gaining experience on units like Telemetry, Neuro, Renal, Pulmonary, Med-Surg, Ortho and Rehab. He is currently a travel nurse.