Choosing an Online RN to BSN Program
By Jennifer Bender, RN, MSN, FNP-C
You've decided to take that next step in your nursing career and earn your Bachelor's degree. The good news is that there has never been a better time to increase your earning potential and enhance your nursing skills. Generally speaking, RNs with a Bachelor's degree will always have better job opportunities than those without. Earning your Bachelor's degree will help you expand your opportunities in different work settings and move into leadership roles, in addition to building on your understanding of the science and theory behind nursing.
The research shows that finding the time to complete an RN to BSN program while continuing to work and support yourself and your family is a significant challenge, and is one that many people are unable to manage. Nursing schools are aware of this too, and many have developed online programs in order to attract and educate working RNs who want to advance their career.
Distance learning engages adult learners in a way that no other form of higher education has been able to do. There are many benefits. Online programs offer convenience, flexibility and around-the-clock access. Students don't need to commute to class, pay for daycare or take time away from work to attend.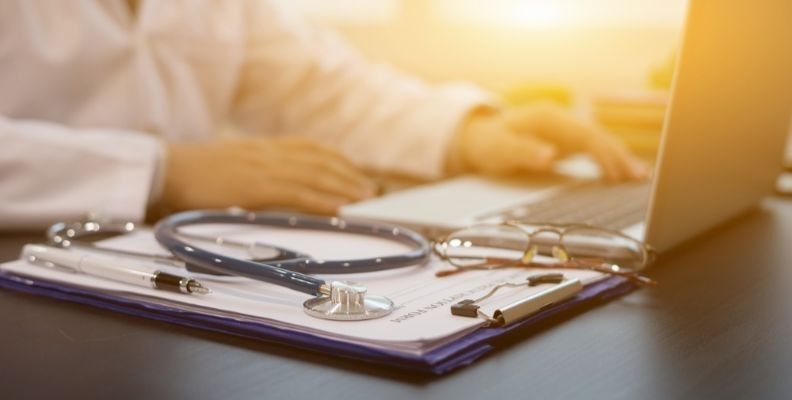 The overall number of online education programs available to US students has been growing rapidly since the late 1990s. In 1997, there were over 1.3 million enrollments in college-level distance learning courses for credit. Today, over 3.5 million students are reaping the benefits of an online education. This steady growth of online class enrollment has proven without a doubt that it is a viable way to obtain higher education.
But, with all the educational options out there, how do you choose the best online nursing program for yourself?
Accreditation
To find a reputable online nursing program, you have to do your research. Online RN to BSN programs are plentiful, but not all programs are created equal. One important thing to determine is whether the online degree program and school are accredited. Accreditation is a process through which schools can demonstrate that their online degree programs meet national education standards for quality and integrity. Accreditation is voluntary, but reputable schools always participate to assure their own success.
Legitimate accrediting agencies are those recognized by the Council for Higher Education Accreditation (CHEA) and/or the U.S. Department of Education. The largest nursing accreditation organizations in the U.S. are the National League of Nursing Accrediting Commission (NLNAC) and The Commission on Collegiate Nursing Education (CCNE).
Always check with the school in question before moving ahead with your application process. Even if the school says they are accredited, ask about your degree program specifically, because accreditation is done on a program by program basis, and other programs at the school may be accredited, while your specific program may not be. The accreditation status of the school and the program you choose will affect your licensing eligibility, course credit transferability, and future educational options.
Characteristics of Successful Online Students
Studies have demonstrated that the most successful distance learning students possess a specific set of qualities, learning goals and preferences. Learning online requires students to be responsible, self-directed, and motivated. Online learners must shift their approach from passive recipient, as they might be in a classroom setting, to active learner, assuming responsibility for their own learning progression. Independence, effective time management skills, and the discipline to study without external reminders are all characteristics of these students. You must be able to assess your own learning style and use it to develop a plan for how you're going to complete the work successfully.
Communication
Since most communication will be done electronically, either by email or online discussion forums, the online student must be able to communicate effectively using those methods. In surveys, some online students expressed a feeling of disconnectedness from faculty and fellow students, and wished for more face-to-face meetings instead. The research also indicates that many students experience anxiety over delayed responses from their instructors, especially regarding assignment that are nearing their due date. It's best to ask your questions about an assignment early, to avoid delaying your final submissions.
Questions you should ask the school include:
• How accessible with the instructors be?
• Will you be able to contact them by email?
• How long might you have to wait for a response from them?
• However, you should also keep in mind that most online degree programs do require a campus visit during the last semester of the program, so it is likely you will have a chance to meet your professors and fellow students face to face.
Technology
An adequate understanding of computers and basic software programs (like browsers and word processors) is a must. The technology you will be expected to use during your online degree program needs to be reliable, accessible, and user friendly. You should ask yourself whether you have the knowledge, skills and comfort with computers to minimize your feelings of frustration or anxiety, support productive use of your time, and enhance your chances of success.
Questions you should ask the school include:
• Is technical support available 24/7?
• Is there more than one way to contact tech support if needed (email, phone)?
• Is there a free online course demo available?
If there's an online demo available for your program, try it out so you can get an idea of both the usability of the school's online format and how well the program materials will be presented to you. If you can easily follow the demo and interact with it as required, you'll probably feel comfortable taking the rest of the program online.
The Bottom Line
Beginning an RN-to-BSN program is a great way to increase your long term earning potential and start moving into leadership positions. There are a number of things to research and consider before you sign up for an online BSN program, but by carefully assessing your learning preferences and objectives, and choosing a school and a program that suit your needs, you'll be taking a big step towards successfully obtaining the degree.
Reference List
U.S. Department of Education (1999). Distance Education at Postsecondary Education Institutions: 1997-98. [On-line]. Available: http://nces.ed.gov/pubs2000/2000013.pdf. Accessed September 23, 2008.
Bureau of Labor Statistics, Office of Occupational Statistics and Employment Projections. (2006). Occupational Employment, Training, and Earnings: Postsecondary-education or Training Category Report. [On-line].
Bureau of Labor Statistics, U.S. Department of Labor. (2007). Occupational Outlook Handbook, 2008-09 Edition: Registered Nurses. [On-line].
Kearns, L.E., Shoaf, J.R., Summey, M.B. (2004). Performance and Satisfaction of Second-Degree BSN Students in Web-Based and Traditional Course Delivery Environments. Journal of Nursing Education, 43(6), 280-284.
Mancuso-Murphy, J. (2007). Distance Education in Nursing: An Integrated Review of Online Nursing Students' Experiences with Technology-Delivered Instruction. Journal of Nursing Education, 46(6), 252-260.
O'Neil, C., Fisher, C. (2008). Should I Take this Course Online? Journal of Nursing Education, 47(2), 53-58.
About The Author
Jennifer Bender is a Registered Nurse with a Master's Degree in Nursing and a certification as a Family Nurse Practitioner. She currently works with MinuteClinic, Inc. in Baltimore Maryland and lives in Annapolis Maryland with her husband.
Jennifer received her BSN in 1995 from the University of Pittsburgh and her MSN in 2003 from the University of Maryland. She has worked in many settings and held many titles including Navy Nurse Corps Nurse, Pre-admission Testing Nurse, Middle School Nurse, Adolescent Health Clinic Nurse, Camp Nurse, Undergraduate Nursing Program Clinical Instructor, Clinical Educator, Medical/Surgical Staff Nurse, Cardiac Catheterization Nurse Practitioner, Chest Pain Center Nurse Practitioner, and Retail Health Clinic Nurse Practitioner. Her passion lies in educating her patients about health and wellness and mentoring and teaching her colleagues, nursing students and prospective nursing students about nursing practice.