Is It Possible To Balance Nursing and Kids?
By Jennifer L.W. Fink, RN, BSN
Jennifer L.W. Fink, RN, BSN is a professional freelance writer with almost a decade of experience as a Registered Nurse. She's worked in both hospitals and nursing homes as a med-surg, geriatric and transplant nurse. Her national publication credits include Parents, RN, Ladies' Home Journal, Nursing Spectrum, Pregnancy and Journal of Christian Nursing.
Nursing is a great career for a parent with young kids! As you probably already know, nursing is an incredibly diverse career option, offering a multitude of professional paths. You can choose to be a school nurse, a certified nurse midwife, a hospice nurse, a diabetes educator, a clinic nurse, a… well, you get the picture. And perhaps more than any other career, nursing offers a wide variety of flexible shifts and scheduling options, meaning that you can choose to work hours that fit your family.
As a nurse, you can work full- or part-time. You can work four-, eight-, ten- or twelve-hour shifts. Sometimes, you can even pick and choose the exact dates and hours you want to work. The options are dizzying: Seven 10-hour shifts in a row followed by seven days off. Weekend-only work. Sporadic, seasonal work (think flu shot clinics). A regular or rotating schedule.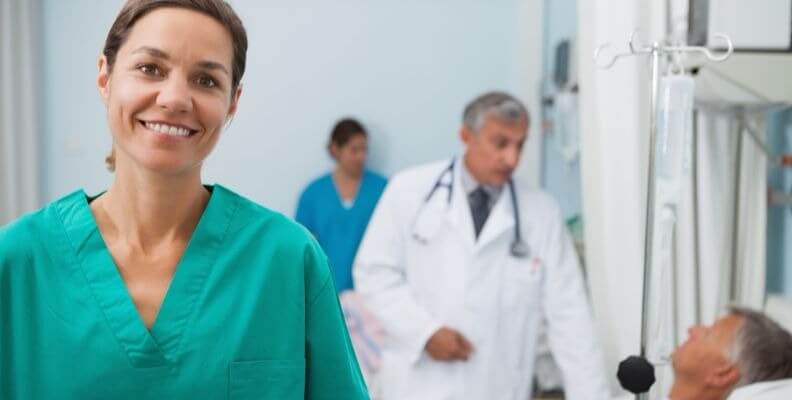 While you're the only one who can decide what will work best for your family and your career, other nurses/parents of young children have found the 3 – 11 pm shift to be an ideal fit. Working second shift allows you to be home with your children during the day and to work the bulk of your hours after your kids are in bed. It also allows you to skimp on daycare costs; if you're lucky enough to have a spouse that works a day-shift job, you may only need a couple hours of childcare a day. The downside, of course, is little to no one-on-one time with your spouse, so if you choose this option, make sure to schedule some date nights for your "days" off.
Of course, the PM shift is not a good choice for parents with school-age children, since most parents would prefer to be available after-school. If your kids are in school, try looking for a day shift job. Again, you may only need an hour or so of childcare per day. School nurse jobs – if you can find one and if school nursing fits into your professional plan – can also be ideal for parents of school-age youngsters.
9-to-5, Monday-through-Friday jobs are not ideal for parents of young kids – which works out beautifully, since Mon.-Fri. jobs are the exception, rather than the norm, in nursing anyway.