The Essential Role of Mental Health Nurses: Helping to Heal Individuals, Families and Communities
Healthcare today is very different than it was even 15 years ago.  Tasks and responsibilities formerly handled only by physicians are now often overseen with great competence by physicians' assistants and nurses, especially nurse practitioners.
This is especially true in the field of psychiatric /mental health nursing. Psychiatric nurses at the RN level work with individuals, families or groups to assess mental health needs and develop and implement plans. Those who proceed to being psychiatric nurse practitioners can be licensed to provide a full range of primary mental health care services, function as psychotherapists, and in some states have the authority to prescribe medications.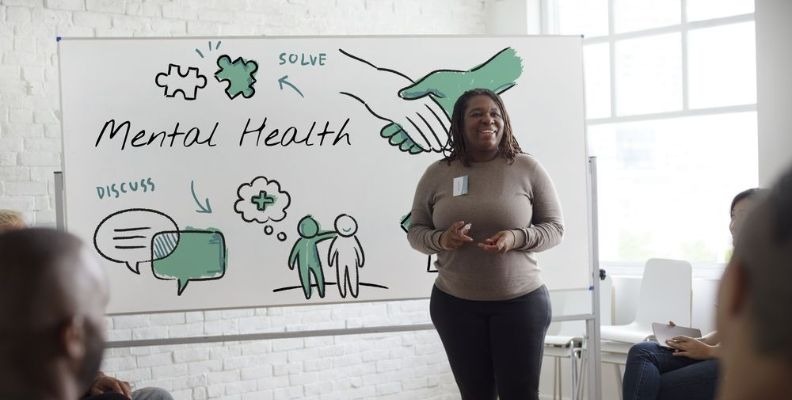 Nurses with advanced training in psychiatric/mental health care are in great demand, often have significant autonomy, and can often earn more than $100,000.
Why Psychiatric Nurses are Vital to our Health Care Systems
The characteristics that are the hallmarks of a great nurse – compassion and empathy, excellent communication skills, therapeutic and diagnostic competence, the ability to function well within a team – are especially necessary for a psychiatric nurse.
While psychologists and psychiatric social workers are well trained to diagnosis mental disorders and provide appropriate treatment, the American Psychiatric Nurses Association believes only psychiatric nurses — especially those at the PNP or CNP level — are equipped to deal with a patient's medical and mental health needs. Only a psychiatrist can approach mental health treatment with the same mindset and tools.
Psychiatric Nurses at the RN Level
At the basic level, registered nurses who work in a psychiatric unit or setting:
Work with individuals, families, groups, and communities to assess dysfunction and mental health needs
Carry out diagnostic evaluations, then develop and implement treatment plans
Develop interventions that promote and foster health and assist clients to regain or improve their coping abilities and prevent further disability
Lead mental health clients to adopt healthier lifestyles and assist with self-care activities
Administer and monitor psychobiological treatment regimens, which include psychoeducation, crisis intervention and counseling and case management
Psychiatric Nurse Practitioner
Because of their broad background in biological, pharmacological, sociological, and psychological sciences, PNPs and CNPs are a tremendous resource as providers of psychiatric-mental health services.
Nurses in advanced practice are often qualified to practice independently and to work in settings such as agencies, clinics, addiction rehabilitation programs, homes, hospitals, and offices. These practitioners:
Diagnose, and treat psychiatric disorders and potential mental health problems
Provide the full range of primary mental health care services to individuals, families and loved ones and groups
Function as psychotherapists, and in some states have the authority to prescribe medications.
Sometimes practice consultation/liaison nursing, delivering mental health services to physically ill patients or consultation to staff in general medical settings.
Salaries and Job Outlook for Psychiatric Nurses
Psychiatric nurses, especially at the practitioner level, are among the highest paid nursing professionals and PayScale's most recent salary survey found that psychiatric nurses report the highest level of job satisfaction.
The job outlook for psychiatric nurses, according to the Nurse Journal, shows a predicted growth rate of 26 percent by 2020, which is a faster than the average rate of growth in the healthcare field and other industries.
Psychiatric salary for registered nurses – almost always with a Bachelor of Science in nursing (BSN) – averages between $62,000 and $70,000. The amount varies depending on region, years of experience, and place of employment: private physician office, hospital, community agency, drug rehab facility, etc.
Salaries for those at the MSN level, PNPs or CNPs, tend to range between $100,00 and nearly $139,000.  Again, salaries vary according to region, years of experience, and where or how the nurse practices.
The Bureau of Labor Statistics chart below lists the states where psychiatric nurse practitioners earn the highest salaries.
| State | Number of Employed Psychiatric Nurse Practitioners | Mean Annual Salary |
| --- | --- | --- |
| California | 13,570 Mental Health Nurse Practitioners | $126,770 |
| Alaska | 440 Mental Health Nurse Practitioners | $125,140 |
| Hawaii | 410 Mental Health Nurse Practitioners | $122,580 |
| Massachusetts | 6,280 Mental Health Nurse Practitioners | $120,140 |
| Connecticut | 2,200 Mental Health Nurse Practitioners | $118,500 |
As with RNs, the BLS reports that salary levels also depend on where the nurse practitioner is employed, or for whom they consult. For example, those who work in the offices of private physicians tend to earn around $106,000, while salaries for those who work for general medical and surgical hospitals run around $112,000.  The highest salaries go to those employed in the personal care services industry. 
Mental Health Nursing Offers Diverse Opportunities for Growth
There are a number of national concerns driving the explosive demand for psychiatric nurses. Dramatic well-publicized tragedies related to untreated individuals with mental health issues and a rising awareness of depression among adolescents are just two factors increasing the need.  Decreasing stigma against those suffering from mental health issues has pushed more people to seek help without fear of consequences. In addition, the opioid crisis has magnified the need for drug treatment and psychiatric programs.
Psychiatric nurses, especially those with advanced degrees, are uniquely qualified to reach out, diagnosis, develop intervention and treatment plans and provide therapeutic options.  In rural areas where psychiatric and medical services are stretched too thin, only a psychiatric nurse practitioner can see to clients' and patients' medical and mental health needs.
It is the rare profession where you can make a positive difference in the lives of others, be assured of constant employment, choose the work setting in which you're most comfortable, and adequately support yourself and your family.
If you'd like to learn more about how you can enter the field of psych nursing, contact the schools below for program details.
<!- mfunc feat_school ->