Expanding Nursing Faculty: The First Step in Solving the Nursing Crisis
Due to the nursing shortage, and the complexity of the causes surrounding it, renewed focus has been placed on getting students into nursing programs across the country. Nursing staff numbers have drastically declined over the last decade as the Baby Boomer generation, which holds a high number of nursing jobs, has begun to leave the workforce or need care themselves due to old age. To combat the crisis, registered nurse training and education are becoming big business, but schools are routinely rejecting applicants due to a lack of nursing faculty (CNN, 2018).
In response, the need for nurses educated at the Master's level and above is growing.
Just like the proverbial question of the chicken and the egg, the nursing shortage and nursing faculty shortage are significantly intertwined. If you want to make a difference in nursing, becoming an educator may be the most significant way to do it.
Find out how you can take advantage of a graduate degree in nursing to become a nurse educator, what the job is like, and where the best states to find employment are located. There's never been a better time to reach and teach nurses.
Why Don't I Hear More About Nurse Education Degrees?
The shortage of nurses didn't result from a lack of interest in nursing educations or careers. Actually, it's more about low salaries and harsh working conditions in relation to expensive education costs and public funding in the United States.
Shortages have long been blamed on the harsh working conditions most nurses endure, from working 12-15 hour work days to completing mandatory overtime and rotating shifts. The job is stressful, demanding, and the cost of the education can be difficult for many to afford on a nurse's salary, depending on location and work setting. Administrative tasks like paperwork also wear nurses down in hospitals, taking away from time spent with the sick. But that is not the real reason for the nursing shortage.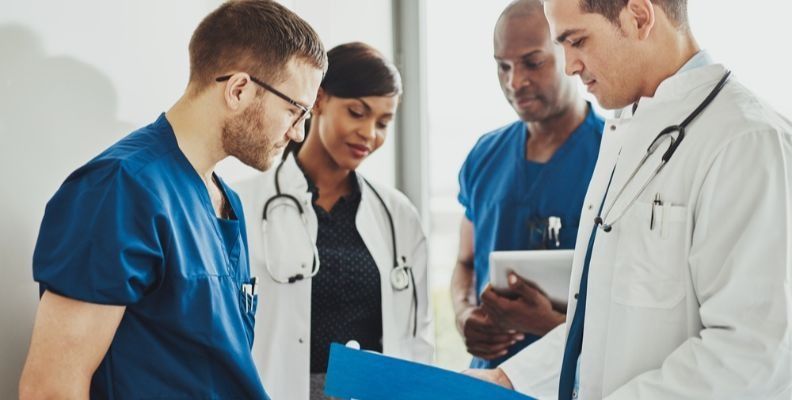 Nursing is hard, it's true. It requires years of rigorous study and specialized knowledge to join the nursing workforce, but many nurses that are qualified enough to teach are not willing to give up the salary that comes from working the floor. Teaching jobs can be less demanding, but many nurses would actually take a pay cut were they to enter a faculty role. And it is the lack of faculty that is actually directing influencing the number of nursing students that cannot get into school, and subsequently cannot become nurses quickly enough to fill vacancies.
Thanks to the nursing shortage, many schools have had to cut back on funding their education departments and just as many hospitals have completed layoffs to cut back nurse faculty, even during the shortage. Without this money heading toward educating new nurses and paying faculty to teach, schools are no longer able to accommodate as many students as are interested in some areas. Other states may have trouble finding nurses, but without proper funding, they also can't afford to educate a new workforce.
While there are several strategies to combat the nursing crisis, the time couldn't be better to earn a nurse educator degree by earning your master's degree in nursing.
Nurse Educator Salary: How Much is Enough?
As a nurse educator, there are lucrative jobs that do actually pay higher than typical RN positions. Their salaries often vary based on the setting they teach in and the state in which they work.
According to the US Bureau of Labor Statistics, nursing instructors make an average of $77,360 per year, which is just over $7,000 more than the average RN (2018). The highest paid nursing teachers work in general medical and surgical hospitals, making $89,390. Educators in colleges and universities follow closely, making an annual mean wage of $79,640 (BLS, 2018).
Finding a job as a nursing instructor can be easier in some states than others. According to the BLS, the following five states employ the most nurse instructors:
New York
California
Texas
Pennsylvania
Ohio
Often the top U.S. nursing schools are also in the states that report the best nurse educator salaries. The states or provinces that pay nurse educators the highest, according to the BLS, include the following:
District of Columbia
New York
Connecticut
California
New Jersey
Nursing Education Positions: Jobs Nurses Need to Fill
Instructors may be there to teach basic principles, but they are also mentors that care about the quality of the education nurses receive. Nurse educator positions are growing more available in universities, junior colleges, hospitals, and trade schools, as government policies and school initiatives have worked toward increasing the number of nurses training and working in the field.
Various types of nurse educator jobs are in high demand right now, and they also pay among the highest salaries. Earning a Master of Science in Nursing (MSN) will allow you to look for a career working in various types of educator jobs that differ based on your location. If you teach an undergraduate program, for example, you may prepare RNs or LPNs whereas teaching graduate school will allow you to teach other nurse educators or researchers.
Nurse educator jobs range depending on the scope or the requirements, and including the following common jobs:
Clinical nurse educator
Staff development officer
Continuing education specialist
Administrative or instructional nurse faculty
Master's in Nursing Education: Is Online Nursing School an Option?
If you're already an RN or have a bachelor's degree, you may be able to earn your master's in nursing online and become a nursing educator. This position is in high demand in recent years, and nurses find rewarding careers in teaching. Some employers may even pay part of your tuition to help advance your career. The expansion of distance learning and online nursing school options may be a significant boon to filling the nursing faculty (and staff nursing) positions that need filled.
Earning a master's degree in nursing online allows you to continue working on a full-time basis while you work toward an advanced career in nursing. Through an online nursing school program, you can complete your coursework at your own pace, in a way that still allows you to meet nurse scheduling requirements. You may need to complete teaching requirements on campus, or you may be able to utilize your own workplace as a clinical site, honing your teaching skills in your work setting. Regardless of how you choose to go about becoming a nurse educator, either online or on campus, you can make a significant impact on combating the nursing shortage by doing so. Educated nurses are the back bone of well staffed health care facilities, and education is the key that opens the door.
If you're ready to join the fight to improve the nursing profession by becoming nursing faculty, take some time to find an online master's degree program in nursing today that will fit your needs.