Nurse Practitioner Education and Job Requirements
A nurse practitioner (NP) is an advanced practice registered nurse (APRN) with graduate training who provides certain primary care services. A nurse practitioner can work independently, or with a collaborating physician, depending upon the regulations in the state where they are employed.
Nurse Practitioners bear an important responsibility in the healthcare system, filling a provider gap created by the shortage of primary care physicians; this shortage is predicted to be between 12,500 to 31,100 providers by 2025.
With the aging population and additional millions now insured under the Affordable Care Act, as well as a chronic disease epidemic, there is a pressing need for primary care services, and the nurse practitioner is an excellent option to fill this care gap.
The profession of the nurse practitioner came into existence in the mid 1960's when, due to a shortage of primary physicians, qualified nurses were pulled to assist physicians in providing medical services to patients . There were many rural areas with no physicians, and nurse practitioners provided the services needed. Since then, the profession has evolved and expanded, the roles of APRNs have been defined and delineated, and graduate training programs have been developed nationwide.
Five board exams exist for entry level nurse practitioner certification. Today, many nurse practitioners practice independently; 27 states do not require physician oversight of nurse practitioner practice , allowing for increased autonomy and full practice rights.
There are now six specialties and training programs for nurse practitioners: Family, Adult-Gerontology, Neonatal, Pediatrics, Psychiatric Mental Health and Women's Health/Gender.
Brief descriptions of the scope of practice for Nurse Practitioner specialties, along with common work settings, are given below.
Family Nurse Practitioner
Family Nurse Practitioners (FNP) provide many of the same services of the primary care physician. They diagnose illnesses, prescribe medication and therapy, conduct routine check-ups, order lab tests, perform and assist in minor surgical procedures, and promote disease prevention. They provide for the health care needs of the family much as the family doctor did in the past, following patients through the life cycle.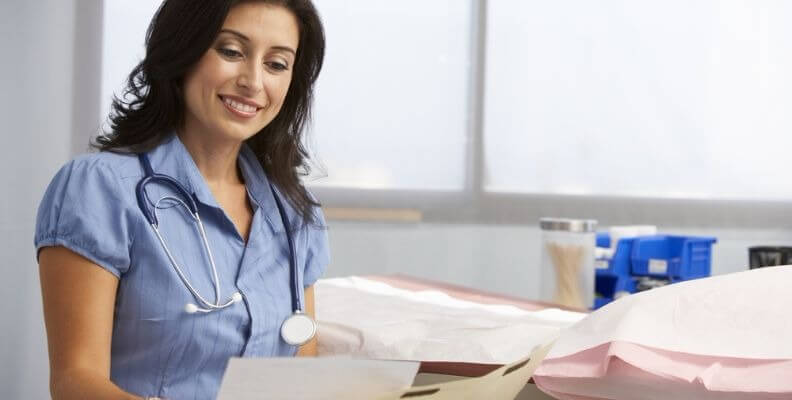 FNPs collaborate with physicians and other health care professionals, and make referrals to appropriate health care providers. Increasingly, Family Nurse Practitioners are taking leadership roles in health policy, system improvement, research and evidence-based practice and coordinating care across teams of health professionals.
Work settings include hospitals, doctors' offices, clinics, hospice centers, nurse-managed health centers, schools and homes.
Adult-Gerontology Nurse Practitioners
Adult-Gerontology NPs are concerned with the comprehensive healthcare of patients from adolescence to old age. The practice includes taking health histories, conducting complete physical examinations, diagnosing and treating common acute and chronic problems, interpreting lab results and diagnostic procedures, and prescribing medication. Appropriate referrals to other health professionals are also made.
The NP also teaches patients about disease prevention and health maintenance, two of the most important aspects of primary care. These NPs may work in community health centers and clinics, specialty clinics, Veteran's Administration facilities, assisted living facilities, acute and chronic rehabilitation centers and urgent care departments.
There are also Adult-Gerontology Acute Care Nurse Practitioners who provide specialized care for patients with acute, critical and/or complex chronic health conditions. They apply their advanced nursing skills to stabilize the patient's condition, minimize acute complications and restore the patient to maximum health. They may work in hospital emergency departments, intensive care units, specialty labs, acute and sub-acute care wards or specialty clinics.
Neonatal Nurse Practitioners
Neonatal NPs provide specialty care for premature or sick newborns with respiratory distress, heart abnormalities, congenital abnormalities or other disorders. They may assess, diagnose and initiate medical procedures. They monitor specialized equipment such as incubators and ventilators. They see to the proper feeding and basic care of the infant.
Their work locations include hospital intensive care units, emergency rooms, delivery rooms or specialty clinics.
Pediatric Nurse Practitioner
Pediatric NPs provide primary health care to children from birth to 21 years. They assist with health promotion, illness prevention and risk identification. They work with families and may conduct home visits. Their work locations are hospitals, outpatient clinics, doctors' offices, specialty clinics, home health care facilities and schools.
Acute Care Pediatric Nurse Practitioners provide primary care for infants, children, adolescents and young adults with acute, critical and chronic health conditions. Their work includes monitoring and ongoing management of intensive therapies in settings such as pediatric acute care areas in hospitals. They also work in intensive care units, emergency departments, and ambulatory, rehabilitative and specialty-based clinic settings.
Psychiatric Mental Health Nurse Practitioner
Psychiatric Mental Health NPs conduct comprehensive bio/psycho/social assessments of patients and families and provide treatment over the lifespan. Treatments include crisis intervention, medication management, psychotherapy, education and referral.
They may work in community mental health centers, primary care clinics, day treatment programs, substance abuse centers, recovery programs or in private practice. With the lack of adequate mental health services in several states, this is one of the most important specializations within Advanced Practice Nursing.
Women's Health/Gender-Related Nurse Practitioner
Women's Health/Gender-Related NPs specialize in health care for women of all ages across the lifespan with a focus on health promotion and disease prevention. Women's health issues include menopause, pregnancy, prenatal management, fetal evaluation, postpartum care, family planning and other women's health issues. They work in primary care settings and women's health specialty practices.
If you have additional questions about what Nurse Practitioners do, or what schooling you need to become an NP, check out our full program page to learn more.