Four Tips For Getting Accepted to Nursing School
To become a nurse, you must first attend college, and there are a few steps you'll want to take to ensure you have the best chance of acceptance at your chosen nursing school.
The obvious steps include getting good grades and earning a high school diploma or GED, but that's a requirement of virtually any college program. Here are some additional steps you'll want to take that may increase your chances of getting into nursing school.
1. Earn Your Nursing Prerequisites
Nursing curricula feature several science courses, and your nursing school may require that you have experience with anatomy, physiology, and nutrition. The type of nursing program you wish to enter will dictate what prerequisites you'll need to have before you apply. If you have yet to earn a high school diploma, you'll want to increase the number of science courses you take before graduation.
If you've already graduated from high school and have just started looking at nursing schools, you may wish to enroll in a community college that offers introductory science courses in biology, anatomy, and physiology. Not only will these courses help improve your chance of getting into nursing school, but you'll also benefit from the valuable knowledge you gain.
Many nursing schools now require that your basic prerequisites be completed before entering the nursing program. Be sure to check required prerequisites such as Microbiology, Nutrition, Chemistry, Sociology, Psychology, English and Speech. By requesting information from the schools on our site, you can get a solid idea of exactly what prerequisites you need for nursing school.
2. Volunteer Opportunities and Community Service
Acceptance rates at different nursing schools vary, and a record of community service or volunteer work within a healthcare setting can be a great asset to your application for nursing school. If you're applying to a competitive program, your volunteer work helps to demonstrate your dedication to the profession.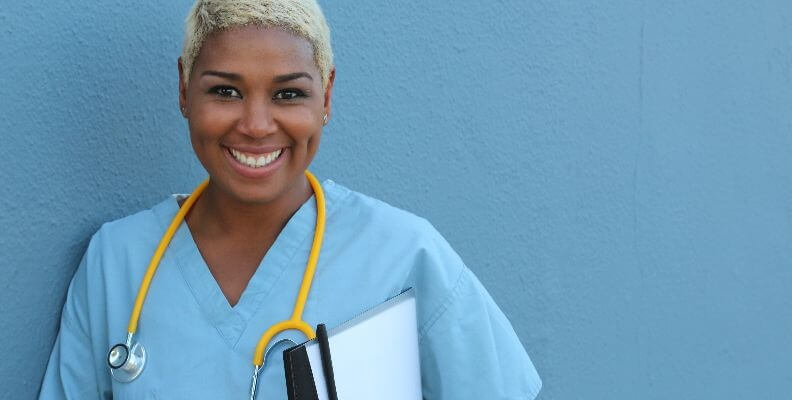 Another benefit of volunteering in healthcare is that you'll get some modest experience in an environment where you may one day seek employment. For example, you may choose to volunteer in a hospital where you can shadow active nurses and determine whether you're a good fit for the medical community.
3. Write an Essay from the Heart
Some schools place significant emphasis on an applicant's personal statement, and the essay you create may carry more importance than the standardized tests you must take to apply to college. Consider the requirements of the personal essay carefully, and try to craft a statement that's organized, honest, and personal.
Additionally, it's essential to proofread your personal essay and ensure that all documents and application materials you send to your future nursing school are free of grammatical errors and mistakes. You may wish to enlist the help of an advisor at your high school as a second pair of eyes who can read your essay and offer suggestions.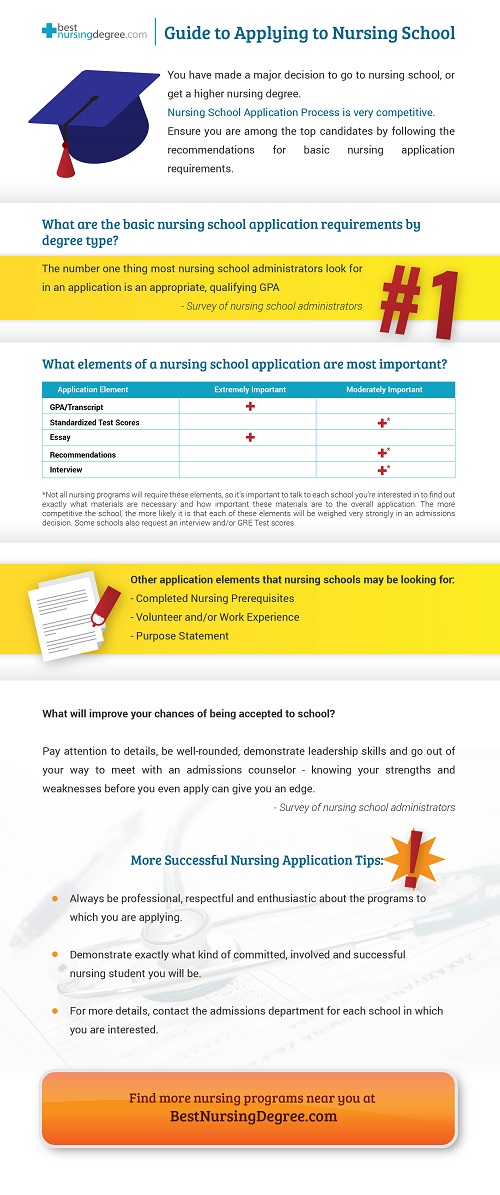 4. Visit the Nursing Schools & Ask Questions
It's not uncommon to choose a school because a parent attended college there or because it's in a convenient location. However, choosing the best nursing school shouldn't be based solely on those factors. Visiting a nursing school is an excellent way to see if the school "feels" good and might be a place where you'll enjoy learning to become a nurse.
If you have questions about college or the nursing school experience, you'll want to write these questions down before visiting each school. You may choose to speak with a nursing advisor, various faculty members, and current students to get a good impression about the school and its nursing program.
Nursing is a rewarding and vital profession in the healthcare industry, and graduating from a strong nursing program can help you enter the workforce with confidence and self-assurance.
Remember that competitive nursing programs may have many qualified applicants and you must make your application stand out from the others. Take your time in choosing your school and crafting your application, and you'll have the best chance of getting accepted to your first choice college.
Good luck and let us know how it goes!