How Can I Become A Registered Nurse?
If you are a high school graduate with a diploma or a GED, there are three routes to obtaining Registered Nurse training.
The Diploma Nursing route will take you through two to three years of education and clinical training in a hospital-based school of nursing.
The Associate Degree in Nursing (ADN) is conferred after a two year training program in a community college.
You can also complete a four-year college program and obtain a Bachelor of Science in Nursing (BSN). The BSN can also be earned through accelerated one or two year programs for college graduates who majored in a non-nursing discipline.
Graduates with all three types of training must take the National Council Licensure Examination (NCLEX) upon graduation to become licensed. The graduate will then meet other requirements specified by the Board of Nursing of the state in which the RN will be working.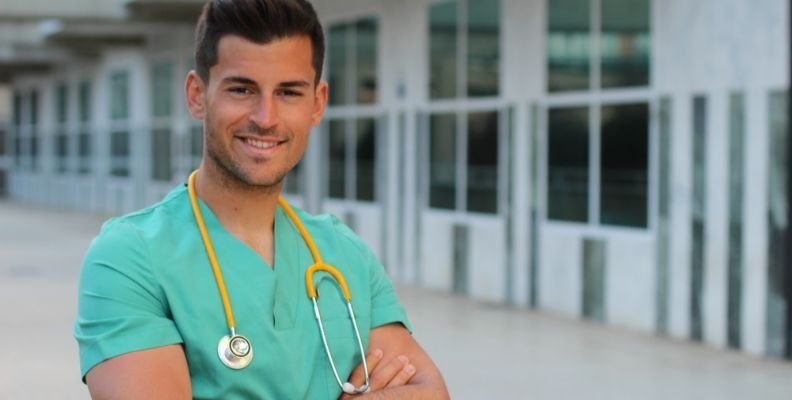 The Three Different Types of RN Training:
Diploma in Nursing Schools
Hospital-based schools of nursing were the original places for training nurses, and although fewer in number than they used to be, a diploma school still provides a strong route to become an RN. The programs generally have a cooperative arrangement with a nearby college or university where the classroom courses can be taken.
The clinical coursework is provided at the hospital and prepares students to work at a hospital or other inpatient facility. Students learn to work as part of a medical team and provide nursing care to different types of patients.
Hospital-based programs are usually full-time and provide opportunities for students to build their clinical strengths by completing around 1000 clinical hours throughout the program. Classes are typically small and students will likely experience patient contact from the beginning of the program in a variety of health care settings.
Associate Degree in Nursing (ADN) Programs
The two year associate's degree nursing program is offered mostly at community and technical education colleges. There are reportedly several hundred programs in the nation, offering a wide array of AND programs to choose from. http://nursejournal.org/adn-degree/associates-degree-nursing/. Besides the theory and clinical requirements, these programs provide and require general education courses that may transfer to a BSN program, should the student later elect to study for the higher degree.
The Associate degree in nursing is also provided in an online format in which classroom courses are taken online and the clinical component completed in on-campus labs or at nearby medical facilities.
The ADN is a fast way to get into the profession of nursing and at the same time, paves the way to complete a BSN through programs such as RN to BSN route. Check out several Associate's in Nursing programs before choosing one, in order to find a school that best meets your needs.
Bachelor of Science Degree in Nursing (BSN)
The BSN is offered in several different formats: the traditional on-campus four year program, the RN to BSN program that accommodates diploma or ADN registered nurses to complete the bachelor's in two years, and the Accelerated BSN for second-degree students that can be completed in about 11 to 18 months.
Bachelor's in nursing programs will provide upper level courses in nursing theory and professional knowledge, together with practical experience in diverse clinical settings. They include more training in areas such as communication, leadership and critical thinking, which qualify future nurses for higher level administrative, consulting, research and teaching positions.
In selecting your route to becoming a registered nurse, you should carefully study the options available to you. If time and finances permit, the BSN will qualify you for a larger variety of nursing positions, and you will meet the minimum degree requirement for an increasing number of healthcare institutions. However, the diploma and ADN routes are faster and less expensive, and each have features that may appeal to you.
In addition, you can always earn your BSN in the future, through bridge programs and accelerated options.
Take the time to research your options and contact the schools you are interested in learning more about.