Ready To Celebrate National Nurses Week 2017?
If you are a prospective nursing student or current professional, then you probably know that May 6-12th is National Nurses week. And if you were wondering, "When is nurses week?" now you know.
The American Nurses Association has declared 2017 the "Year of the Healthy Nurse," with events and promotions that align with this concept. We will be doing our part to celebrate this year's official theme, "Nursing: the Balance of Mind, Body, and Spirit."
Help Us Ring In The Year Of The Healthy Nurse!
Basically, we're going to show gratitude for the ways nurses contribute to healthier communities and optimal patient care. With the high growth that the healthcare field is experiencing, including a need for qualified nurses, we hope to see more students than ever realize the benefits of this rewarding profession.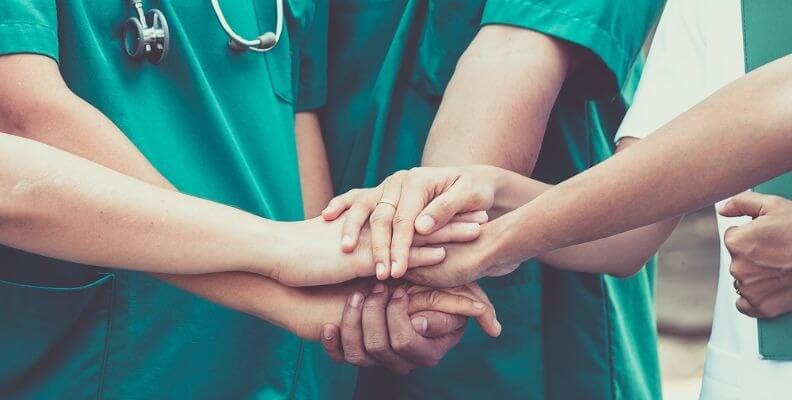 We know that even experienced nurses may need a little guidance to keep up with all the National Nurses Week activities and opportunities to participate. In the following sections, we break down ways you can:
Participate in the ANA's main Nurses Week events
Follow the action on social media – including top nursing professionals and associations
Receive a free Nursing Safety Toolkit
Thoughtfully thank a nurse you know and appreciate
Do you know of National Nurses Week events or information we need to know about and share?
Connect with us on Twitter so we can help spread the word!
Otherwise, continue reading to learn more about the upcoming events, social media 411, and more…
ANA National Nurses Week 2017 Events
You don't have to set aside the whole week to celebrate or benefit from the National Nurses Week events. If you don't do anything else, make sure you sign up for ANA's Free Webinar: A Nurse's Guide to Preventing Compassion Fatigue, Moral Distress, and Burnout. This will be a live event that lasts one hour. Although you will have to set time aside to participate, we highly recommend it. As you probably know, the field of nursing can be quite draining.
Caring for patients can take a heavy emotional toll, no matter how experienced you are.
Use this opportunity to hit refresh on your nursing mindset.
Maybe these strategies to "infuse meaning, joy, and restoration into your practice and life" will be effective for you. Even if you aren't experiencing challenges related to these topics, you should use this opportunity to educate yourself, in case you or a nurse friend you know starts to wear down. Remember, the link between your professional happiness and your personal happiness and health is real.
How To Follow National Nurses Week On Social Media
The next thing you need to know about keeping up with National Nurses Week is where all the social media action will be happening. Hands-down, Twitter is the place to keep up with nurses week quotes, nurses week deals, and other information and promotions related to this event.
We know that almost everyone has a Facebook page, but Twitter isn't as widely used. This is simply because Twitter is constantly updating, and not everyone wants the pressure of having to constantly check a social feed that updates rapidly.
Regardless of your social media preferences, be sure to jump on Twitter during National Nurses Week 2017. This is the best place to keep up with things in real time. All you need to do is log on, start following a few of the right people and hashtags, and you'll be on your way. And don't feel any pressure to keep your eyes glued at all times. Just check in when you get a chance, and think about how you too can show appreciation for your nursing colleagues who work so hard as well!
Top Influencers & Organizations To Follow During National Nurses Week
To get you started, here are some people and organizations that will be participating in National Nurses Week celebrations. Of course, you should also do some simple Google searches about the topic, if you want to read news articles or find the top trending blogs on the latest events.
Some Nurses You Should Know
Top 5 Nursing Organizations You Should Know
This list could go on forever. So, if you want more inspiration, simply search words like "nurses" and "healthcare" in the search box in Twitter. You might also search the web for relevant articles. You can also follow us @bestnursedegree as we try to connect nurses with what is important in the profession.
Here are several search terms you might use to get the full scope of nurse week 2017 updates and info:
Nurses week quotes – These can be great daily pieces of inspiration, no matter what time of the year.
Nurses week deals – From free nurse toolkits to discounts on all kinds of things nurses need.
Nurse week meme – To find funny or informative images and captions you can share with friends!
Nurses week freebies 2017 – After signing up for our BestNursingDegree giveaway, check out other businesses and groups offering goodies for Nurses Week 2017!
Happy nurses images – These can be fun to share to people who may not be aware of how important and rewarding this profession is.
#NursesTakeDC Is Trending
Wait? Are nurses taking up arms and trying to overthrow the government? Probably not. There are too many lives at stake already, and it's our job to save as many as possible.
So, if you notice the hashtag #nursestakeDC trending don't be alarmed – but do be interested!
NursesTakeDC was started to promote awareness about mortality rates linked to unsafe staffing in the nursing industry. During nurses appreciation week, they want lawmakers and public policy shapers to understand how this issue is linked to "unhealthy and unsafe environments for nurses to practice."
Their rally will take place on the steps of the US Capital Building in Washington, DC. You can watch the livestream on their website. The event will take place on May 5th from 11-4pm. You can also learn more about their petition for mandated ratios here, if this issue is of interest to you as well.
Best Ways To Thank A Nurse During Nurses Week 2017
Are you trying to think of ways that you can give thanks to a nurse you know to celebrate National Nurses Week?
Here are some quick ways you can say thanks to the nurses in your life:
Personally thank them. This might seem so simple and obvious – and it is. But taking a moment out of your day to call (don't text!) will go a long way towards creating a happy nurses week for someone you know.
Write a note and mail it to them. Be sure to list out all the ways you think their personality and nursing skills go hand-in-hand. You might also write about personal experiences, especially if this nurse has helped you heal.
Saying thanks to your co-workers is also nice, if you work in the field. Why not organize a potluck at lunch, and encourage everyone to come and celebrate all of your hard work!
Enter to Win Our BestNursingDegree Nurses Week Giveaway!
This year, for nurses week, we are giving away a custom gift basket valued at $50 from Harry and David's. All you need to do to enter is sign up with your name and email! You can also email us with the subject line: Harry and David Nurses Week Basket to enter to win! We just want to say thank you for all you do…this week, and every week.
Do you have ideas for thanking a nurse? Please share them with use on social media. And don't forget to keep up with all the latest National Nurses Week happenings with us, and download your free nurse safety toolkit!
And remember the words of my own favorite nursing theorist as you traverse this week of finding balance between your mind, body and spirit – all while focusing on your own health and wellness – and apply them to yourself.
"Caring is the essence of nursing." –Jean Watson