What Can I Do with a Master's in Nursing?
If you find yourself wondering what you can do with a master's in nursing, you may be happy to hear this field is opening up to a slew of new possibilities. The benefits of master's degree in nursing may include higher pay, career opportunities, and most importantly, job security in an ever-progressing market. Check out our list of featured schools below or use the quick search to find a great msn program in your state.
What Careers Can I Pursue with an MSN Degree?
There are many different types of careers for master's in nursing, ranging from putting in an IV to performing administrative tasks. Once you have your master's degree, which you could earn online, your career options may be based on the specialization and career title you choose, as well as the type of facility you work in. See our MSN Curriculum page for more information.
Regardless of specialization, nurses with a master's degree typically work in the same types of facilities. Common options are listed below:
General medical or surgical hospitals
Home health care
Physicians' offices
Schools or universities
Independent practices
The main different types of careers for master's in nursing include:
Direct Patient Care – Commonly work with patients to diagnose and treat, whether in a hospital, rehabilitation center or clinic setting. A direct entry MSN program, may also help you work with patients quicker than a traditional program.
Administration – Focusing on business skills while overseeing nursing staff and ensuring the best patient care is provided.
Education – Teaching nursing students or researching new practices and treatments in either a community college or university setting.
Leadership – Inspiring other nurses to work together toward enhanced patient care and efficiency in practices, health systems or work flow. Positions often include head nurse or director of nursing positions and specialize in management.
Direct Patient Care Careers
Due to the recent nursing shortage, The American Association of College of Nursing (AACN, 2017) encourages nursing students to seek graduate-level education to enhance the quality of care for the nation. An increased number of graduate programs and degree options have opened across the country, but the most common degree may be an MSN.
A Master of Science in Nursing or MSN may be more suited for you if you choose to practice directly with patients. MSN degree job opportunities may include the following:
Nurse Practitioner – Working in various fields of healthcare, you may specialize in maternity, pediatrics and family care or obstetrics/gynecology to diagnose and treat illnesses and prescribe medication.
Nurse Midwife – Providing prenatal, postpartum and care during childbirth, this career path may work in hospitals or patient's homes. Midwives may also provide health care to women, from contraceptives to health education.
Clinical Nurse Specialist – You may choose your specialty based upon types of diseases, populations in the area you live and types of care. This role is similar to a nurse practitioner; however, a clinical nurse may focus on more specialized care and mentoring.
Nurse Manager – This position comes with partial or fully administrative responsibilities for a unit in a medical facility while maintaining patient care. Some nurse managers may not perform patient care at all, depending on the facility.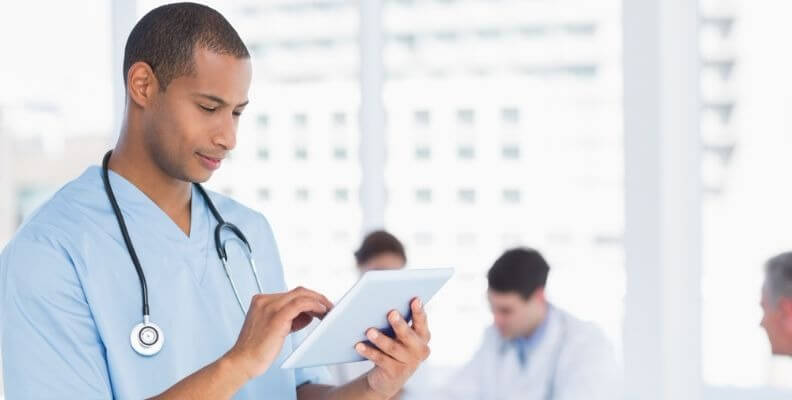 If you have an MSN and want to work with patients, you may wish to become a nurse practitioner. This is a common path for nurses because you may have a variety of areas of focus to choose from, including:
Direct Patient Care (APRN) Careers and Salaries
*figures derived from Bureau of Labor Statistics, and O*Net (2017)
Regardless of the career path you choose, rest assured that by earning your Master's Degree in Nursing you are impacting the profession in a positive way. As the landscape of healthcare evolves, a more educated, autonomous and skillful nursing workforce is needed to provide and manage care for our patients, our communities and our nation. By heeding the call by healthcare leaders to earn your advanced degree, you align yourself with the growing segment of nurses who believe that now is the perfect time to take advantage of the many graduate degree programs, educational funding opportunities and rewarding employment options that result from earning a Master's in Nursing.
Nursing Careers Without Patient Interaction
With a Master of Arts in Nursing or MAN, on the other hand, you may be able to find a lucrative career in the academic side of nursing. This may lead to careers in areas that don't involve patient interaction, and are perfect if you seek a career in the following:
Administration
Education
Leadership and Management
Common careers you may find without daily patient interaction are listed below:
Nurse Educator – Typically finding work as professors or instructors, in this position you may find work in institutions like business schools and universities or hospitals and medical centers, teaching new nurses and nursing students. Some jobs may be in patient care settings, while others aren't.
Research Nurse – Often working as a clinical nurse specialist who's focused on research, you may gather and evaluate data, examine statistics or work as a part of a research team.
Nursing Informatics – Combining high-tech information systems management and clinical information consulting, this newer specialty may allow you to improve work flow processes, analyze data and strategically plan.
Nurse Administrator – Oversees nurse teams and facilities by taking care of scheduling, hiring, planning, budgeting and other management duties. Administrators may find positions in hospitals, medical centers, nursing homes and other facilities.
MSN Salary
One of the biggest recent challenges facing nurse faculty, according to the National League for Nursing, is the difficulty in attracting and retaining qualified faculty and the public's lack of awareness that nursing is a lucrative career opportunity. Although nursing isn't all about the money, the average MSN salary may be expected to rise.
So how much do MSN nurses make, on average? Below is a list of common MSN career options along with their salary:
Registered nurse – According to the Bureau of Labor Statistics, the average yearly wage for a registered nurse in the United States is $72,180 (BLS, 2017).
Nurse midwife – BLS data states that the average annual income for nurse midwives, regardless of working facility or location, is even higher. This position may average a whopping $102,390 per year (BLS, 2017).
Nurse practitioner – On average, nurse practitioners bring home one of the highest wages of any MSN nurse position. Yearly, the average nurse practitioner wage according to the BLS is $104,610 (BLS, 2017).