Obtaining your Associates Degree in Nursing (ADN) is a great way to begin a career in nursing! It is also the most common method of entering the nursing profession, according to the most recent report from the Health Resources and Services Administration, which states that over 45 percent of all nurses in the U.S. were initially educated at the Associate's level. Working toward your associate degree in nursing programs, is also a solid financial strategy; the Bureau of Labor Statistics reports that RNs earn a mean annual wage of $69,790 in the U.S. as of 2015.
Earning your two year nursing degree by attending one of the thousands of ADN programs across the nation can get you into the field of nursing quickly and start earning money. Associates degree nursing schools are sometimes community colleges and other times offered at technical schools nationwide. Just make sure your program is ACEN accredited, and provides you with the basic nursing skills you need to care for patients in a variety of settings.
Click here to see the list of schools below that offer an ADN degree program.
What Can You Do With An Associates Degree in Nursing?
First and foremost, it is essential to look for CCNE, CNEA and/or ACEN accredited Associates degree nursing schools. By completing an accredited ADN program, you will be able to take the NCLEX-RN and apply for your Registered Nursing (RN) license. After you've received your RN License, you are ready to enter the job market. As an RN, you will be on the forefront of healthcare, providing patients, families and communities with the healthcare services they need to maintain health and wellness. RN's are employed in a variety of healthcare settings across the country, including hospitals, clinics, schools, businesses and for organizations like the Red Cross as well as government agencies such as the Department of Health and Human Services.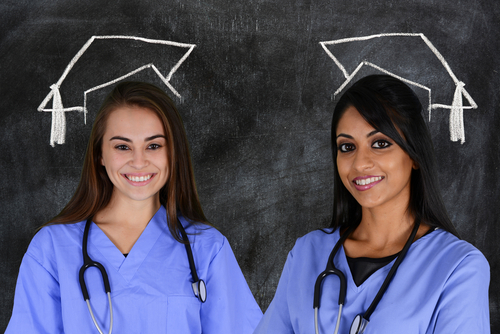 As a new graduate nurse, you may be competing with several other RNs for the same entry level nursing positions, so it's important to set yourself apart from the pack by exploring diverse opportunities while still in nursing school. A robust resume, filled with volunteer and healthcare related experience can help you get the nursing job you want. As the nursing profession continues to evolve, you may find that your Associates degree in nursing is a great first step into nursing, but that you will need a higher degree for more advanced positions in management and leadership.
Regardless of your end goals, you can rest assured that by earning your nursing Associate's degree from an accredited nursing school, you should be qualified to apply for a variety of nursing positions across multiple settings.
Are you thinking, "I want to find ADN programs near me"? Then contact the schools that interest you the most to learn about getting started on your associate nursing degree today.